2018 CHEVY BOLT EV IN NH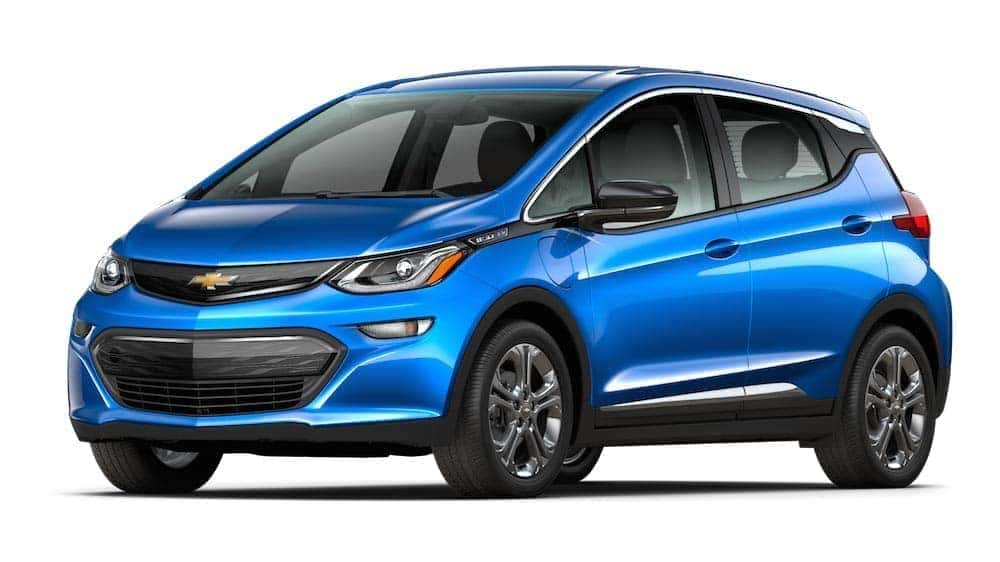 Chevy introduced its innovative electric vehicle, the Chevy Bolt, for the last model year to huge media attention. Its four-door hatchback design has already proven popular and it's arguably affordable price for an otherwise expensive segment, is converting gas-guzzling loyalists across the country.
Factoring in federal tax credits, most Bolt purchases can be made for under $40,000. Reviewers and consumers alike report a fun ride, with a surprising amount of space, and an even more surprising range.
As any Chevy fan knows, the Bolt has also been praised for its reliability – further enticing even the reluctant consumer to, at least, consider a greener ride.
THE FIRST AFFORDABLE, HIGH-PERFORMANCE FULLY-ELECTRIC CAR
All Bolt EVs are powered by a considerable battery, featuring 60-kilowatt-hours of capacity, which translates to the Bolt's astounding range. Expect the freedom to travel more than 200 miles on just a single charge. In fact, according to the EPA. the Bolt can get you from Point A to Point B, even with a total 238 miles between them. The battery itself can be recharged from empty, courtesy of a 240-volt charge in just over nine hours.
Of course, draining any battery is ill-advised and that certainly holds true for the Chevy Bolt. So, consider the Bolt's Level 2 charging rate, returning 25 mph-c, or miles added per hour charging. Chevy includes a Level 1 (120-volt) power cord as well, but that will only net you a recharge rate of 3 or even 4 mph-c.
Don't expect lackluster acceleration from the Bolt because of its EV status. In performance testing, the Bolt EV was able to zip from zero to sixty mph in 6.8 seconds. Drivers report easy merges onto highways as well.
Using standard friction brakes, stopping in the Bolt feels as familiar as in a gasoline-powered vehicle. Able to stop from sixty mph in a short 116 feet, drivers also have the option of activating L mode for regenerative braking and even enhanced range.
How does regenerative braking work? Just by pulling the paddle located on the Bolt's steering wheel, drivers can slow the vehicle without the help of the actual brake. What this does is converts energy into additional electricity, which is then sent back into the battery. Brilliant!
TRIM LEVEL OPTIONS
Available in only two trim levels, the LT and Premier, can be further enhanced with various packages. Both are outfitted with the same mechanical components, so you can count on that amazing range from either trim.
The LT represents the entry-level trim, which still amounts to quite a list of impressive features. Included in the LT, drivers and passengers should expect the following features:
LED daytime running lights
Keyless ignition and entry
Rearview camera
Xenon headlights
17-inch alloy wheels
The interior is nicely appointed and features inclusions like:
Automatic climate control
Configurable gauge cluster
10.2-inch touch screen
Cloth interior
Height-adjustable seats
60/40-split folding back seats
Technology isn't lacking in the Chevy Bolt LT, which comes with:
Six-speaker sound system
2 USB ports
OnStar services
Bluetooth capability
Apple CarPlay and Android Auto integration
Further enhancements to the LT are afforded by the Comfort and Convenience Package. Depending on geographic location, some drivers will certainly benefit from this offering of heated seats up front, complemented by a leather-wrapped and heated steering wheel, along with an automatic dimming rearview mirror.
Although already applauded for its safety, the 2018 Bolt EV LT gets a little extra support from the Drive Confidence I package, which features rear cross-traffic alert, blind-spot monitoring, and parking sensors in back.
With Chevy, there are always choices…so if the LT isn't quite enough, consider the Premier.
Everything listed in the LT model can be found in the Premier, along with extra comfort and convenience details like heated back seats, along with a rear center armrest, leather seats throughout, cargo roof rails, ambient lighting, enhanced rearview mirror (camera-based), and a top-down parking system, also operated by camera.
If that isn't enough, Chevy created the Infotainment package, featuring two charge-only USB ports for those seated in the backseat, a seven-speaker Bose sound system for all to enjoy, and a wireless charging dock for smartphones.
Similar to the LT's safety package, the Premier benefits from added safety measures provided by the Driver Confidence II package, including lane departure warning and intervention, low-speed automatic braking, forward collision warning, which also features pedestrian detection, and automatic high-beam dimming. Equipped with this Driver Confidence II package, the Insurance Institute for Highway Safety (IIHS) designated the 2018 Chevy Bolt a Top Safety Pick.
REASONS THE BOLT IS A GREAT ELECTRIC CAR
No matter the trim level, both Chevy Bolt EV models feature DC fast charging capability. Relying on SAE Combo 400-volt Level 3 charging stations, the Bolt's battery can fill up to 80% in about an hour. Keeping one of these handy allows you to take your Bolt even further as more Level 3 charging stations are erected across the country.
Cargo space in both Bolt models is considerable, measuring 16.9 cubic feet, when all the seats are occupied. For extra space, simply fold one or both of the 60/40-split seats in back. A floor panel cover (optional) can be removed to accommodate bigger items, or kept in place to conceal certain items.
Eye-catching, the 2018 Chevy Bolt is unmistakable on the road, thanks to its hatchback design and full spectrum of exterior colors, including: Arctic Blue Metallic, Cajun Red Tintcoat, Kinetic Blue Metallic, Mosaic Black Metallic, Nightfall Gray Metallic, Orange Burst Metallic, Silver Ice Metallic, and Summit White.
Despite its brand new status on the market, the Chevy Bolt EV has already garnered impressive awards and accolades, including Motor Trend's Car of the Year, the North American Car of the Year, and Green Car Journal's Green Car of the Year.