Leasing a Chevrolet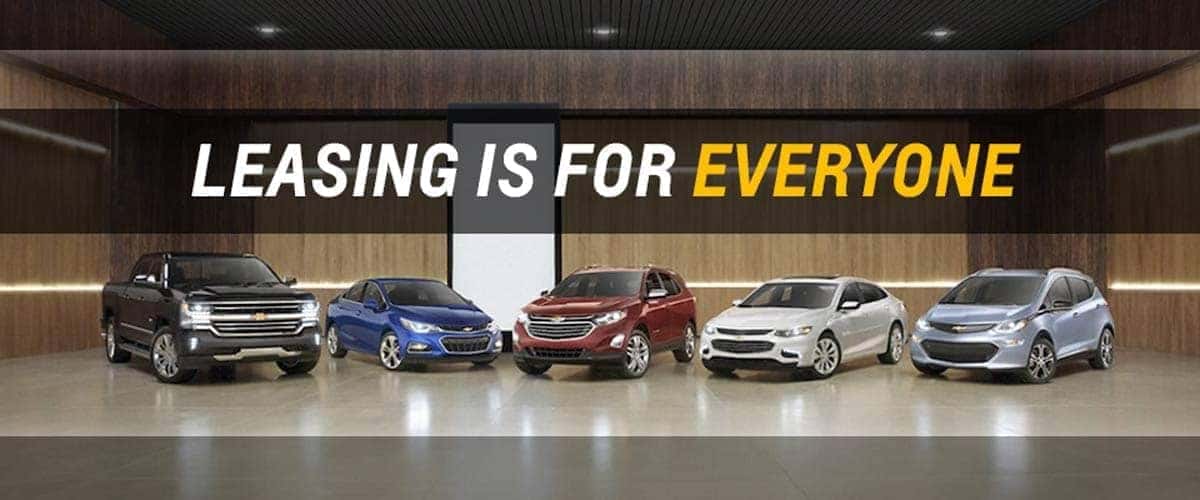 If you are looking to upgrade your vehicle and you think you may want to try a vehicle lease, come down to Betley Chevrolet in Nashua, New Hampshire. We have a wide selection of vehicles available to lease, and we have some great lease deals for you.
If you are looking to lease an SUV to give you added cargo space and a great performance, we have great Chevy options like the Chevy Equinox, Chevy Tahoe, and Chevy Suburban. You can also lease cars to give you great fuel efficiency on your morning commute. The Chevy Cruze and Chevy Malibu are some great options for a car lease. We also have some great trucks including the Silverado and Colorado. These trucks can both help you work hard and play hard. No matter the type of vehicle, we have some great lease options for you. We also have deals where you can get a lease with a low down payment and a great monthly rate. Come in and see us to learn more.
Find a great selection of Chevrolet leases in New Hampshire at Betley Chevrolet. We can help you get a great deal so that you can drive away in your dream car. Whether you are looking for a Chevy car, truck, or SUV, you can find some great options at Betley. Also, you can learn more about what vehicle leases are and why you may want to choose one below.
What is a Vehicle Lease?
A vehicle lease is a way of getting a new car without paying for the full vehicle. Leasing a vehicle is like an affordable, long-term rental. With a car lease, you sign an agreement that says you will pay a certain amount of money per month over the full length of your lease term. This lease term is typically 3 years but can also vary. Leasing a vehicle is like renting an apartment instead of buying a house. Renting an apartment involves little or no down payment and at the end of the lease, you do not own the property.
People choose to lease vehicles for a variety of reasons. Leasing can be beneficial if you do not want a long-term commitment to a particular vehicle, or it can be a good option if your credit score is not good enough for a viable auto loan. A car lease can also help you get more car for your money. Leases involve down payments and monthly payments, but these payments are generally more affordable than getting a car loan, so people are able to lease more expensive cars than they would be able to buy.
How do you decide if you should lease or buy a car? Your choice depends on a variety of factors. There are benefits to both buying and leasing, so you have to determine which option fits better with your lifestyle. Below, you can check out some of the reasons people choose to lease a vehicle instead of buying that vehicle.
Reasons to Choose A Vehicle Lease
Now that you know what a vehicle lease is, check out some of the reasons to choose a lease. People often debate whether it is better to buy or lease a vehicle. The better option depends on the person, but below, we have highlighted a few reasons people may choose leasing over buying a vehicle.
Low Monthly Payments – A big reason many people choose to lease a vehicle instead of buying is the fact that they have lower monthly payments. A lease can be a much more affordable option. When you are financing a vehicle, you can get stuck with high monthly payments over the course of several years, but a lease can be easily affordable, and there are great deals out there for leasing newer vehicles.
Lower Down Payment – People also choose to lease vehicles over buying because they do not have to put down as big of a down payment for a lease. With a lease, you are only paying for the vehicle for a couple years, so the down payment is less than if you are buying a vehicle. You can also find some great deals on leases with extremely low down payments.
No Long-Term Commitment – Another advantage to a car lease is that you are not stuck in a long-term commitment. When you buy a car, that car is yours until you choose to sell it. You have to be committed to that vehicle and the monthly payments if you choose a car loan to pay it off. With a lease, you will sign a contract for a year or two, so it is a much shorter commitment. After your lease is up, you can stick with the same vehicle or you can try out a different vehicle.
No Car Loan – When you lease a car, you do not have to worry about getting a car loan. That could be great for a number of reasons. First, you don't have to worry about having a great credit score to get a good interest rate on your loan. Second, you don't have to worry about committing to a five-or-six-year car loan. It can take time to pay off a car loan, and with a lease, you do not have to worry about that.
More Flexibility for Switching Vehicles – Leasing a vehicle also offers you more flexibility when it comes to switching vehicles. When you buy a car, that car is yours. However, with a lease, the vehicle belongs to the dealership, so as soon as your lease is up, you can switch to a new vehicle.
Consistently in a Nicer, Newer Vehicle – Another reason to choose a vehicle lease is that you can consistently be driving a nicer newer vehicle. It doesn't always make financial sense to buy and sell a new car every year, but when you lease a vehicle, you can be sure you are driving in a nice new vehicle every year. You can also probably lease a nicer vehicle than you could afford to buy. With a lease, you have a lower down payment and lower monthly payments, so you may be able to get into a nicer car than if you were purchasing a vehicle.
Don't Worry About Depreciation – When you buy a car, especially a brand-new car, you have to worry about depreciation. A new car depreciates really quickly, so as soon as you drive off the lot, the vehicle is worth a lot less. However, with a lease, you do not have to worry about this. You do not own the vehicle, so you don't have to worry about the value it has. You are simply paying to drive the vehicle.
Low Operating/Maintenance Costs – Another advantage of choosing a lease is that you usually won't have to worry as much about maintenance costs. For example, if you are leasing a newer vehicle, your car will probably still be under warranty when you are leasing it. You also won't have to worry about as many vehicle issues with a newer vehicle. Also, you may find that the dealership will throw in a good deal for any vehicle maintenance you may have with the vehicle lease.
You Have the Option to Buy Afterward – In certain situations, you may be able to purchase the vehicle after your lease is up. This can be a great option because you already know the vehicle's history, and you know that you like the vehicle. Also, it will be less expensive to purchase the vehicle after it has been leased.
As you can see, there are many benefits to choosing a lease with your next vehicle. If you think that leasing may be a great option for you, reach out to us to find out more. We have a lot of great vehicles for you to lease at Betley Chevrolet, and our staff can answer any questions you may have about leasing a vehicle.
Questions? Ask Our Dedicated Staff or Finance Department
If you have questions about buying or leasing a vehicle in New Hampshire, you can ask the experts at Betley Chevrolet. We have a Finance Department with experts that specialize in getting you great deals on our wide selection of vehicles. We can help you find the value of your trade-in, apply for financing, or find a lease that works with your needs and budget.
Whether you are looking for a vehicle lease, or you want to calculate possible payments for your car loan, our Finance Department can help you out. You can all us at (888) 606-3324, or you can stop in and see us today. We are a New Hampshire Chevy dealer near you, and we look forward to seeing you.
Apply for Financing