2018 CHEVY CRUZE NH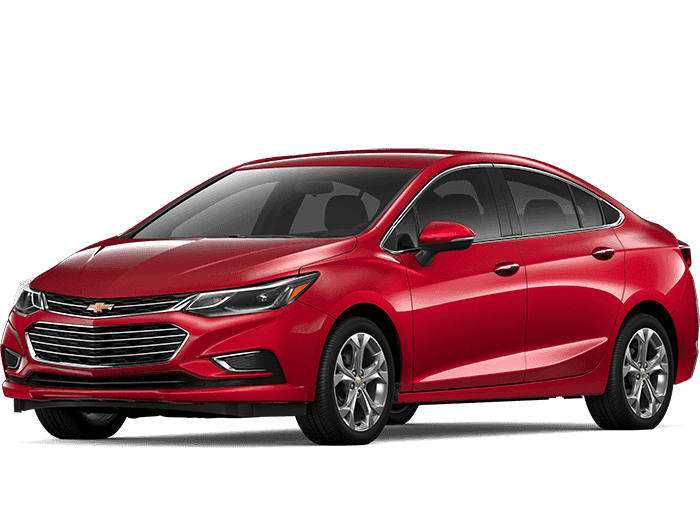 The 2018 Chevy Cruze entered its second design generation with one objective: be the best looking, best performing, most feature-packed compact car in the U.S. market. A newly-introduced hatchback model brings a new level of functionality to the Cruze, while maintaining the stylish appearance from the next generation design.
For New Hampshire buyers, the Cruze is a great buy thanks to its balance of power, efficiency, technology, safety, and affordability. Buyers used to compromising on any of these qualities will be especially happy once they give the 2018 Cruze a test drive.
At our NH Chevy dealership, you'll find our sales staff are experts on all things Chevy and passionate about helping customers find the right vehicle. And because we're independently owned and operated, you'll find that our upfront pricing systems make getting through the sales process an absolute breeze.
Interested in learning more about the 2018 Chevy Cruze in NH? Keep reading to get to know the new model!
Or, if you'd like to browse our extensive inventory online, click the link below.
---
REASONS TO BUY A 2018 CHEVY CRUZE
BALANCED PERFORMANCE
Utilizing its turbocharged engine, the 2018 Cruze is able to provide a balance of power and efficiency that you want and need in a compact car.
NEW HATCHBACK MODEL
The new Cruze Hatchback model is a leader in its segment, offering a stylish design that doesn't sacrifice performance, efficiency, or cargo space.
STANDARD APPLE CARPLAY/ANDROID AUTO
On every 2018 Cruze, buyers get access to Apple CarPlay and Android Auto via the standard MyLink infotainment system!
---
STYLISH HATCHBACK NOW AVAILABLE
All new for the 2018 model year, the Chevy Cruze now has a Hatchback variant to complement its next-generation design. Other manufacturers may have gotten a head start in the compact hatchback market, but the 2018 Cruze is setting a new standard.
With a sleek design thanks to its sloping roof line, the Cruze Hatchback is one of the most striking compact hatchbacks on the road today. And while design is great and all, it would be pointless unless it also could compete with the practicality of cars in its segment. Luckily, the Cruze does more than that: it actually exceeds the functionality of its biggest competitors.
For example, the Ford Focus Hatchback, which may look larger than the Cruze in pictures due to its box-like design, actually features less space than the Cruze Hatchback. The Focus's behind seat cargo volume is 23.8 cubic feet, compared to the Cruze's 24.7 cubic feet behind the rear seat. Once you put down the rear seats, the Cruze's lead over the Focus is extended, with the Focus maxing out at 44.8 cubic feet and the Cruze maxing out at 47.2 cubic feet.
You'd think the Cruze's extra cargo space might make it less efficient than the Focus Hatchback. But you'd be wrong! The Cruze Hatchback, with its ultra-efficiency 1.4-liter turbocharged engine, gets a combined 32 mpg rating (29 city / 38 highway mpg). The Focus maxes out at a 31 mpg rating (26 city / 38 highway mpg).
The best part about all of this, is the fact that the Cruze Hatchback also has more overall power than the Focus hatchback. The Focus may have 159 horsepower compared to the Cruze's 153, but the Cruze's 177 lb-ft of torque give it superior pick-up compared to the Focus's 146 lb-ft of torque.
Needless to say, if you're in the market for a hatchback Betley's Chevy dealer in NH is the perfect place to make your first and last stop!
BEAUTIFUL INTERIOR AND ADVANCED TECHNOLOGY
The race to the top is closer than ever in most vehicle segments, but it's especially true with compact cars. As one of the most important segments for cars in the U.S., every single manufacturer is making changes each and every year in order to out-do one another. For compact cars, this is evident in the features offered on the inside.
Looking back to 2010 and prior, the most advanced features you'd see on a compact car at a Chevy dealer in NH would be heated seats and premium audio systems. Fast forward to 2017, and those are features expected on mid-level trims, with the top-of-the-line models expected to compete with features in other vehicle segments.
Inside the Cruze, you'll find an array of standard features, as well as upgrade-able packages and individual options available. A few features that are now standard on all Cruze models include the 7-inch Chevrolet MyLink infotainment system, Apple CarPlay/Android Auto integration, and Teen Driver Mode (which lets car owners set vehicle limitations and advanced warnings for younger drivers).
Included with the Enhanced Convenience Package, drivers also get access to two features that have previously been reserved for luxury-class vehicles: wireless smartphone charging and heated rear seats. While only available as an add-on to the Premier trim, this package will help your Cruze rival much more expensive offerings from other brands without breaking the bank.
In addition, the Cruze has a suite of advanced safety features that beat many of its rivals, including much more expensive models. With the Driver Confidence II Package, you'll receive the following features:
IntelliBeam automatic high-beams
Forward Collision Alert
Following Distance Indicator
Lane Departure Warning
Lane Keep Assist
Rear Park Assist
Blind Spot Monitoring with Lane Change Alert and Rear Cross-Traffic Alert
As you can see, there's very little to be desired in terms of technology and safety features with the new 2017 Chevy Cruze in New Hampshire!
GET TO KNOW THE RS APPEARANCE PACKAGE
One of the Cruze's best options is the RS Package, an add-on that includes an array of appearance upgrades to give the Cruze a more sporty look. And at only $995, it's one of the most affordable appearance options that you'll find on any car in any class.
The most noticeable upgrade is the blacked-out grille with the RS badging, along with the front-lip spoiler and large, integrated fog lights. Moving along the sides of the vehicle, you'll notice the side sills added to provide a more aggressive appearance. On the Premier trim, RS Package upgrades will also come with 18-inch machined-face aluminum wheels on all-season blackwall tires.
These larger wheels and low-profile tires add an extra bit of sport styling that really make it stand out when compared side-by-side to the standard model.
Finally, the RS Package adds a rear spoiler to top off the sporty appearance. For such an affordable price, this option set is a must-buy for New Hampshire Chevy buyers that want their new car to look unique.
FIND YOUR 2018 CHEVY CRUZE IN NH AT BETLEY CHEVROLET
At Betley Chevrolet in Derry, NH, you'll find the most down-to-Earth and most experience team of any Chevy dealership in NH. Trust us to get you behind the wheel of a 2018 Chevy Cruze that meets your wants and needs, and we'll reward you with upfront pricing, quality customer service, and a seamless buying experience from start to finish.
Our status as a locally owned and operated dealership allows us to make happy customers our main priority. We know that you could buy a new or used car elsewhere, so we go above and beyond to prove our value so that you come back year after year, as well as recommend Betley to your friends and family.
Now that you've learned more about the 2018 Chevy Cruze in New Hampshire, click the link below to browse our online inventory, or feel free to contact us online or call (888) 606-3324 for more information.