2018 CHEVY EQUINOX NH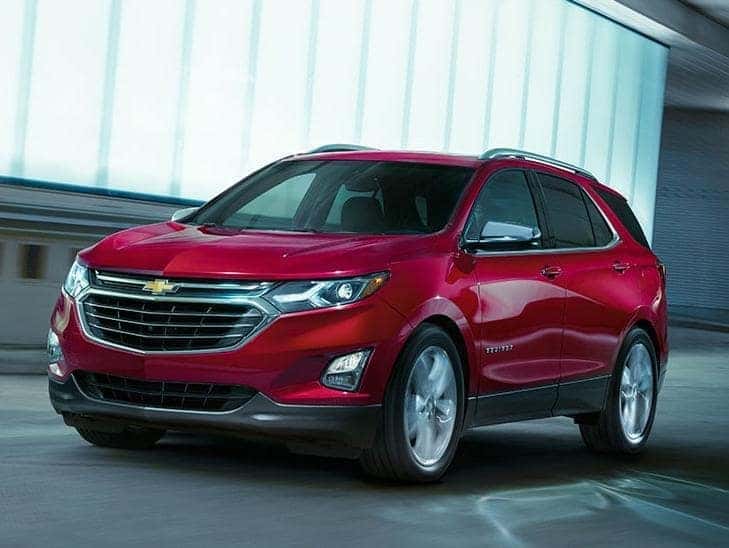 The 2018 Chevy Equinox marks the introduction of the model's third generation, the biggest change to the nameplate since 2009. Redesigned from the ground up, Chevrolet went to great lengths to ensure the new Equinox checked all of the boxes car buyers look for today. The most important of those being appearance, interior quality, safety, and overall performance. As the new models begin to arrive at NH Chevy dealerships, Betley Chevrolet is excited to share our knowledge about the new Equinox with future and returning customers!
For this new generation, value is the key to the Equinox's success in the compact crossover SUV market. Its new design shed more than 400 pounds from the overall curb weight, an all-new turbocharged engine increased torque for better throttle response, and managed to maintain efficient fuel economy ratings. And with new innovations, such as a class-exclusive diesel engine, Chevy is ensuring that the Equinox is the top contender in the competitive crossover segment.
There's a ton of new features and details to explore with the new generation model, so keep reading to learn more. Or, if you're interested in browsing Betley Chevrolet's inventory of 2018 Chevy Equinox in NH, click the link below to see what we've got in stock!
---
REASONS TO BUY A 2018 CHEVY EQUINOX
NEW AND IMPROVED EXTERIOR DESIGN
The 2018 Equinox features a sleek design that's lighter, made for improved handling, and has a whole new look that really stand out.
APPLE CARPLAY AND ANDROID AUTO ARE STANDARD
With the now-standard 7-inch MyLink System, 2018 Equinox buyers will also have access to Apple CarPlay and Android Auto on any trim level.
EXCITING NEW SAFETY OPTIONS
The 2018 Equinox Premier trim includes incredible new standard safety features, including a four-camera Surround Vision system and low-speed automatic braking system.
---
EYE-CATCHING NEW DESIGN
With the latest generation, the Chevy Equinox shows off an impressive exterior redesign that will change the way you think about SUVs. Gone are the days of box-like designs that serve only function! GM has made sure that just because you want function, doesn't mean you have to sacrifice aesthetic to get it.
One of the keys to the 2018 Equinox's new design is the sleek appearance. Looking at the 2018 model vs. the 2017 model, it almost looks like the 2018 Equinox is actually longer. But that's just the new design at work, offering a more angled roofline to make the vehicle look larger than it is. In fact, the new Equinox is actually is only 183.1 inches length-wise, compared to the 187.8 inches of the previous generation.
The most immediately recognizable change to the new Equinox is the new grille and headlight design. Featuring a more angular look, the new design up front adds to the sleekness of the overall design as you scan the vehicle from front to back. Taking cues from the recently redesigned Cruze and Malibu, the 2018 Equinox's front is more angular and sharp, making it look more aggressive than the soft design points of the previous generation.
On top of all of these changes, the Equinox has also shed around 400 pounds and shortened up the wheelbase by 5.2 inches. This slimmer platform is also backed up by the use of new high strength steel and structural adhesives, improving the stiffness of the chassis by 20 percent. At Betley Chevrolet, we can't wait to show off these improvements at our Chevy dealer in NH. We know our customers will be blown away by the performance capabilities of this crossover.
So what does all of that really mean for drivers? It means better handling, improved pickup from a full stop, and an overall more comfortable ride.
A BEAUTIFUL, MODERN INTERIOR
On the inside, Chevy has updated the Equinox to conform to a new design philosophy first seen on the new Malibu and Cruze designs. Compared to the 2017 model, the dashboard system appears simplified and higher quality. In fact, it blends right into the dash itself and appears luxurious on higher-end trims when paired with specific interior colors and accents.
Gone is the large plating and array of closely-placed buttons. In its placed is a compartmentalized system that gives every function a place, and makes on-the-go actions more seamless than ever before.
On the technology side, Chevrolet has thrown out its 4-inch screen option and elected to include its advanced MyLink system standard in all Equinox models. Starting with the standard 7-inch model and upgradable to an 8-inch screen with navigation, all Equinox owners now also have access to Apple CarPlay and Android Auto standard.
These features are truly groundbreaking, as they allow you to use smartphones apps via the MyLink display. This means buyers who might normally have to upgrade to get navigation or pay for internet radio, can now use those features via smartphone projection to the built-in display. Chevy was one of the only brands to have this new technology rolled out in nearly all of its new models. The company realizes that value is the most important thing to buyers today, and at our NH Chevrolet dealer, we've found the smallest difference can make a big impact on a vehicle decision.
You might think that the shorter wheelbase and decreased length on the new Equinox has affected its overall cargo space. But you'd be wrong! Compared to the 2017 model, the 2018 Equinox is offers only 0.2 cubic feet less space: 63.7 (2017 model) vs.63.5 (2018 model). So there's no sacrificing functionality to get the beautiful aesthetics on the new model!
MEET THE ALL-NEW PREMIER TRIM
The 2018 Equinox has a base MSRP of $23,500, making it one of the most affordable compact crossover SUVs on the market. But the great thing about affordability on the low-end is it means affordability on the high-end as well. And with the new model, buyers are able to choose from four different trims to pick an Equinox that fits their wants and needs.
At Betley Chevrolet, our favorite of the four new trims has to be the Premier trim. Not just because it offers the most features as the highest-end option, but because it offers luxury-class options for a value price.
Starting with the basics, the 2018 Equinox Premier trim does offer standard heated and ventilated front seats, something that's becoming more common amongst high-end crossover trims. But what's not common is the heated rear seats that also come standard. And then there's the heated steering wheel, which just also happens to be a standard feature.
On the outside, LED headlights and taillights are also standard. Again, this is to be expected from a high-end trim. But what about IntelliBeam headlights? This innovative new technology uses sensors to turn high beams on and off based on the traffic around you!
There's also a new suite of safety tech features that come standard on the Premier trim. Features like forward collision alert, rear-cross traffic alert, and blind spot monitoring are pretty standard among safety tech nowadays. Once again, though, Chevy went above and beyond. New for 2018 are low speed automatic breaking, a four-camera Surround Vision system, following distance indicator, and lane keep assist with departure warning.

GET THE ALL-NEW 2018 EQUINOX IN NH AT BETLEY CHEVROLET
The 2018 Chevy Equinox will be making waves across Chevy dealers in NH over the next year, thanks to its new design and overall value. At Betley Chevrolet, we're excited to offer this groundbreaking crossover and can't wait to share our expertise with you.
By choosing Betley, you're choosing to do business with a truly local, neighborhood NH Chevy dealership. With a 50-year history as an independent dealer, we don't answer to a large corporate entity, or look at our customers as simply numbers and data points. Instead, we simply look to create enjoyable car buying experiences with great service and upfront pricing.
Because we know that if you enjoy your experience buying a 2018 Equinox, you'll enjoy the vehicle itself more and hopefully share the positive experience with your friends and family. To us, that's the definition of successful car sales.
If you're interested in learning even more about the 2018 Equinox, feel free to contact us online or give us a call at (888) 606-3324. Or if you'd like to check out our inventory online, click the button below to start browsing now!