2018 CHEVY IMPALA NH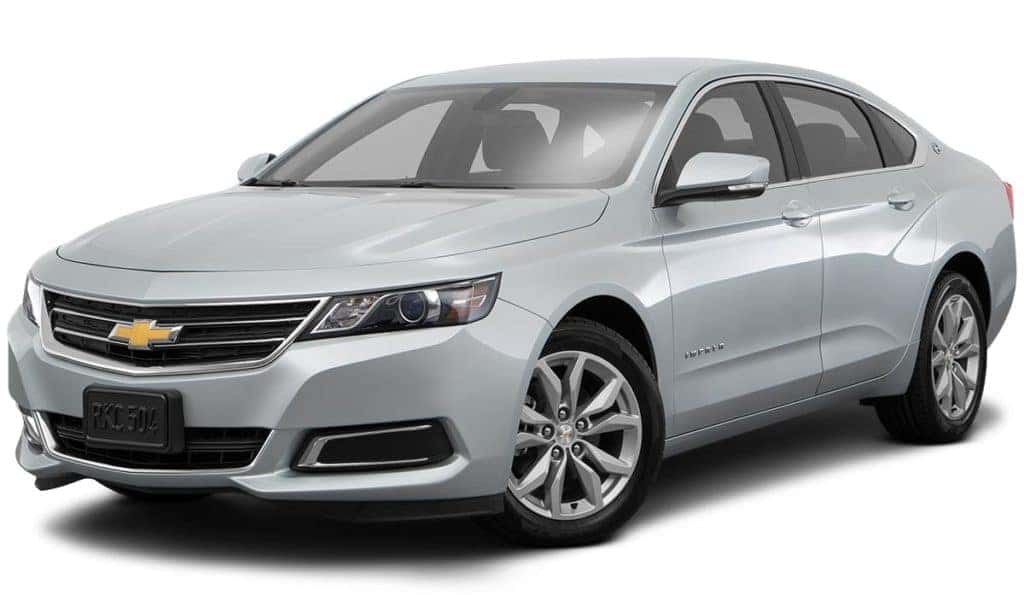 While the highways often seem bogged down with super-sized SUVs taking up all of the room, you may be surprised to learn that the large car class is actually where many new-car buyers will find the best combination of performance, fuel economy, interior amenities, and top safety ratings.
In fact, you need to look no further than the 2018 Chevrolet Impala to find a member of the large-car class that offers all of those valuable features (and even more) at a reasonable price point.
The well-rounded 2018 Chevy Impala is also impressively customizable, thanks to its two engine choices and its varied array of available packages that can be added to its already impressive list of standard features on each trim level.
PERFORMANCE AND SAFETY
One of the first things you'll want to consider when purchasing your 2018 Chevy Impala is your engine options. One of the truly great features of the 2018 Chevy Impala is that no matter which trim level you decide to bring home – be it the base level or the very top-of-the-line model, you'll have your choice of two engines to choose from, and both are solid performers.
The standard engine for the 2018 Chevrolet Impala is a 2.5-liter four-cylinder that gets 197 horsepower and 191 pound-feet of torque. It gets an EPA-estimated 22 miles to the gallon in the city and 30 mpg on the highway, which is considered very good for the large car class. While some may say that the engine isn't quite high-powered enough, you certainly won't have any issue keeping up with the traffic or merging onto the freeway if you choose the standard 2.5-liter four-cylinder option.
Now, if you're looking for more power or are planning on carrying a full passenger load and a heavy cargo capacity most of the time, you may want to consider the 3.6-liter V6 engine. The V6 gets 305 horsepower and up to 264 pound-feet of torque. Choose the V6 and you'll sacrifice a little fuel economy for that additional power, but you'll still get an EPA estimated 19 mpg in the city and 28 mpg on the highway, which are certainly not numbers to scoff at.
When it comes down to it, there is no engine option or trim level that is going to make you want to sacrifice your safety. Fortunately, when you choose to buy the 2018 Chevy Impala, you won't have to worry about skimping on safety – the 2018 Chevy Impala earned a perfect five-out-five star overall rating from the National Highway Traffic Safety Administration (NHTSA). Coupled with its higher than average predicted reliability score from J.D. Power and Associates, the 2018 Chevy Impala should be a car that you have no reservations about bringing home to your family.
TRIM LEVELS
The 2018 Chevrolet Impala is offered in a choice of three trim types: the base model LS, the mid-range LT, and the top-of-the-line Premier. No matter which trim you opt for, there is a plethora of additional package options that you can purchase to round out and customize your 2018 Chevy Impala.
The 2018 Chevrolet Impala LS offers drivers a solid foundation upon which to consider adding a few package options – that is, only if they find they aren't satisfied with the well-appointed cabin as it is. The sedan comes equipped with satellite radio, a rearview camera and Chevy's MyLink infotainment system, as well as automatic headlights, air conditioning, keyless entry and start, a six speaker sound system, the ability to turn your Impala into a 4G LTE and Wifi hotspot via OnStar, Android Auto, Apple CarPlay, automatic headlights, and an 8-inch touchscreen display.
There are also two USB ports, power-adjustable mirrors, and a tilt-and-telescoping steering wheel. For a starting price of just $27,895, the 2018 Chevrolet Impala LS is certainly a strong contender for being one of the most well-equipped base models in the large car class.
The mid-range trim level, the 2018 Chevrolet Impala LT, also offers a slew of high-end touches, including a remote engine start, a leather-wrapped steering wheel, a leather-wrapped shift knob, dual zone climate control, heated mirrors, and front-passenger power lumbar support and adjustment – all riding on 18-inch alloy wheels. The 2018 Chevrolet Impala LT starts at $30,220.
Rounding out the trim levels is the top-notch 2018 Chevrolet Impala Premier, which has a starting MSRP of $36,420. Choose the Premier trim and not only will you have pretty much every feature you can buy in the packages such as, blind-spot monitoring, rear parking sensors, an eleven-speaker Bose sound system, a heated steering wheel and navigation – but you'll also have heated seats, leather upholstery, a power-adjustable passenger seat, xenon headlights, a wireless charging pad and the powerful V6 engine.
INTERIOR AND PACKAGE OPTIONS
The five-passenger 2018 Chevy Impala is considered a member of the large car class, and you'll certainly feel as though you're driving in a cavernous sedan when you are settled into the cabin of the 2018 Chevy Impala. Not only does the car seat five adults comfortably and with copious amounts of head and leg-room, but it also offers some of the best-in-class cargo space you can find – 18.8 cubic feet to be exact.
No matter if you're heading to the grandparent's for the weekend, the airport for a long vacation or even just out to hit the links with a couple of buddies, the 2018 Chevy Impala has plenty of room to spare.
While the 2018 Chevrolet Impala offers each of its three trims with enough standard amenities to stand alone, it's always nice to have the option to add a few special touches to your car. Thanks to Chevrolet's extensive package options, 2018 Chevrolet Impala drivers have no shortage of ways to add a little luxury to their large sedan.
For those who seek top of the line entertainment options, check out the LT Entertainment Package, which offers a CD player, a 120-volt outlet, the aforementioned eleven-speaker Bose sound system, navigation and ambient interior lighting. There's also the Sunroof and Spoiler package for those looking to add a sportier feel to their 2018 Chevrolet Impala and of course, there are the available safety packages.
The Driver Confidence package will add rear-cross traffic alert, rear parking sensors and blind spot monitoring to your 2018 Chevrolet Impala LT, while the Premier Confidence Package includes forward collision warning, lane departure warning and adaptive cruise control. For those who choose to drive their 2018 Chevrolet Impala in the Premier trim, adding the Premier Confidence package elevates the car to true luxury status with the inclusion of ventilated front seats, a heated steering wheel and ground illumination.
Finally, both LT and Premier drivers can choose the Midnight Edition Appearance package if they're looking to make their 2018 Chevrolet Impala one of the sleekest, sexiest cars on the road. The Midnight Edition Appearance package includes black interior trim touches, black-painted 19-inch wheels, and black-painted pieces in lieu of the standard chrome exterior trim.
You'll want to carefully consider your needs and wants when it comes time to choose your 2018 Chevrolet Impala's trims and available packages – after all, with so many ways to truly make your Impala stand out, there's no reason not to customize your car with all of the features that will make you feel as though the 2018 Chevrolet Impala is the perfect car for you.