2018 CHEVY IMPALA PREMIER: BEST STANDARD FEATURES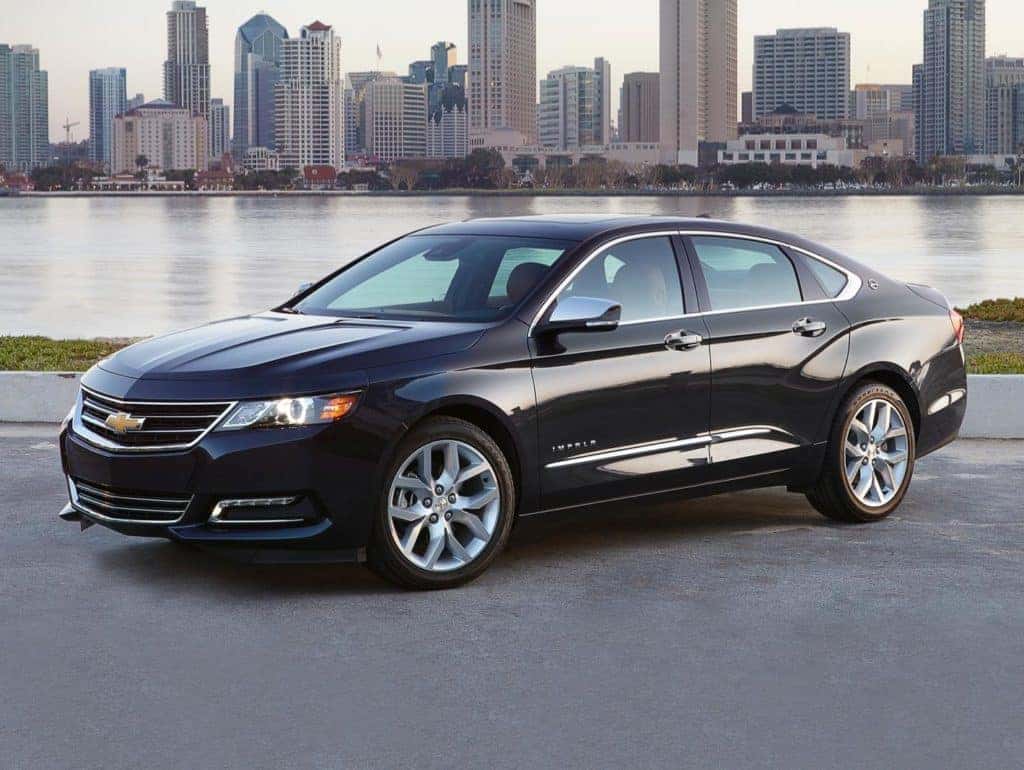 The 2018 Chevy Impala Premier is a sleek, full-size sedan. Not only does the Impala Premier look glamorous on the outside, but it also comes with a host of luxury features on the inside. You'll feel good driving the Impala Premier, and you'll love showing it off to family and friends. You'll also enjoy a smooth ride with adept handling and enhanced safety.
The Premier is an upgraded trim level of the 2018 Chevy Impala. You get more space, more features, and improved styling with this trim level. Here are some of the best standard features you will enjoy with the 2018 Chevy Impala Premier:
11-Speaker Bose Centerpoint Sound System
Become immersed in your favorite music with the 11-speaker Bose centerpoint sound system. You get superior audio coming at you from speakers positioned at just the right spots around the cabin. Tune in to satellite radio, stream music from your phone, or play music from a favorite app. You'll have complete control over your entertainment experience, and you'll be able to enjoy your music like you haven't in most other sedans.
Dual-Zone Automatic Climate Control
There's nothing worse than driving with someone who has different temperature preferences than you. Your passenger is complaining that it's too hot, but you feel like you need a sweater just to make it through the car ride on an otherwise hot, summer day. With the dual-zone automatic climate control in the 2018 Chevy Impala Premier, you won't have this problem. You and your passenger have control over the temperature on your side of the car, and the system will automatically adjust to ensure the temperature stays constant. You can both be comfortable and ride in peace.
19-Inch Machined-Face Aluminum Wheels
With the 19-inch wheels on the Chevy Impala Premier, you'll enjoy a smoother ride with better cornering. Larger wheels make for tires with wide tread and shorter sidewalls, which makes the tires better grip the road when cornering. In addition, larger wheels improve the appearance of the vehicle, making it look more sophisticated. With the Impala Premier, you get machined-face aluminum wheels that make for a more luxurious appearance.
Dual-Outlet Exhaust with Bright Tips
The dual-outlet exhaust on the Chevy Impala Premier looks stylish, and it improves the exhaust on the car, which improves the performance. The bright tips on the end of the exhaust tubes add a bit of bling that dresses up what could be misconstrued as another boring sedan. The dual-outlet exhaust shows that there's more to this sedan, both in terms of style and performance.
MyLink 8-Inch Infotainment System with Navigation
The large, 8-inch infotainment system in the Impala Premier makes navigation of all your apps and entertainment features easy. You even get navigation on the system, which makes it easier and safer to get to a new place. You can also use the system to access apps, texting and email. It's like your own command center!
The 2018 Chevy Impala Premier is not your typical sedan. It's a gorgeous car with sophisticated styling details and advanced features. Visit your local Chevy dealership to take a test drive and fall in love with it yourself.