2018 CHEVY SILVERADO HEAVY DUTY TRUCKS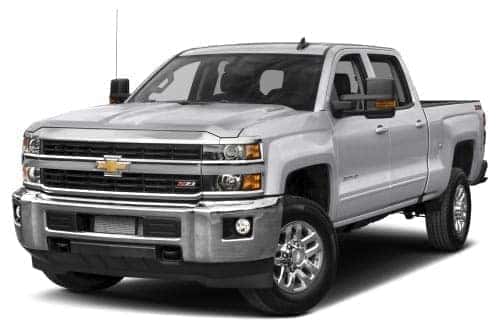 For those drivers who are no-nonsense and all business, the Chevy Silverado is the truck of choice. Designed to haul, tow, and make every job site task seamless, the Silverado lineup is the ideal partner in crime destined to pair up with the hardest workers across the country. When you're ready to "Find New Roads," and take your work to the next level, check out the 2018 Chevy Silverado 2500 HD and Chevy Silverado 3500 HD options near you.
Although there is more connecting the two than defining them, the Chevy Silverado 2500 HD and 3500 HD stand alone on their own merits.
Touted by industry expert, Edmunds, "The Chevrolet Silverado 2500 HD is a seriously powerful heavy duty pickup with a refined demeanor." On the other hand, Edmunds cheers "The Chevrolet 3500 HD is a heavy duty pickup for those have colossal towing needs."
Check out the shared and distinct features between these two workhorses and see which one best meets your unique needs and preferences. Behind the wheel of either heavy duty pickup truck, you'll be sure to pull ahead of the pack in no time.
PERFORMANCE
Designed to tackle the job site with unmatched strength and cutting-edge capability, the Chevy Silverado 2500 HD and 3500 HD exceed professional and personal expectations. Depending on the task at hand, the capabilities of the 2500 HD and 3500 HD are as follows…
Engines
Diesel operation in both the Chevy Silverado 2500 HD and 3500 HD means that drivers can anticipate piloting at 6.6-liter turbodiesel V8 engine, generating between a best-in-class horsepower rating of 445, matched to a six-speed Allison automatic transmission. Maximum towing is rated at 23,300 pounds with maximum torque coming in at 910 lb-ft.
Curb Weight
Certainly, curb weight impacts overall performance and in this case, the Silverado 2500 HD comes in between 5,741-6,689 pounds, while the Silverado 3500 HD weighs in between 5,98-6.901 pounds.
Payload
When it comes to payload ratings, drivers should expect the Silverado 2500 HD to return figures between 2,968-3,559 pounds, with the Silverado 3500 HD rated at 3,283-4,415 pounds.
Towing
Standard towing expectations list at 14,800 pounds for the Silverado 2500 HD; dropping to 14,600 pounds in the Silverado 3500 HD.
Configurations
Both the Chevy Silverado 2500 HD and 3500 HD are available in regular, double, and crew cab configurations. Depending on how many passengers you plan to bring along, choose accordingly. The regular cab in both the 2500 and 3500 accommodates three passengers, while the crew and double cab styles can both fit six.
TRIM LEVEL OPTIONS
Another similarity between the Chevy Silverado 2500 HD and 3500 HD is found in the trim level options. Both offer the bare-bones WT or Work Truck, followed by the LT, LTZ, and top-rated High Country models.
Given that the trims are similar in spirit between the two trucks, we'll detail the WT and LT in the 2500 HD, followed by the LTZ and High Country in the 3500 HD.
Chevy Silverado 2500 WT – Work Truck
Ready to hire your ideal colleague on the jobsite? Look no further than the Chevy Silverado 2500 HD WT. True to its name, this Work Truck might be bare bones, but offers everything you actually need to get the job done.
For instance, take the 17-inch steel wheels, rubberized floors, automatic locking rear differential, driver information display screen, manual crank windows – old-school style, power door locks, cruise control, air conditioning, 4.2-inch central display, tilt-only steering wheel, chrome bumper, and four-speaker sound system.
Opting for the double or crew-cab configurations nets drivers power windows and a six-speaker sound system.
Just in case bare bones doesn't quite cut it, check out the optional features on the WT, like Bluetooth capability, satellite radio, smartphone app integration for both Apple CarPlay and Android Auto, OnStar services, 4G LTE Wi-Fi, and voice controls throughout.
Chevy Silverado 2500 HD LT
Taking the best of what the WT has to offer, the LT adds a few extra comfort and convenience details. Starting with a remote-locking EZ-Lift and Lower tailgate – ideal for easy access to the truck bed – the LT also provides full power accessories, cloth upholstery, HD radio, enhanced driver display, remote locking and unlocking, heated mirrors, a leather-wrapped steering wheel, enlarged 8-inch touchscreen, and 17-inch alloy wheels.
The LTZ and High Country represent a increase in luxury and refinement, with the High Country slotting in at the top of the lineup.
Chevy Silverado 3500 HD LTZ
For those who can't quite find what they need or want from the Silverado 3500 HD WT or LT, the LTZ is poised to present more. Check out the remote engine start, leather upholstery, dual-zone automatic climate control, power-sliding back mirror – complete with defogger, power-folding mirrors, driver-seat memory settings, heated and power-adjustable seats up front, 110-volt power outlet, and tilt-and-telescoping steering wheel.
If that still isn't quite enough, step up to the Silverado 3500 HD High Country – ready to exceed your expectations.
Chevy Silverado 3500 HD High Country
It doesn't get any better than the Silverado 3500 HD High Country – the very definition of high-end luxury. Take, for instance, the power-adjustable pedals, wireless phone charging, heated steering wheel, side-assist steps, spray-in bedliner, premium Bose sound system, enhanced leather interior materials, ventilated front seats, navigation system, and cargo box tie-downs.
SHARED SAFETY AWARDS AND INDUSTRY ACCOLADES
Boasting solid safety ratings, owing to cutting-edge safety technology, the Chevy Silverado HD 2500 and 3500 earned four out of five stars from the National Highway Traffic Safety Administration (NHTSA). Awarded the Most Dependable Large HD Pickup for three years in a row by J.D. Power and Associates, Vincentric also recognized the Silverado HD as the Best Value Commercial Pickup Truck in America.
Pricing is quite close between the Chevy Silverado 2500 HD and Chevy Silverado 3500 HD. Priced to start at $32,935, the Silverado 2500 HD is only slightly more affordable than the starting MSRP of $33,480 attached to the Silverado 3500 HD.
Another point of consideration for some consumers concerns legacy – in this case, proven miles on the road. The Silverado 2500 takes the edge on the Silverado 3500 in this regard. First launched as a 1998 model, the 2500 bests the 3500 by an extra five years on the road. The Silverado 3500 wasn't released to the public by Chevrolet until 2003.
Rest assured, when you shop Chevy you cash in on the brand's promise to "Go Further." No matter how grueling your job, how brutal your daily demands, Chevy has created a hard and smart working shortcut in its Silverado HD pickup trucks.