2018 CHEVY TRAVERSE NH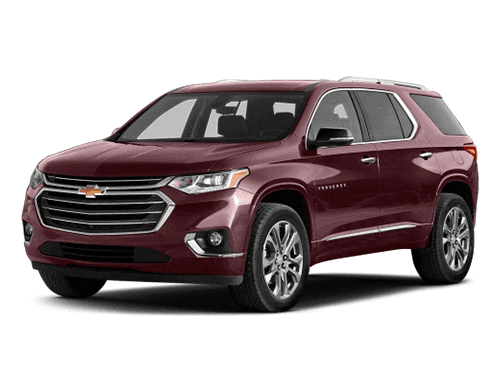 The 2018 Chevy Traverse has been completely redesigned from the ground up, and will be hitting Chevy dealers in NH this summer!
It brings you greater driveability, comfort, and fuel economy than previous models. And somehow, It's bigger with its next generation design, yet weighs 350 pounds less than previous models.
This change increases fuel economy and despite the weight reduction, the Traverse can seat up to eight and still offer more cargo room than the larger Chevrolet Tahoe. This change makes it one of the most practical, and affordable family SUVs on the market! And did we mention the new state-of-the-art safety features include Rear Seat Reminder and Teen Driver technology.
In our overview, we'll detail the best new features, and other exciting changes made to the 2018 Traverse that you should look forward to checking out this summer!
IMPROVED PERFORMANCE
The 2018 Traverse comes with two options for the engine. The 3.6-liter V6 is standard and features a nine-speed automatic transmission, increasing the horsepower and torque over older models. It is rated for 5,000 pounds of maximum tow capacity.
Drivers can also choose a turbocharged 2.0-liter, four-cylinder engine with the nine-speed transmission. Standard Traction Mode with both engines lets drivers make real-time adjustments for road or off-road conditions. The all-wheel-drive models can switch to front-drive as well.
The special High Country edition has a twin-clutch all-wheel-drive system that offers more power.
REDESIGNED INTERIOR
The redesigned interior offers Standard Active Noise Cancellation for a quieter, more enjoyable ride. You can choose a seven or eight occupant seating design and both configurations have split-folding Smart Slide for second-row seats.
There is increased interior storage space and larger bins plus spots designed for storing tablet computers and umbrellas. There is more storage behind the third-row seats and it includes an area beneath the cargo floor to store items out of site. The second and third seat rows also fold down to offer more storage.
All 2018 Traverses come with the MyLink infotainment systems, Apple CarPlay, and Android Auto smartphone projection systems plus an OnStar subscription and a 4G LTE Wi-Fi internet connection.
NEW STANDARD FEATURES AND GREAT AVAILABLE OPTIONS
Two new safety features have been added this year. The Rear Seat reminder gives you a warning alarm if the rear doors were opened prior to driving the vehicle but not after stopping. This feature will help alert everyone if there are young children or pets in the car.
The second new safety measure is the Teen Drive technology. Parents can set a program and receive a report detailing how the teen drove. Parents can then take the opportunity to let young drivers know what they need to improve on.
Additionally, the Traverse is available with adaptive cruise control, forward collision warning with pedestrian detection, and automatic emergency braking. A lane departure warning will help you stay centered and blind spot monitoring comes with a rear cross-traffic indicator.
Options include the special Traverse RS Package with a blacked-out exterior and a black chrome grille, black Chevy logo, and dark-finish 20-inch wheels. The High Country package comes with a brown leather and suede interior, power folding third-row seats and polished 20-inch aluminum wheels.
Chevrolet believes the new 2018 Traverse offers what a family is looking for in a crossover SUV. With this year's options, you can tailor the buying experience to fit your needs, while still getting many features of larger SUV's. The Traverse will fit well into the competitive world of crossover SUVs that is gaining popularity each year.

THE 2018 TRAVERSE IS COMING SOON TO BETLEY CHEVROLET
The 2018 Chevy Traverse will be making waves across Chevy dealers in NH over the next year, thanks to its new design and overall value. At Betley Chevrolet, we're excited to offer this groundbreaking crossover and can't wait to share our expertise with you.
By choosing Betley, you're choosing to do business with a truly local, neighborhood NH Chevy dealership. With a 50-year history as an independent dealer, we don't answer to a large corporate entity, or look at our customers as simply numbers and data points. Instead, we simply look to create enjoyable car buying experiences with great service and upfront pricing.
Because we know that if you enjoy your experience buying a 2018 Traverse, you'll enjoy the vehicle itself more and hopefully share the positive experience with your friends and family. To us, that's the definition of successful car sales.
If you're interested in learning even more about the 2018 Traverse, feel free to contact us online or give us a call at (888) 606-3324. Or if you'd like to check out our inventory online, click the button below to start browsing now!