Specs for the 2020 Chevy Colorado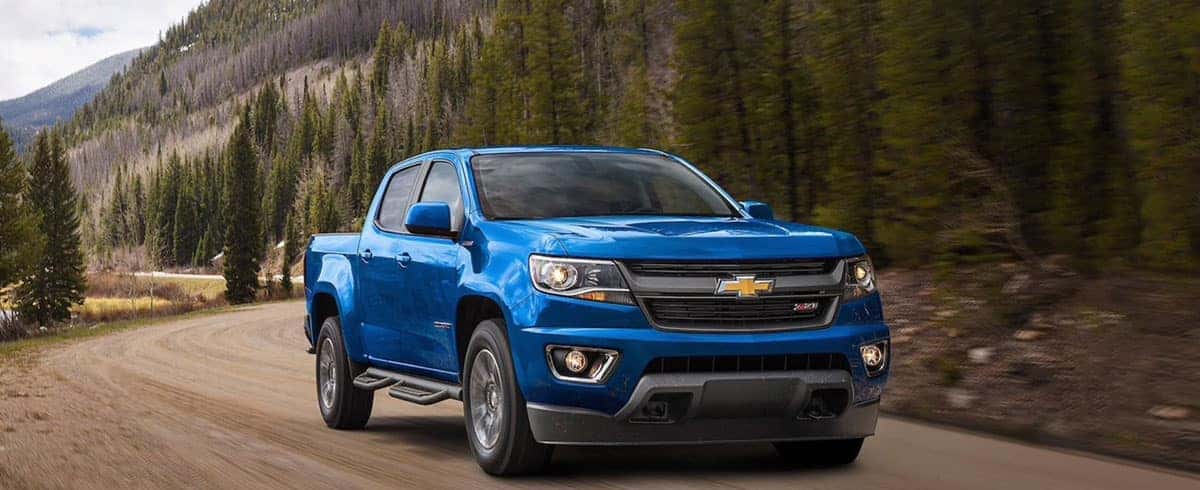 Despite what you might see out on the road these days, not all trucks are full-size, heavy-duty monsters. You can still get an affordable and dependable truck for carrying smaller loads, such as for your weekend projects or for camping trips and other recreational activities. Leading the pack for smaller truck options is the Chevy Colorado, which is back with all-new options for 2020.
The Chevy Colorado offers a smooth ride and better fuel efficiency than many of its competitors, and it all comes in an attractive and sporty package. Take a closer look at the 2020 Chevy Colorado to see what it has to offer:
Exterior Styling
The 2020 Chevy Colorado has an attractive look that's a blend of style and practicality. It doesn't go overboard on bells and whistles to make the truck look luxurious, but it offers enough detailing to elevate it above its work-horse peers. With the 2020 Chevy Colorado, you get exterior features like squared-off wheel wells, detailed grooves along the body, and a wide grille that's cut through with a silver bar and the bold Chevy logo.
You have numerous options for customizing the 2020 Colorado, such as choosing between a crew cab or extended cab, two different bed lengths, or five different trim levels. Your choices can change the exterior look, including different color accents, running boards, and body trim.
Interior Styling
The interior of the 2020 Chevy Colorado is a lot nicer than what you would find in comparable pickup trucks. Though the hard materials are designed with utility in mind, they have a nice sheen to them that makes them seem a bit higher quality. The center stack includes a large infotainment display screen flanked by air vents and resting atop temperature and other controls. The layout makes it easy to access all controls you'll need.
Seating is comfortable, and the upholstery is designed to resist stains and other damage. You'll enjoy a nice blend of utility and comfort inside the all-new Colorado.
Performance
The most important thing that most people want to know when they are shopping for trucks is what kind of performance they can expect. You'll love what you get in the new 2020 Chevy Colorado, which offers smooth yet powerful performance and capable towing.
The base model Colorado comes with a 2.5-liter four-cylinder engine that puts out 200 horsepower and 191 lb-ft of torque. You'll enjoy fuel economy of 20 mpg in the city and 26 mpg on the highway.
If you want more power, you can upgrade to a 3.6-liter V6 engine that puts out 308 horsepower and 275 lb-ft of torque. You can also upgrade to a 2.8-liter turbodiesel engine that puts out 186 horsepower and 369 lb-ft of torque. Though you might get a little less horsepower with the turbodiesel, the increased torque will give you more towing power.
Depending on the configuration you choose, you can enjoy a towing capacity of up to 7,000 pounds with the 2020 Chevy Colorado. That's a lot of towing power to handle to just about anything, whether you want the truck for personal use or for your business.
Comfort and Convenience Features
The Chevy Colorado comes standard with the Infotainment 3 system, which comes with excellent features like Android Auto and Apply CarPlay. Two USB ports are included in the front, and two more are found in the back, making it easy to charge and stream your personal devices. You won't have to fight over who gets to charge while you're driving. There's also a 110-volt outlet for charging in both the front and the back.
A WiFi hotspot offers you a 4G LTE connection and allows you to charge up to seven devices. As you upgrade the trim levels, you can enjoy even more features, such as a premium Bose sound system, the OnStar system, and more. Other interior comfort upgrades include a tilt-adjustable steering wheel, front and rear cupholders, front and rear door pockets, all-weather floor mats, accent lights, and an all-weather floor liner. You can upgrade features through options packages, as well as by moving up the trim levels.
Safety Features
The Colorado may be fierce and powerful, but that doesn't mean that it's indestructible. You need great safety features to ensure that you and your passengers are protected in case of an accident. The 2020 Colorado has a lot of advanced safety features that will make you feel more comfortable on the road.
Standard safety features include mainstays like anti-lock brakes, an engine immobilizer, stability and traction control, tire pressure monitoring, and a suite of airbags. Additional safety features include a post-collision safety system, daytime running lights, dusk sensing headlights, auto delay off headlights, and front head rests.
When you move up the trim levels, you get more safety features, such as rear door child safety locks, a rear center three-point belt, and rear adjustable headrests. The Safety Package adds forward collision alert and lane departure warning.
With the right configuration, you can get all the safety features you want. You'll feel comfortable, and you'll feel good about driving around your family in the all-new Colorado.
Is the Chevy Colorado Right for You?
The 2020 Chevy Colorado is an affordable and attractive pickup that offers great performance, enticing comfort and convenience features, and enough safety features to make you feel good driving it. It also has the towing capacity you'll need for just about any job. But toward really understand what makes the 2020 Chevy Colorado so special, you need to experience it for yourself. The 2020 models are arriving at dealerships soon, and you should visit your local Chevy dealership to take a test drive for yourself.
After taking your test drive, talk to the representative about the different options and trim levels to put together the right configuration for your needs and your budget. With so many options available, you are sure to be able to put together the perfect combination for your truck. Visit your Chevy dealership today to get started!