2020 Chevy Silverado 1500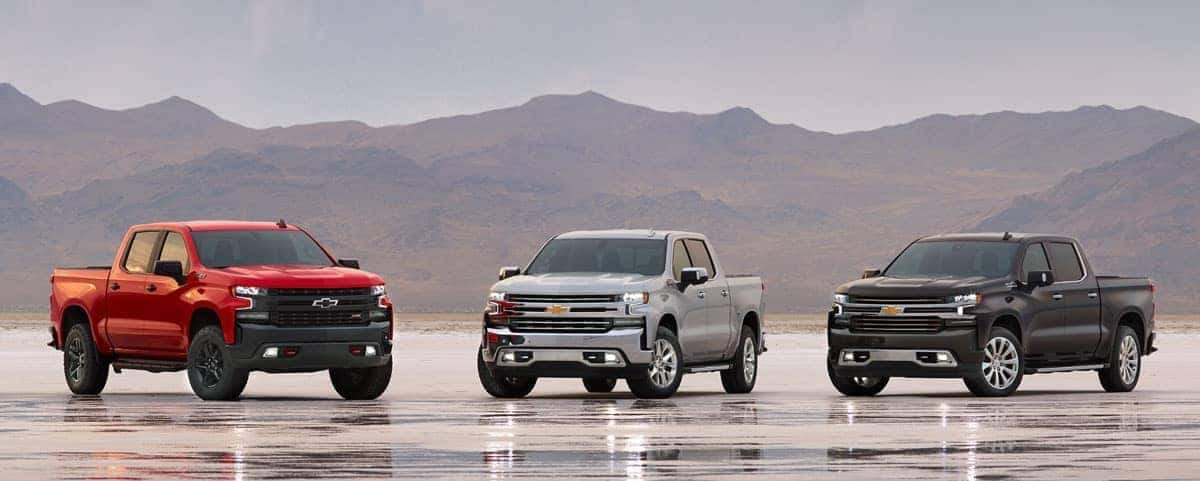 Right now, the Chevy Silverado 1500 is one of the most popular Chevy trucks for sale. This truck also has a long history before that. Silverado was originally the name of a trim level used on a previous truck called the Chevy C/K. However, in 1999, the Chevy Silverado became its own light-duty truck. Since then, it has been through many upgrades and changes to become more advanced and capable than ever.
For 2020, there are a few exciting changes for the Silverado 1500. The biggest change is probably the addition of a 3.0-liter diesel engine. Another change for 2020 is the availability of more trailering technology and the available Adaptive Cruise Control safety feature. Learn more about the 2020 Silverado 1500 and all it offers you below.
Exterior
The 2020 Silverado 1500 offers you a strong and capable exterior look. This truck has a muscular presence, but it is also well-sculpted for better aerodynamics. With available exterior features like High-Intensity LED headlamps, 20-inch machined-aluminum alloy wheels, and advanced trailering features, this truck was built to work for you.
The cargo bed for the Silverado was also built to function well for you. It is strong because it was built with high-strength roll-formed steel. In 2019, the bed of the Silverado 1500 became wider and deeper so that you are better able to store and haul your stuff. Your truck bed now offers you up to 20% more cargo volume than the competition. The Silverado 1500 is available with three different bed lengths. You can get an 8 foot, 6 foot 6 inch, or a five foot 8 inch bed for your Silverado. These beds have 12 fixed tie-down points as well as locking bins for your cargo. There is also an available power-operated tailgate and an available 120-volt power outlet in the bed.
Engine Options and Towing Capabilities
The Silverado 1500 was built to give you the ability to customize your truck for the performance you need from it. That is why there are multiple engine options in this vehicle. You can choose the engine that gives you the performance you are looking for. Take a closer look at the engine options here.
4.3-liter V6 – This is the engine found standard in the base model Silverado 1500. Some trucks start with a four-cylinder engine, but this one is a V6 to give you more power. With this engine, you can get 285-horsepower and 305 pound-feet of torque. This V6 engine is paired with a six-speed automatic transmission.
5.3-liter V8 – Your next engine option is a V8 engine. This 5.3-liter V8 gives you 355-horsepower and 383 pound-feet of torque. You can get the standard six-speed transmission or upgrade to an eight-speed transmission and stop/start fuel-saving technology.
6.2-liter V8 – The 6.2-liter V8 engine gives you 420-horsepower and 460 pound-feet of torque. This engine is paired with a 10-speed automatic transmission, and it gives you a very energetic acceleration.
2.7-liter Turbocharged Four-Cylinder – The turbocharged four-cylinder engine was added to the Silverado for the 2019 redesign. This engine gives you 310-horsepower and 348 pound-feet of torque. This engine also offers you the best fuel economy with 20 city and 23 highway miles per gallon.
3.0-liter Duramax Diesel – Finally, you have a diesel engine option that is expected to produce approximately 277-horsepower and 460 pound-feet of torque. This 3.0-liter diesel engine is mated to a 10-speed automatic transmission.
There are a lot of great engine options to get you the performance you need from the 2020 Silverado 1500. The diesel engine option is an addition to the Silverado 1500 for 2020. This is an exciting option because diesel engines can offer you a great towing experience with more torque and better fuel economy.
When it comes to towing and hauling, the towing capacity of the 2020 Silverado has increased to 13,400 when this vehicle is properly equipped. The payload capacity for the 2020 Silverado will range from 1,745 to 2,543 pounds. These numbers make the Silverado 1500 a very capable truck. The ability to tow and haul that much cargo means having the ability to tow boats, jetskis, campers, work supplies, and more.
The Silverado 1500 is a considered a half-ton pickup truck, while the Silverado 2500 and 3500 are heavy duty pickup trucks. The Silverado 1500 has some great engine options and performance capability, but the heavy-duty truck options offer you even more capability when it comes to towing and hauling heavy loads. The heavy-duty options are more purely work trucks, and while the Silverado 1500 can be a work truck as well, it doesn't have as much capability as the 2500. The truck you choose depends on your exact needs when it comes to towing and hauling. You can always consult our experts at Betley Chevrolet to discuss which truck fits your needs best. However, no matter which Silverado you choose, you will get an impressive performance.
Interior
The interior of the Silverado 1500 has a lot to offer you in terms of comfort and technology. This vehicle has seating for three to six people depending on the trim level and the cab option that you choose. The Regular Cab models seat three people on a front bench seat. You also have a Double Cab available that can seat five or six people, but the Crew Cab is the largest option. The Crew Cab model has the same passenger capacity as the Double Cab with seating for five or six, but the Crew Cab gives you more rear legroom.
The Silverado 1500 has standard cloth seating, but you can upgrade your interior for options like leather upholstery, front bucket seats, heated front seats, heated rear seats, ventilated front seats, and a heated steering wheel. The interior of the Silverado also offers you a quieter experience with a design that was built to reduce exterior noise from coming in. This truck also gives you some creative in cabin storage like two available rear-seatback storage compartments.
Technology
In addition to the comfort and space you can find in the 2020 Silverado 1500, you can also get some great technology features. The Silverado 1500 offers you a wide range of standard features like a 7-inch touchscreen, Chevy Infotainment 3, Apple CarPlay, Android Auto, a USB port, Bluetooth, a rearview camera, and the Teen Driver system. You can also add technology features like a Wi-Fi hotspot, wireless device charging, keyless entry, remote start, and a Bose audio system. The Silverado 1500 offers you a lot of great technology to keep you connected and entertained, but they also offer you some technology to help you get the job done.
New for the 2020 Silverado 1500, you can also get some trailering technology to help you with hauling those heavy loads. Check out some of the available tech below.
myChevrolet App with Trailering Features – The myChevrolet App has been around for a couple of years. It gives you the ability to remotely start your car, lock your car, and unlock your car. Now, however, it also gives you some trailering features like towing checklists and a trailer light test to be sure you are ready to go.
Advanced Trailering System – There is also an available Advanced Trailering System that is available as an infotainment app. This system gives you features like Hitch Guidance with Hitch View, Auto Parking Brake Assist, Trailer Tire Pressure Monitoring, and more. This allows you to check your systems before and during towing to make sure things are working as they should be.
Trailer Camera Package – You can also add the Trailer Camera Package to your 2020 Silverado 1500. This gives you a 15-view trailering camera system so that you can see things from every angle.
The 2020 Silverado 1500 is the most technologically advanced Silverado yet with a lot of great entertainment technology as well as trailering technology. There are even some great safety technology features available with this truck.
Safety
The 2020 Silverado 1500 also offers you some great safety technology when it comes to driver assistance features. New for the 2020 Silverado, you will get an available adaptive cruise control safety feature. This feature has a high-mounted front-facing camera that judges the distance between you and the driver in front of you. If the distance gets too close, the system will slow your vehicle down to adapt to the vehicle in front of you.
The Silverado 1500 gives you other beneficial safety features as well. You can get available safety features like Forward Collision Alert, Front Pedestrian Braking, Low Speed Forward Automatic Braking, Rear Cross Traffic Alert, and Front and Rear Park Assist.
There are some great updates for the 2020 model of the Silverado 1500 including the addition of a diesel engine option. This vehicle also still has some of the great features from previous models to give you the technology, comfort, capability, and performance that you are looking for. If you have any questions about the 2020 Silverado 1500, feel free to ask our expert staff.
Apply for Financing