2020 Chevy Spark

There are many reasons to purchase a compact sized car, but most go for these smaller cars because they are perfect for city driving and because their price tags are generally much lower than larger models. There are many options for you to choose from when it comes to selecting a compact car that's right for you. In the below, we will outline and highlight key components of the 2020 Chevy Spark, a four seater compact hatchback. Although it's the smallest car in Chevy's legendary lineup, the 2020 Spark packs plenty of technology and safety features into its small size. Compact cars have often been looked at as having to lack something in one way or another, but the 2020 Chevy Spark refuses to compromise in overall performance, comfort, and safety. The Spark is your go-to when your budget is on the lower end but you don't want to sacrifice any features – and you certainly don't have to with the 2020 Spark. This 5 door compact hatchback car will jet you around town, and you'll never have to wonder if you'll fit in that parking space. Maneuverability and functionality are the 2020 Spark's main features, and we'll go through all the highlights of this wallet friendly compact car below.
What's New
Chevy unveiled a new Spark design in 2015, and has since made minor changes to the car's appearance and performance. In 2019, Chevy gave the spark a face-lift, paying special attention to the front end appearance. As you'll see below, there are many options to choose from in both exterior color and appearance, as well as safety features that are becoming standard across the market.
Exterior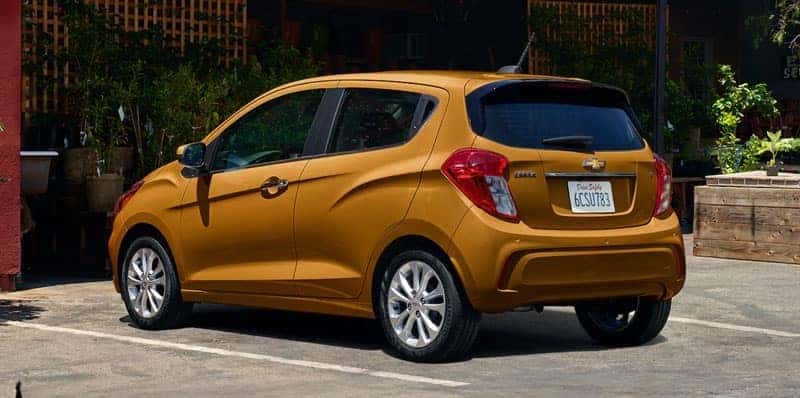 While the Spark is small in size, it makes up for it in commanding appearance. The Spark comes in 10 color options, including sleek Summit White and fashionable Mosaic Black, plus the fun and vibrant Passionfruit, cool Raspberry, bright Caribbean Blue, creamy Toasted Marshmallow, and more. The Spark is available in four trim packages – the base LS, well-equipped LT, sportier ACTIV, and fully equipped 2LT. The ACTIV trim gives this city car a sportier look. Unique to this trim are front and rear black bumpers, roof rails that are compatible with many different rack accessories, and a raised suspension, contributing to its overall sportier look. The top tier 2LT trim packs plenty of chrome to your Spark's exterior, including front grill and bumper accents, door handles, and window frames. While the Spark is a 5 door style, the handles for the rear passenger doors are disguised into the window frames, making the overall body type appear more like a coupe. The roof is raised just enough to provide for adequate head space for you and your passengers, with the overall height coming in at just under 5 feet. While your Spark's exterior options range from standard to sporty to sleek with chrome, its overall street presence is much more substantial than your run of the mill compact car.
Interior
Chevy is known for its modern, polished interiors, and the Spark is no exception to the rule. The base model keeps it simple with manual door locks and manually operated windows, but move up from the base model and you'll find features like keyless entry and push-to-start, heated seats, leatherette seat trim and a leather wrapped steering wheel. Standard in all four trim options is a 7 inch infotainment center on the dashboard, and the Spark's climate controls are not overwhelmingly spread out or elaborate in keeping with the car's clean approach. The 2020 Spark is a 4 seater, with ample room head and leg room in the front seat. The rear seat offers adequate overhead and leg space for your passengers for around town travel or short distance travel, such is the nature of compact cars. Important to note is the lack of a center seat in the back, but in its place is a storage console with cup holder for your rear passengers. The trunk space offers 11.1 cubic feet of cargo room, but fold the rear seats down and that increases to 27.2 cubic feet of space to store and transport your things. The 2020 Spark gives you the comfort and capability you want and expect from a Chevy car, at a smaller price tag and smaller footprint.
Under the Hood
Let's take a closer look at the 2020 Spark's performance capabilities. Although compact cars are small in nature and are not known for power and performance, the 2020 Spark has options to satisfy your needs to get you from point A to B. All Spark models come with a 1.4 liter inline 4 cylinder engine, which means you get 98 horsepower and 94 lb-ft torque. In simpler terms – the Spark's 0 – 60 is about 10 seconds, so this isn't your go-to for speed, but for city travel and short stints on the highway, it will certainly suit your needs. A five-speed manual gearbox is available for all Spark models at a lower price point, but if shifting gears isn't your thing, the Spark is also available with a Continuously Variable Transmission (CVT) automatic. The manual transmission will get you accelerating a second or so faster than the automatic, however. All Spark models are front-wheel drive, and weighing in at only about 2300 pounds, the Spark will feel like it zips around town, When it comes to power and performance, the Spark won't win a race against a Chevy Camaro, but it will deliver you to your destination with ease and purpose.
Safety
You shouldn't and don't have to compromise when it comes to safety with the 2020 Spark. Chevy takes its vehicle safety seriously, in the last few years rolling out various new and improved safety features across all of its models. Every 2020 Spark comes standard with ten airbags including side impact airbags mounted in all seats, rear head and side airbags, as well as dual front knee airbags. Different Spark packages offer other various safety features, like stability control, traction control, brake assist and more. Most notably is the Driver Confidence Package, available with the 2LT trim. The Driver Confidence Package equips the Spark with lane departure warning, forward collision alert and an automatic emergency braking system.
Technology
Chevy has made a commitment to technology and entertainment features across its entire lineup, with its center column "Infotainment Center" driving this movement. Every Spark comes equipped with a seven inch touch screen infotainment center – that includes in the base model, all the way up to the 2LT top tier trim package. The seven inch touchscreen is your go-to for connectivity and entertainment. The infotainment center is both Android Auto and Apple Carplay capable, you can use your phone's navigation system to get where you're going, and your route will be displayed on the car's screen which allows you to stay hands-free while you drive. Through Apple Carplay and Android Auto, you can access your contacts, texts, music, and apps, all through your car's touch screen. The infotainment center also has Bluetooth capabilities, so you can go cordless but still play your favorite tunes right from your mobile device. SiriusXM Satellite radio is available through your Spark's seven inch touch screen, and in the 2LT model, you get a 3 month free trial of OnStar's legendary safety services. Bring the internet with you with 4G LTE WiFi hotspot connectivity, optional in all models. The Spark has two USB ports for device charging and to connect your Apple CarPlay or Android Auto, as well as a standard 12 volt power outlet. The sound system in all but the LS model consists of six speakers, whereas in the LS trim the system is four speakers. Remote keyless entry and push-to-start ignition are also available in the higher trim options. Technology isn't lacking in the 2020 Spark, and you've got plenty of features to keep both you and your passengers entertained on your commute!
As you can see, the 2020 Chevy Spark has a lot to offer in a small package. Its small scale allows you to travel in and around the city and maneuver tight spaces with ease, and its small scaled price tag keeps your budget in check. It's the perfect starter car for first time drivers, or if you're ready to downsize from a larger hatchback or SUV. It's lightweight, functional, and practical, and you don't have to sacrifice leg room, technology, or comfort. Chevy's legendary safety standards are paramount across its entire fleet, and the Spark is no exception. Stay connected with the Spark's standard seven inch infotainment center, and hook up your mobile device to take advantage of Apple Carplay or Android Auto in your 2020 Chevy Spark. If you have any questions about the 2020 Spark, the team at Betley would be happy to help get you the answers you need to make the right choice for you. Reach out to us today to schedule an appointment for a test drive or to browse what we have in stock!
Apply for Financing