2020 Chevy Trax

Have you been looking for a subcompact SUV that provides more versatility than your sedan? If so, you're not alone. We've seen a ton of interest in these vehicles from New Hampshire drivers and when it comes to subcompact SUVs, the 2020 Chevrolet Trax is a standout offering on our lot. This sporty little utility vehicle features three trims, seating for 5, an available all-wheel drive, and myriad add-ons for both safety and convenience. All of which makes it a solid candidate for your next daily driver.
Performance and Safety Features
This iteration of Chevy's popular SUV shares most of the same specifications and features as its model year predecessor, fine tuned for the 2020 Trax. The turbo-charged 1.4-liter four cylinder Ecotec engine offers fuel-efficiency and reliability, along with 138 horsepower at 4900 RPM and 148 ft-lb of torque. This sporty little SUV is perfect for commuting in the city or on the highway, running plenty of errands in one go, and packing up everyone's essentials for long trips.
The 2020 Trax comes standard with 6-inch wheels, halogen daytime running lights, and an athletic-looking two-port grille and fascia. While efficiency-boosting front-wheel drive is offered as standard on all 2020 Chevy Trax vehicles, you can upgrade to the available all-wheel drive to heighten handling to ensure traversing the east coast is a breeze, regardless of season.
Modern safety features offer drivers and passengers peace of mind when driving a new Chevy Trax. The following are standard on all 2020 models:
Rear vision camera, providing a view behind you as you back out of parking spaces or maneuver through tight areas.
ABS brakes automatically sense when a tire has stopped rotating under extreme braking, and will modulate the brake pressure to allow the tire to rotate.
Stability control automatically senses when the vehicles handling limits have been exceeded and reduces engine power and/or applies select brakes to help prevent the driver from losing control of the vehicle.
Safety system including 10 airbags, including front-impact airbags, side impact airbags for the front and rear seats which are meant to protect passengers during a side impact collision, overhead airbags which are used to protect occupants' heads in the event of a side collision or rollover, and knee airbags help to protect the lower extremities.
Security system including an alarm and ignition disable device that will prevent the engine from starting if the correct original manufacturer key is not used.
The LT trim has rear park assist, side blind zone alert, and rear cross traffic alert as available add-ons while the Premier trim comes standard with all three, as well as forward collision alert and lane departure warning.
As with all new Chevrolet vehicles, the Trax has the option to add OnStar Automatic Crash Response for additional safety and reassurance. In the event of a crash, sensors built into the Trax can automatically alert a trained, Emergency-Certified OnStar Advisor who can send help your way. OnStar can then use GPS technology to pinpoint your vehicle's location so first responders can find you quickly to offer critical assistance when you need it most. OnStar Automatic Crash Response is included in the available OnStar Safety & Security Plan add-on.
Interior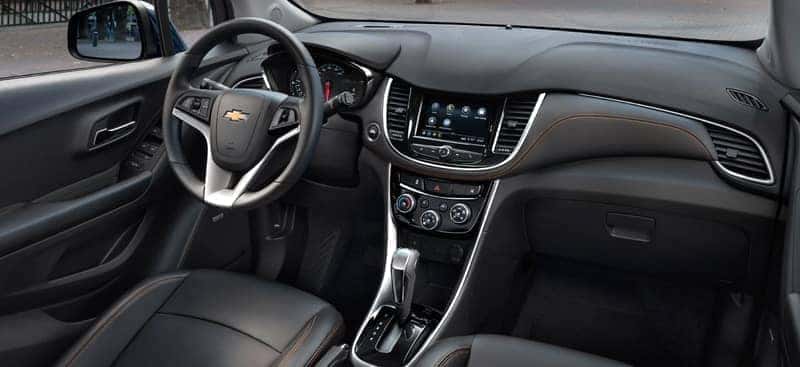 The tall ride height makes it easy to get into while the large windows give drivers greater visibility and offer an expansive outward view for daydreaming passengers. The expansive headroom in the cabin helps it feel spacious despite its small size. The modern interior has stitched dashboard inserts and sleek lines that provide an upscale aesthetic that meshes well with the on-board technology features.
The 2020 Trax comes standard with an easy to use touchscreen infotainment system mounted in the middle of the dashboard that is well integrated with modern technology offerings. The simple touchscreen responds quickly to input and is easy to connect with your Android or Apple device to take advantage of available smartphone integration-capabilities. Yes, that means both Apple CarPlay and Android Auto are standard on all Trax trim levels.
Versatility is often what our customers say drew them to the Chevy Trax. The emphasis on interior space offers passengers a good amount of legroom and headroom for a subcompact SUV. It's clear you can seat five people and pack all of their gear in the back. But there are actually eight different ways to carry passengers and cargo wherever you're going. With a 60/40 split-folding rear seat and a fold-flat front passenger seat, you can carry items up to eight feet long and make the most of the 48.4 cubic feet of cargo space with the rear seats folded down as well. So, fold down the seats, pack up your new Trax, and see how easy it is to move your gear around New Hampshire.
Exterior
The exterior of this model really hasn't changed too much from previous iterations. It still features a snappy, sporty body with sleek detailing but Chevrolet did decide to drop the Storm Blue Metallic, Sandy Ridge Metallic, and Dark Copper Metallic paint options. Still, the available offerings (in varying shades of white, gray, silver, black, and red) are likely more than enough to please most drivers.
The two-port front grille and fascia highlight the classic bowtie emblem, giving the front of the vehicle a bit of flare. The body style is very comparable to other subcompacts in its segment but the 167.6 inch length gives it an edge when fitting into tight spaces.This four door subcompact looks great and is small enough to make parking in cities like Manchester, NH easier than ever.
Trim Levels and Technology
The 2020 Chevrolet Trax comes in three trim levels: LS, LT, and Premier. The base LS trim has enough standard features to feel like a modern SUV, and the LT adds more practical features and has access to several more add-on packages that let you better customize it to your preference. The Premier trim not only gets several exciting interior upgrades, but also has added active safety features that are sure to be popular with New Hampshire families.
LS Trim Level:
The base model offers most of the features covered on this page, giving you a safe, reliable and versatile daily driver with plenty of multimedia features. Each trim level features the same engine and can be upgraded to all-wheel drive.
LT Trim Level:
The next trim up adds features focused on convenience, comfort, and safety. Convenience comes in the form of a remote ignition, rear park assist, and roof rack storage. Comfort is enhanced by a powered sunroof, power-adjustable driver's seat, and optional premium synthetic seats. Safety is enhanced with heated mirrors, blind spot monitoring, and rear traffic alerts. It's also built ready for road trips with standard cruise control, an upgraded sound system, and satellite radio compatibility.
Premier:
The Premier trim adds even more features to bolster your confidence and comfort. forward collision alert and lane departure warning round out the safety features for the 2020 Trax while the premium audio system and leatherette material upgrade the Trax to a truly upscale interior. Fog lamps, chrome accents on the door handles and rear liftgate, and 18-inch aluminum wheels improve both the looks and longevity of exterior features.
The standard 7-inch touchscreen multimedia system includes a six speaker sound system and integration with both Apple CarPlay and Android Auto, allowing for steering wheel audio control. The 2020 model comes standard with voice recognition, so you can go hands-free with your controls. You can also connect your device via the auxiliary input jack. Trying to listen to music during a long commute? The speed sensitive volume equalizer will help ensure you can still hear your music, regardless of where you're driving.
With smartphone integration, it's pretty easy to setup navigation and entertainment for an enjoyable road trip. 4G LTE connectivity with a Wi-Fi hotspot is available for those who want to stay connected to the internet during long trips. It does cost a monthly subscription fee, so you can opt-in to a free trial period to see why many of our customers go with this service so they can keep jamming out to all of their favorite music or stay up to date with their favorite podcasts on the go without having to fill up their phone with downloads.
Test Drive this Sporty Chevy SUV Today!
The best way to examine the features, performance, and style of a new Chevy SUV is to go for a test drive. Here at Betley Chevrolet, we strive to provide customers with an informative, low pressure environment to explore vehicles and so they can determine which vehicle is truly best for them. We're just here to help with advice throughout the buying process, guidance on financing a new vehicle, and dedicated parts and service centers that will keep your new Chevrolet SUV on the road for years to come. Stop by Betley Chevrolet today!
Apply for Financing