2021 Chevy Silverado 2500HD

Are you looking for a truck that can really perform for you? Someone who tows and hauls heavy loads on a regular basis needs a more heavy-duty vehicle. They need a large, capable truck. The Chevy Silverado 2500HD is a heavy-duty option that was built for towing and hauling. It offers you a great performance and plenty of towing capacity, but there are a lot of other great things about this truck, as well. Below, you can learn more about what this vehicle offers you, and you can reach out to us at Betley Chevrolet with any questions.
Performance and Engine Options
When you look into purchasing a heavy-duty truck like the 2021 Chevy Silverado HD, you are looking for a truck that can perform for you. You want to be sure this truck has the capacity you need for taking on your tough towing and hauling. This truck does give you what you need. You can learn more about the engine options, the performance capabilities, and the towing technologies found on this truck below.
6.6-liter Turbodiesel V8 – One of your engine options in the 2021 Silverado 2500HD is the 6.6-liter turbodiesel V8 engine. This turbodiesel engine provides 445-horsepower and 910 pound-feet of torque. It is paired with a 10-speed automatic transmission. To give you quite the performance.
6.6-liter V8 Gasoline Engine – Your other engine option with the 2500HD is a 6.6-liter gasoline V8 engine option. This engine gives you 401-horsepower and 464 pound-feet of torque. It is paired with a six-speed automatic transmission.
The Silverado 2500HD gives you the ability to tow and haul a lot with either engine option. However, its maximum towing capacity when this vehicle is properly equipped is up to 18,510 pounds.
Towing Camera – This heavy-duty truck option is more powerful for you, but it also provides you with some pretty great technology to help you take on your towing and hauling with more confidence. The 2500HD offers you a towing camera with up to 15 camera views. This includes four available hitch views as well as views of other angles of your truck and your driving experience.
Advanced Trailering System – Your Chevy Silverado 2500HD also gives you the ability to have an advanced trailering system through your infotainment system or the myChevrolet mobile app. This trailering system includes things like predeparture checklists, trailer lighting diagnostics, trailer maintenance reminders, trailer tire pressure monitoring, and more.
Trailering Features – This truck also offers you things like the StabiliTrak Electronic Stability Control System with Trailer Sway Control to help keep you and your trailer safer. You also have tow/haul mode on this truck, as well as an available digital variable steering assist.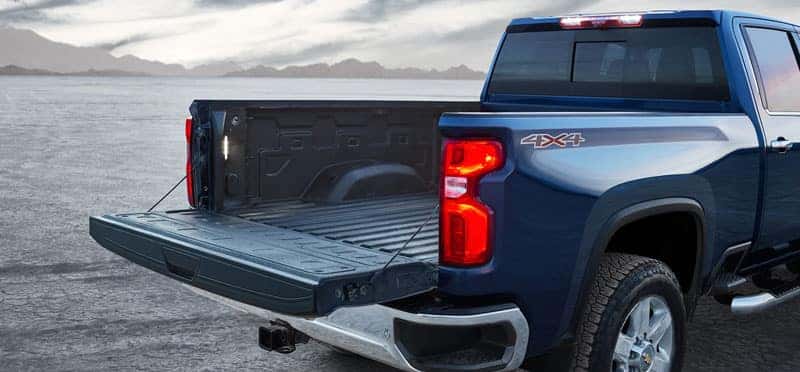 As you can see, the 2021 Chevy Silverado 2500HD is one capable vehicle. This truck offers you multiple engine options to give you a great performance, and it also gives you plenty of towing, hauling, and trailering technologies to make that performance even better. However, this truck has other features to offer you, which you can learn more about below.
Exterior
The chassis and exterior frame of the 2021 Silverado 2500HD are both built with high-quality materials to be strong for you.
In the Silverado 2500HD, you have two different bed length options. The first option is the standard bed, which measures 82.25 inches in length. The standard bed is available with the double cab or crew cab. Your other option is the long bed, which gives you 98.27 inches in length. The long bed is available with any of the cab options.
You can get the Chevy Durabed with your Silverado HD. This gives you more cargo volume than competitors, and it offers you a lot of functionality. This truck bed gives you 12 standard tie downs, as well as LED cargo area lighting. You also get an available built-in 120-volt power outlet that can be great for charging tools when you are on the job. There are also integrated bed steps with this truck to give you easier access to your cargo area.
Interior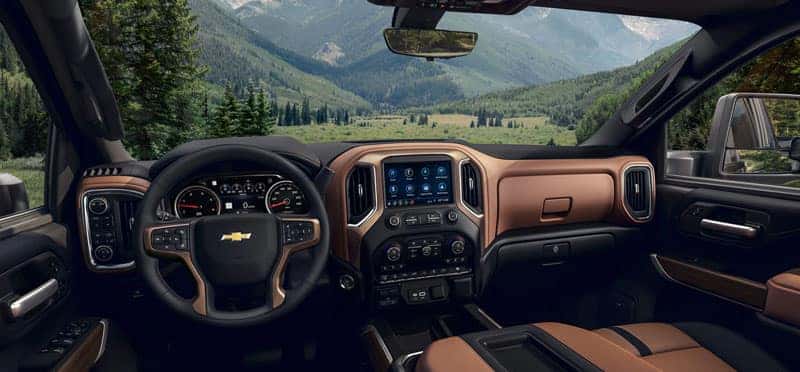 The Silverado 2500HD is available with three different cab options to give you a different interior. This vehicle gives you the option of the regular cab that has just one row of seating, or the double cab and crew cab, which offer two rows of seating. The crew cab is your most spacious option with the largest backseat if you will frequently have passengers in your vehicle.
The interior of your truck can be found with features like cloth seating, but there are also optional interior upgrades. You can find this vehicle with perforated leather front seat trim, a heated steering wheel, heated front and rear seats, driver seat memory, and more.
Technology
The interior of your 2021 Silverado 2500HD offers you a lot of great technology features. This is a heavy-duty and powerful truck, but it still gives you a high-end interior. You can check out some of the main technology features offered with this truck below.
Apple CarPlay and Android Auto – You can also connect your vehicle with your smartphone using Apple CarPlay or Android Auto. This allows you to have access to your phone contacts, music, and more through your vehicle so that you can stay connected without having to be looking at your phone while you drive.
4G LTE Wi-Fi Hotspot – Need to have internet access while you are towing or hauling things with your truck? The 4G LTE Wi-Fi hotspot makes that easy. You can turn your truck into a mobile office if you need access to the internet on the road.
Chevrolet Infotainment 3 System – Your Chevy Silverado 2500HD is also home to an infotainment system that has apps, music, vehicle controls, and more. This can keep you connected and entertained while you are on the road.
myChevrolet Mobile App – There is also a chevy app that you can get to connect your smartphone and your vehicle. The myChevrolet Mobile App allows you to remotely access your vehicle from your phone, giving you the ability to do things like remotely lock, unlock, or start your vehicle.
Those features and more can keep you connected in your truck, and they can keep you entertained while you are driving for work or for play. You can also check out some of the safety technology features this vehicle offers you below.
Safety
Above, we discussed some trailering technologies and cameras that can help watch out for you when you are hauling heavy loads, but there are also some other safety technology features that can help you in your Chevy Silverado 2500HD. Some of these safety features include front and rear park assist, lane departure warning, lane charge alert with side blind zone alert, rear cross traffic alert, automatic emergency braking, forward collision alert, intellibeam headlights, and more. Check out more about some of these different features below.
Lane Departure Warning – If you are drifting out of your lane unintentionally, this safety feature can help. It will give you a warning of the unintentional lane drift so that you can make the correction and keep your vehicle in its lane.
Automatic Emergency Braking – This safety feature helps to prevent a collision or reduce the severity of a collision. The automatic emergency braking feature works when you are traveling at speeds less than 50 miles per hour. If it detects an imminent front-end collision, it will automatically apply the brakes to try to avoid the collision or lessen the impact.
Front and Rear Park Assist – This safety feature helps make it easy to park because it provides distance alerts to nearby objects when you are traveling at very low speeds. This can help you avoid bumping into another vehicle when you are parking or leaving a parking space.
These safety features can help look out for you and your truck in various driving conditions. They keep you safer while you are on the road.
The 2021 Chevy Silverado 2500HD is a truck with a lot of capability. This truck not only can tow thousands of pounds, but it offers you some great trailering technology to make hauling those loads even easier. There are also some advanced technology and safety features in this truck, as well as a comfortable interior. This Silverado has a lot to offer you, and it could be a great option for your next upgrade. If you have any questions about this truck, you can reach out to us at Betley Chevrolet.
Apply for Financing