2021 Chevy Suburban

The Chevy Suburban is a larger SUV with three rows of seating. It is a great option for families or those in need of plenty of passenger and cargo space. This vehicle has a lot of great features and technologies going for it, and it can be a great option for your next upgrade. Check out all the details about this SUV below.
What's New for 2021?
The Chevy Suburban was redesigned for the 2021 model year, so it has a lot of changes and upgrades. This vehicle offers you more features than before and different styling and capability. For example, this vehicle now has a turbo diesel engine option available, and it also offers you forward collision warning and automatic emergency braking standard on the base model. This vehicle was also redesigned in terms of the interior, including improved seating and cargo space. There is a lot that this SUV offers you, and you can check out the specific features and details below.
Performance and Engine Options
The Chevy Suburban is a large SUV, so it needs to be supported by a capable engine. There are several engine options for the 2021 Suburban, which give you powerful capability and performance. Check them out right here.
5.3-liter V8 engine – The base engine for this vehicle is a 5.3-liter V8 engine. This engine gives you 277-horsepower and 383 pound-feet of torque.
3.0-liter turbodiesel inline-six engine – There is also the option of a turbo diesel engine in the form of a 3.0-liter turbodiesel. This option provides you with 277-horsepower and 460 pound-feet of torque.
6.2-liter V8 engine – Your final engine option is the 6.2-liter V8 engine that provides 420-horsepower and 460 pound-feet of torque.
All of these engine options offer you plenty of power to take on your daily driving. They are paired with a 10-speed automatic transmission. This vehicle comes standard with rear-wheel drive, but there is four-wheel drive available. Overall, you get a good riding and driving experience from the 2021 Suburban. It offers you plenty of power and good acceleration and steering. You also get good fuel efficiency for a vehicle of its size.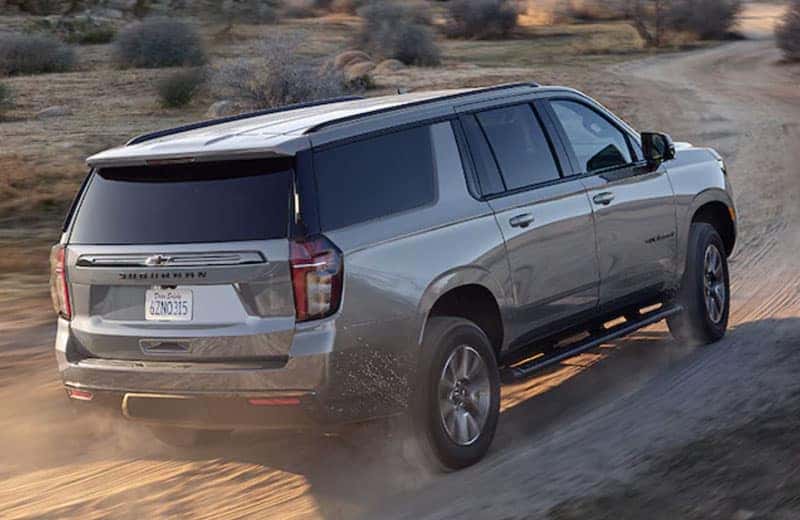 What else does the 2021 Suburban have to offer you? Check out the other features this vehicle has below.
Exterior
The exterior of the Chevy Suburban has been redesigned for 2021 to give you an updated look. You have an aggressive front end with a powerful grille and LED headlights. This vehicle has strong and smooth exterior lines to give you a powerful appearance.
When it comes to exterior style, you can get many different paint colors to get the look you are going for. You have exterior color options including Satin Steel Metallic, Graywood Metallic, Shadow Gray Metallic, Cherry Red Tintcoat, Midnight Blue Metallic, Black, Empire Beige Metallic, and more.
Interior
On the inside of the 2021 Chevy Suburban, you can find seating for seven, eight, or nine people, depending on the configuration. The standard configuration offers you seating for eight people with two rear bench seats. You can also get this SUV with seating for seven because that second-row bench seat is swapped out for second-row captain's chairs. There is also an option where all three rows have bench seating that can seat nine people.

This vehicle comes standard with cloth upholstery and plenty of legroom and headroom for passengers. This vehicle also gives you standard power-adjustable front seats. There are available seating upgrades for the Suburban, including leather upholstery, heated first and second row seats, and ventilated first row seats. You also have the option of a heated steering wheel.
When it comes to cargo space, you get plenty in your Chevy Suburban. Behind the third row of seating, you can get 41.5 cubic feet of cargo space. If you fold down the third row, you can get 93.8 cubic feet of cargo space. If you fold down the second and third rows of seating, you can get up to 144.7 cubic feet of cargo space. You also have features like a hands-free power liftgate to help make loading cargo easier on you.
Technology
Can you stay connected to your technology in the 2021 Chevy Suburban? You can! This vehicle has a lot of amazing technology features for convenience, connection, and entertainment. Check out these features in more detail below.
10.2-inch Touchscreen Infotainment system – The touchscreen infotainment system in the Chevy Suburban is a large 10.2-inch screen that is easy to see and easy to use. It displays your apps and can easily connect to your smartphone via Apple CarPlay or Android Auto.
Apple CarPlay and Android Auto – Connect your smartphone to your vehicle with Apple CarPlay or Android Auto technology. Once you set this up the first time, you can get access to apps, navigation, and more on your vehicle's infotainment system.
Bluetooth – Talk on your phone hands-free with Bluetooth capability in your Suburban. Looking at your phone or holding it can make driving harder and more distracted. Bluetooth allows you to keep your eyes on the road and hands on the wheel.
USB Ports – This vehicle has 8 USB ports in it. With three rows of passenger seating, the 8 USB ports can help all your passengers keep their technology charged and connected.
Wi-Fi Hotspot – You can get internet on the go with the Wi-Fi hotspot in the Chevy Suburban. This can help keep your passengers entertained on the road, or it can even help you turn your vehicle into a mobile office.
Rear-Seat Entertainment system – There is an available rear-seat entertainment system in the Chevy Suburban. This entertainment system has two 12.6-inch touchscreens to give your rear-seat passengers something to distract them, no matter how long the road trip may be.
Wireless Device Charging – Don't worry about the hassle of buying car chargers when you have the wireless device charging system in your Chevy Suburban. This technology feature offers you convenience, and it helps ensure that your phone is charged and ready when you need it.
Bose Premium Stereo – Enjoy listening to music, podcasts, and audiobooks on the road? The Bose premium stereo makes this an even more enjoyable experience for you.
As you can see, there are a lot of great technology features found in this SUV. You also get features like keyless entry, two 120-volt power outlets, and a navigation system. This vehicle is full of features to make your life easier and more convenient. There are also some great technology features designed to keep your life safer that you can learn more about below.
Safety
The 2021 Suburban is built to be safe for you, from its construction to its safety technology features. There are some great safety technology features standard in the Chevy Suburban. Check out these standard features below.
Forward Collision Warning – If you are too close to the vehicle in front of you, or your vehicle detects a potential front-end collision, this safety feature will warn you. It will alert you so that you can take action to avoid the collision or impact.
Pedestrian Detection – This feature looks out for pedestrians in your path when you are moving at speeds less than 50 miles per hour. If a pedestrian is detected, the feature will alert you and then help to avoid or reduce the impact, if necessary.
Teen Driver – You also get the Teen Driver safety system standard. This is a safety system that allows you to monitor your teen's driving performance and help them build good driving habits with things like speed and geographic restrictions.
Rearview Camera – The 2021 Suburban also comes standard with a rearview camera. This helps you see behind you when you are going in reverse. It can help you notice objects, people, or vehicles that you may otherwise have a hard time seeing.
Automatic Emergency Braking – This feature works with the forward collision warning feature. If the forward collision feature detects an imminent collision and the driver does not apply the brakes, this feature will do that for you. This safety technology works to avoid or lessen the impact of collisions when the vehicle is going at speeds below 50 miles per hour.
Those are just the safety features that come standard on every 2021 Chevy Suburban. There are additional available safety features to give you extra safety to look out for you and your loved ones. These available safety features include lane keep assist, adaptive cruise control, blind spot monitoring, a head-up display, rear cross traffic alert, lane departure warning, a safety alert seat, and a rearview mirror with an integrated camera.
As you can see, the 2021 Chevy Suburban has a lot to offer you. There are some great technology features, a nice interior, plenty of performance capabilities, and more. If you have any questions about this vehicle or if it is the right fit for your lifestyle, you can reach out to us at Betley Chevrolet.
Apply for Financing