2021 Chevy Trax

Small SUVs offer you a comfortable riding experience, good cargo space, and a city-friendly size for squeezing into tight places. There are a lot of reasons to choose an SUV like the Chevy Trax. Below, we are going to take a closer look at the Chevy Trax, including its performance, interior, exterior, technology, and safety features. You can learn all about this model below, as well as what is new for the 2021 Chevy Trax. If you have any questions, you can reach out to us at Betley Chevrolet. We are happy to help you with your next SUV upgrade.
What's New for 2021?
Every year, vehicles get certain updates for improved features and function. There are a few updates for the 2021 Chevy Trax, but many of the features are carried over from the 2020 Trax. For 2021, this vehicle is only offered in two trim levels instead of three because the Premier trim is no longer an option. There are also some new exterior colors for the 2021 Chevy Trax. There are also some additional packages offered like the New Lifestyle Package and the New Road Trip Package, which offer you features like extra cargo, all-whether floor mats, and roof rack cross rails. There have also been updates to the existing LT Convenience package to include a few more features. However, the Sun and Sound Package no longer exists for the 2021 model.
Performance and Engine Options
Now that we have discussed some of the changes for 2021, let's take a look at how the 2021 Chevy Trax can perform for you. This vehicle comes standard with a turbocharged 1.4-liter four-cylinder engine. This engine produces 138-horsepower and 148 pound-feet of torque. The engine also comes with a six-speed automatic transmission standard. When it comes to fuel efficiency, this vehicle gives you about 26 city and 31 highway miles per gallon. It comes standard with front-wheel drive, but all-wheel drive is available.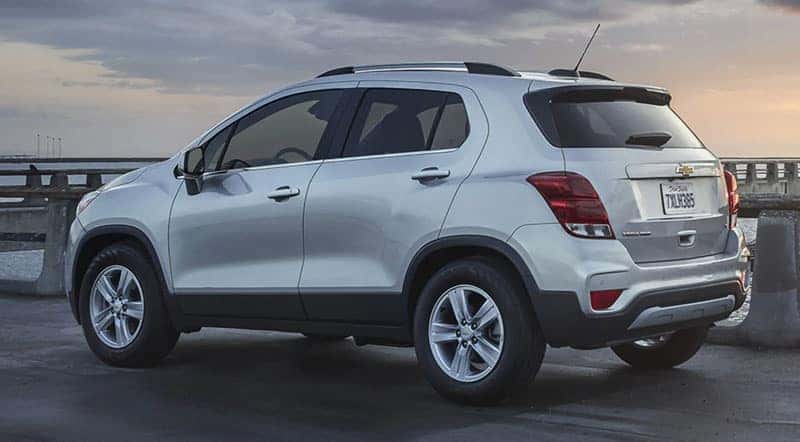 Overall, the Chevy Trax is easy to drive and offers you great maneuverability. This vehicle is great for city driving and can be a great choice for your everyday commute. However, there are a lot of other features this vehicle offers you as well. Check them out below.
Exterior
The Chevy Trax fits into the subcompact SUV class, which means it is not a very big vehicle, but it still has a lot to offer you. This vehicle is 167.7 inches long, and it is around 66 inches tall. This makes it a city-friendly vehicle that easy to maneuver and fit anywhere.
This SUV also has a stylish and functional exterior. It offers you features like LED lighting, 18-inch wheels, and more. There are also some new exterior color options for the 2021 model, including Crimson Metallic, Midnight Blue Metallic, Iridescent Pearl Tricoat, and Shadow Gray Metallic.
There are also a couple of special editions for the Chevy Trax. There are the Midnight Edition and Sport Edition that give you unique exterior features and style if you want something a bit different. Both of these special edition options give you 18-inch gloss black aluminum wheels, black skid plates and bowtie emblems, all-season blackwall tires, black beltline moldings, and more. The Midnight Edition offers you a darker look, and the Sport Edition gives you a sporty attitude.
There are also a lot of great interior features to be found with the 2021 Trax. You can check out more about those interior features below.
Interior

The Chevy Trax has seating for five people in two rows of seats. You have standard cloth upholstery and a manually-adjustable driver's seat. There are optional upgrades for the interior like a six-way power-adjustable driver's seat, heated front seats, deluxe cloth upholstery, synthetic leather upholstery, and a leather-wrapped steering wheel.
The exact interior features on your Trax depend on the trim level you choose. This Trax SUV is normally available in three trim levels, but for the 2021 model, it is just available in two. You can get the Trax in the LS or LT trims. The LS is the base model that gives you plenty of standard features and technology like infotainment, Apple CarPlay, Android Auto, and a Wi-Fi hotspot. However, it is not that much difference to get the LT trim at add features like remote start, deluxe cloth upholstery, and more.
The cargo space is another important part of the interior. The Chevy Trax is a small vehicle, so it does not have an excessive amount of cargo space, but it does provide you with more than a sedan would. This vehicle gives you 18.7 cubic feet of cargo space behind the seats. This vehicle also has a 60/40 split-folding rear seat that can fold down to nearly flat. When you fold the rear seat down, you get 48.4 cubic feet of cargo space.
Technology
Next, let's take a look at the technology that can be found in the 2021 Chevy Trax. Below, we will take a look at some of the main technology features that come with this vehicle.
Infotainment System – The Trax gives you a Chevrolet Infotainment 3 system standard. This infotainment system is simple and easy to use, and it comes with a 7-inch touchscreen.
Wi-Fi Hotspot – Your vehicle also gives you a Wi-Fi hotspot so that you can always be connected. Whether you want a mobile office, or you want your passengers to stay entertained, this Wi-Fi hotspot can give you an internet connection no matter where you are.
Driver Information Display – The Chevy Trax also comes with a 3.5-inch digital driver information display that displays necessary vehicle information so that the driver has easy access to it.
Apple CarPlay and Android Auto – Connecting your phone to your car can mean that you have access to your music, apps, and more through your vehicle. Apple CarPlay and Android Auto give you that capability. You can get access to phone contacts, text messages, music, and more through your touchscreen infotainment system.
Those are not the only technology features found in the 2021 Trax. This vehicle also gives you features like USB ports, a six-speaker stereo, satellite radio, remote start, proximity keyless entry, and a push-button start. There are also some great safety technology features you can learn more about below.
Safety
The 2021 Chevy Trax was built to be safer for you. The Trax has a 5-star overall vehicle score for safety from the NHTSA. This vehicle features a high-strength steel safety cage to protect you and your passengers. There are also 10 standard airbags to help in the event of a collision.
The Trax also has safety technology features that can help prevent or lessen the impact of a collision. These safety technology features include blind spot monitoring, rear parking sensors, rear cross traffic alert, forward collision warning, and lane departure warning. You can learn more about some of these features below.
Forward Collision Warning – Front-end collisions can be very dangerous. The forward collision warning feature can help prevent or lessen the impact of a front-end collision by alerting you if there is a potential collision detected. This gives you the chance to apply the brakes and avoid the impact.
Rear Parking Sensors – It can sometimes be hard to see behind your vehicle when you are going in reverse. The Trax offers you rear parking sensors to help provide you with alerts to nearby objects when you are going in reverse at low speeds. This can help you park safely.
Blind Spot Monitoring – Every vehicle has some blind spots, but your Chevy Trax gives you a blind spot monitoring feature to help alert you if there is a vehicle in your blind spot. This feature will provide you with side mirror visual alerts to help you avoid a potential impact.
These safety features and the overall construction of the 2021 Chevy Trax look out for you and those that are riding with you.
As you can see, the Chevy Trax has a lot to offer you in terms of features, performance, technology, and more. This vehicle could be a great option for you to take on your daily driving. If you have any questions about the Chevy Trax or the features it offers you, you can reach out to us at Betley Chevrolet today. Our expert staff can tell you all you need to know about the Trax and whether or not it may be a good fit for you.
Apply for Financing