2022 Chevrolet Silverado 3500HD

The 2022 Chevrolet Silverado 3500HD is a heavy-duty truck option. This vehicle is built for those that are doing lots of heavy-duty towing and hauling on a regular basis. It is a tough work truck.
The Chevy Silverado is also available in the Silverado 1500, which is a lighter duty truck for more everyday driving, but it can be used for towing and hauling, as well. Then, you have the Silverado 2500HD, which is a step up and a more powerful option. The Silverado 3500HD is the truck that is most capable in terms of towing and payload, so it is for those needing the most power and performance.
Take a look at all the 2022 Silverado 3500HD has to offer you below, and if you have any questions about this truck or any of your other Chevy Silverado options, you can reach out to us at Betley Chevrolet.
Performance and Engine Options
First, let's take a look at how capable this vehicle can be for you. We will take a closer look at the engine options available with the Chevy Silverado 3500HD, as well as the potential towing capacity in this heavy-duty truck and any other performance features you might enjoy.
6.6-liter V8 engine – The base engine in the 2022 Silverado 3500HD is a 6.6-liter V8 gasoline engine. This gasoline engine gives you 401-horsepower and 464 pound-feet of torque. This engine is paired with a six-speed automatic transmission. When this is properly equipped, this gasoline engine can tow up to 17,370 pounds.
6.6-liter V8 turbodiesel – Your optional engine with this truck is a turbo diesel engine. This 6.6-liter V8 turbo diesel produces 445-horsepower and 910 pound-feet of torque. This engine is paired with a 10-speed automatic transmission. When this truck is properly equipped, the turbodiesel engine option can give you up to 36,000 pounds of towing capacity.
The Chevy Silverado 3500HD is truly a heavy-duty performance truck. This vehicle can take on up to 36,000 pounds of towing capacity and 7,442 pounds of payload capacity when it is properly equipped.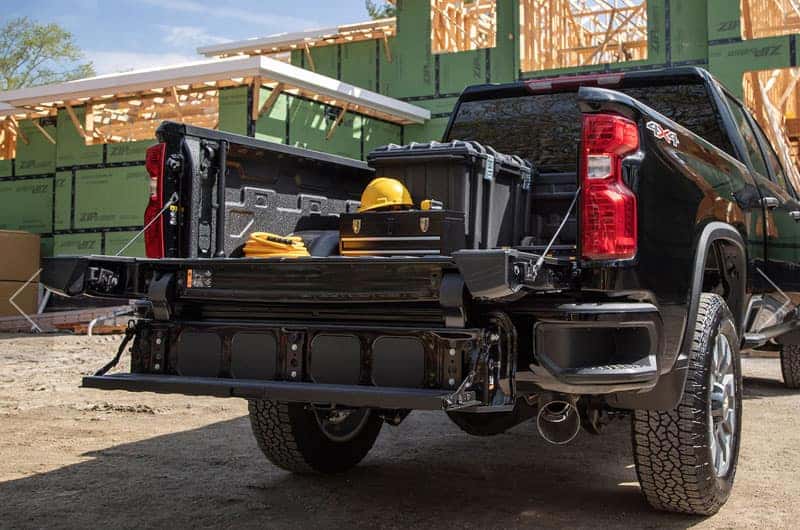 There are also some great performance features and technologies to make your hard work easier. For example, this vehicle can give you camera technologies with up to 15 available camera views so that you can get the view you need when backing up, hitching up, and more. There is also an advanced trailer system that is available through the myChevrolet mobile app that allows you to create customized trailer profiles.
The great engines are not the only features and capabilities worth mentioning in this heavy-duty truck. Below, you can check out other features and capabilities that this Silverado 3500HD offers you.
Exterior
The exterior of the Silverado 3500HD is built tough and strong for you. It offers you a great style, as well as a great function. The exterior can be found in color options like Northsky Blue Metallic, Red Hot, Silver Ice Metallic, Black, Mosaic Black Metallic, and more. There are also different grille styles depending on the trim.
There are two different bed length options with the Silverado 3500HD. The standard bed comes in at a length of 6.8 feet, and the long bed option is 8.2 feet. In the standard bed, you can get 69.6 cubic feet of cargo capacity, and in the long bed, you can get 83.5 cubic feet of cargo capacity.
This vehicle has a Durabed that offers you features like 12 standard tie downs, available LED cargo area lighting, and a 120-volt outlet built in. You also have the available Multi-flex tailgate that has six different configurations to give you different capabilities like a load stop, full-width step, work surface, and more.
Interior
For the interior of the Silverado 3500HD, you have three different cab options. These cab options give you different passenger capacity, so it is important to be thinking about how you will be using your truck most often. There is the Regular Cab that has seating for three people on a front bench seat. Then, you have the Double Cab and Crew Cab models that both have two rows of seating. The second row of seating in the Crew Cab is larger with more passenger space than that of the Double Cab, so if you are frequently transporting passengers in the second row, you will want to choose the Crew Cab option.
In terms of other interior features, the features depend on the specific trim level. In the 3500HD, you have four different trim options explained below.
Work Truck – This is the base trim for the 3500HD, and it gives you the gasoline engine standard, as well as vinyl upholstery, a 3.5-inch digital display, a rearview camera, and the Teen Driver safety system.
LT – In the LT trim, you get a 4.2-inch display, keyless entry, and cruise control.
LTZ – The LTZ trim gives you some nicer interior features with things like remote start, a heated steering wheel, leather seats, and an HD rearview camera.
High Country – The top-level High Country trim gives you ventilated front seats, heated rear seats, a surround-view camera, blind-spot monitoring, parking sensors, rear cross traffic alert, and lane change assist.
There are also some great technology features found in the 2022 Silverado 3500HD. You can learn more about the specifics of those technology features in the section below.
Technology
As you've learned so far, the Silverado 3500HD is a capable truck, and it has a nice interior for you. This truck is also tech-savvy with plenty of great technology features to keep you connected and entertained. You can learn about some of these technology features below.
Chevrolet Infotainment 3 – This truck comes standard with an infotainment system with a 7-inch touchscreen. There is an 8-inch touchscreen that is on the higher trim levels, as well.
Apple CarPlay and Android Auto – You can also connect your smartphone to your infotainment system with the Apple CarPlay and Android Auto features. These features wireless connect your phone to your car so that you can have access to apps, music, phone contacts, and more through your infotainment system.
myChevrolet Mobile App – This app can be downloaded onto your smartphone, and it can give you some great capability. The myChevrolet Mobile App allows you to do things like lock/unlock your vehicle remotely. It also gives you access to features like the advanced trailer system to allow you to trailer smarter.
Wi-Fi Hotspot – You can also get a Wi-Fi hotspot on your Silverado 3500HD. This feature makes this truck a high-tech option for heavy-duty hauling. You can have access to the internet when you are on the road and on the job.
Those are just a few of the key technology features that can be found in this truck. This vehicle also has a wireless charging pad and a seven-speaker Bose audio system available. In addition to the great technology listed above, there are some great safety technology features found in the 2022 Silverado 3500HD. You can learn more about those below.
Safety
Finally, let's take a look at the safety of the 2022 Silverado 3500HD. This truck was built to be capable for you, but it was also designed with safety in mind. The structure and design of this vehicle was designed to handle impact, but there are also safety technology features that can help you avoid or lessen the severity of collisions. Check out some of these safety technologies below.
Rear Park Assist – This system can help you backup and park more easily. It alerts you of other vehicles or objects that may be in your path so that you can be more aware and avoid them.
Lane Change Alert – This feature will alert you if there is a vehicle in your blind spot when you are trying to change lanes. This can help keep you safer when you are driving your truck by itself, but also when you are towing and hauling heavy cargo, which can be very important.
Rear Cross Traffic Alert – If a vehicle is crossing behind you when you are going in reverse, the rear cross traffic alert feature is here to look out for you and alert you of this vehicle.
Automatic Emergency Braking – This safety feature monitors vehicles and objects in front of you. If it determines that you are too close to something in front of you, it can automatically apply the brakes to lessen the impact or avoid it altogether.
These features can help you stay safer in the Silverado 3500HD. This heavy-duty truck also offers safety features like a rearview camera, the Teen Driver safety system, and blind spot monitoring. This truck is a heavy-duty one, but it also looks out for you in terms of safety.
The 2022 Chevy Silverado 3500HD is a truck for hard workers. This vehicle can do a lot of towing and hauling. It is a great work truck for many people. If you have any questions about this truck, you can reach out to us at Betley Chevrolet. We can also help you decide if the 2500HD or 3500HD is right for you. Reach out to us to get started.
Apply for Financing