2022 Chevy Colorado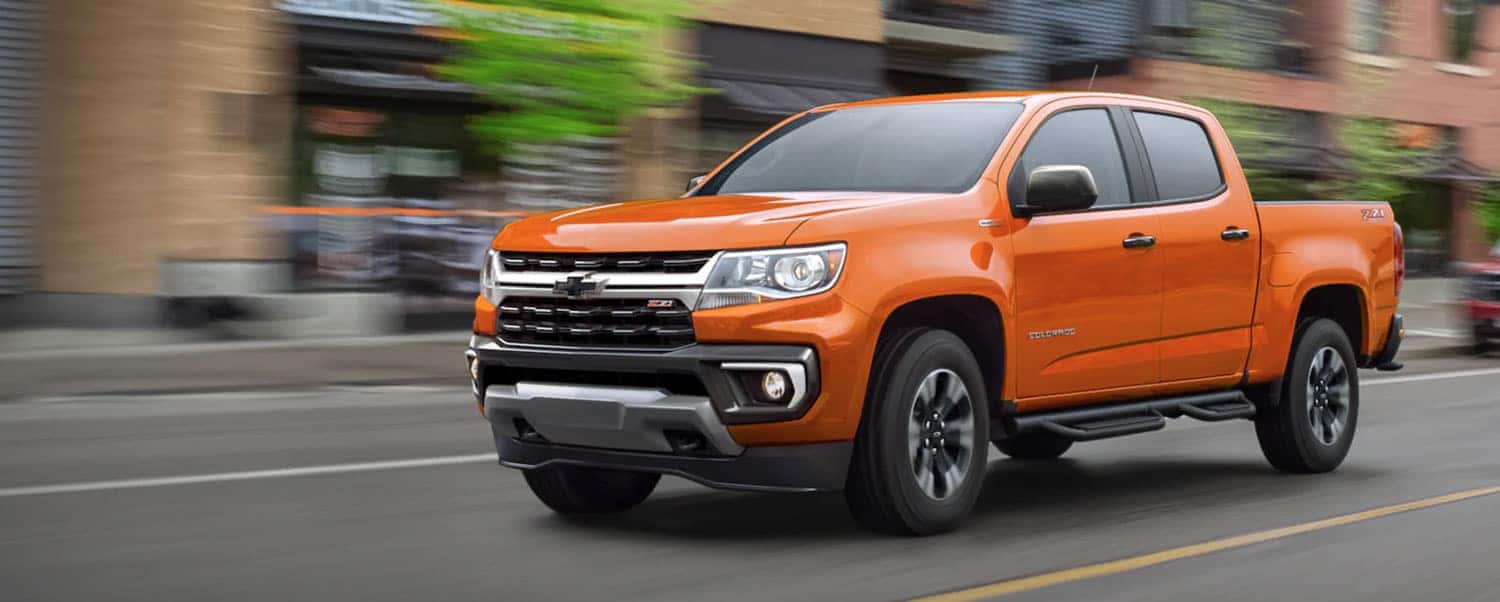 The Chevy Colorado is a compact truck. It is not full-size or heavy-duty, but it still has plenty of capability to take on some towing and hauling. If you do not need to do heavy-duty towing and hauling, but will want to use this truck occasionally for work or hauling cargo, it could be a great option. This smaller truck is still plenty capable, but it can be more affordable than a heavier duty truck if you don't need all of that capability. The 2022 Colorado offers you solid towing and hauling capability, as well as some basic off-roading features. This truck also gives you plenty of technology features, as well as a nice interior. You can learn more about exactly what this truck has to offer you in the model review below. We will take a look at the performance, interior, technology, safety, and exterior features.
Performance and Engine Options
In the 2022 Chevy Colorado, you have some great capability and performance features. This vehicle has several engine options to choose from, as well as some good performance features. Check it out.
2.5-liter four-cylinder – The base engine for the Chevy Colorado is a 2.5-liter four-cylinder engine. This engine produces 200-horsepower and it gives you 191 pound-feet of torque.
3.6-liter V6 engine – Your second engine option is a 3.6-liter V6 engine option that gives you 308-horsepower. It produces 275 pound-feet of torque.
2.8-liter turbo diesel four-cylinder – If you want a diesel engine option, there is a 2.8-liter turbo diesel four-cylinder engine option. This engine gives you 181-horsepower and 369 pound-feet of torque.
This truck comes standard with rear-wheel drive, but there is the option to get four-wheel drive, depending on the model. As for the transmission, the four-cylinder and the diesel engine option are paired with a six-speed automatic transmission, and the V6 engine option is paired with an eight-speed automatic engine option.
The Chevy Colorado also offers you some good towing capability, as well as some off-road features. Learn more below.
Towing capacity – The Chevy Colorado is a compact truck, so it does not offer you as much towing capacity as the Silverado, but you are still able to do some towing with this vehicle. The towing capacity of the Chevy Colorado can range from around 3,500 pounds to up to 7,700 pounds.
Payload Capacity – The payload capacity in this vehicle ranges from just over 1,100 up to 1,550 pounds.
Off-road features – The Colorado has two different trim levels that offer you some off-road features. These trims include the Z71 and ZR2, and they have off-road features like hill descent control, a heavy-duty suspension, and locking differentials.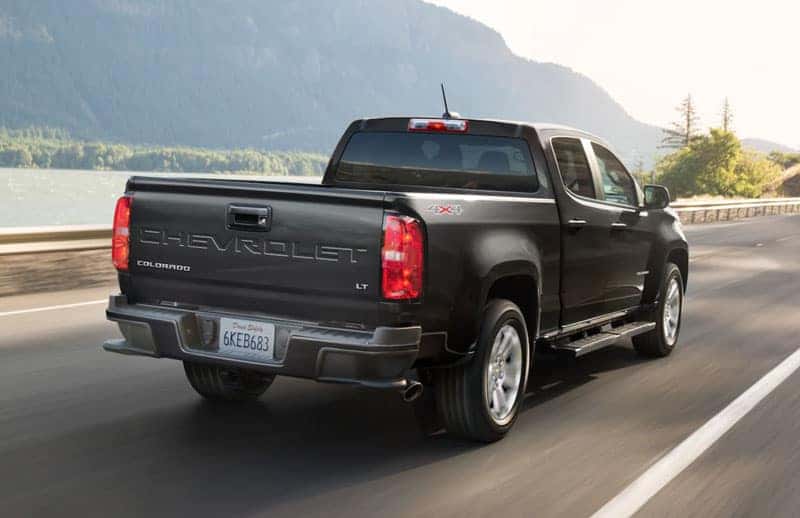 As you can see, this vehicle has a lot to offer you in terms of performance. You have the ability to tow/haul, as well as the ability to go on an off-road adventure. Learn more about everything else this vehicle has to offer below.
Exterior
The Chevy Colorado is a compact truck, so it is not as big or long as the Silverado 1500. The Chevy Colorado can range from a little over 17 feet in length to almost 19 feet in length, depending on the model. It stands at about 6 feet tall, and it has a curb weight that ranges from just under 4,000 to just over 5,000 pounds.
When it comes to the truck bed, the Colorado has two different bed options. You can get a short box at 5-foot-2-inch or a long box at 6-foot-2-inch to give you the cargo space you are looking for. There are also some great features like steps in the rear bumper and an EZ lift and lower tailgate available to make loading cargo easier.
Interior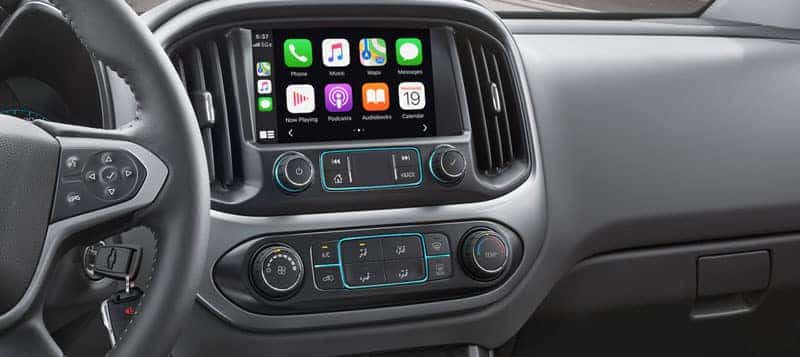 Next, let's take a look at the interior of this truck. This truck has two different cab options. The first cab option is the extended cab which seats four people. This cab has rear seating, but if you are regularly carrying rear-seat passengers, you might want to switch to the crew cab model. The crew cab has seating for up to five people in two rows, and the second row is more spacious than in the extended cab.
Technology Features
There is a lot of technology to be found in the 2022 Chevy Colorado. This truck can work hard and get the job done, but it can also keep you connected with features like a Wi-Fi hotspot, Bluetooth, and more. Check out some of the main technology features below.
Touchscreen Infotainment – Your Chevy Colorado comes standard with a touchscreen infotainment system. The standard touchscreen is a 7-inch, but you can upgrade to the available 8-inch touchscreen. The infotainment system is intuitive and easy to use, and it can help keep you connected.
Apple CarPlay and Android Auto – You have the ability to connect your smartphone to your vehicle's infotainment system with Apple CarPlay and Android Auto capability. This capability allows you to have access to apps, music, and more from your phone on your vehicle's screen. This can allow you to stay safer and connected when you are on the road.
Wi-Fi Hotspot – Whether you want to work on the go or simply stay connected to the internet, the available Wi-Fi hotspot on this truck can help you do so. It can be a great option for keeping passengers entertained while on a long road trip, and it can also be a way that you can have a mobile office for when you need to get the job done.
Bluetooth – Make calls hands-free with Bluetooth compatibility on your Chevy Colorado. You can still stay connected and call those that you need to, but you can keep your hands on the wheel with Bluetooth.
Navigation – The available navigation system can help ensure that you don't get lost when you are on that road trip or traveling somewhere you have never been before. It can show you exactly where you need to go.
Bose Audio System – You can also get a premium seven-speaker Bose audio system in your truck. This can be a great way to enjoy every drive with music, podcasts, and more.
These technology features are not the only ones that can be found in the Chevy Colorado. This truck also has features like remote start, USB ports, automatic climate control, and more. You can get a very tech-savvy truck with this compact Chevy truck. There are also some great safety technology features that you can learn about below.
Safety
When it comes to safety, the 2022 Colorado is looking out for you. This truck was built to be safer with construction that takes into consideration you and your passenger safety, as well as some great safety technology.
Standard safety technology in the Chevy Colorado includes a rearview camera and the Teen Driver system. There are also some available safety features you can upgrade to. Some of these available safety features include lane departure warning, rear parking sensors, and forward collision warning. Learn more about some of these safety features in greater detail below.
Teen Driver – Our teen driver safety system is a great way to look out for your young driver and help them improve their driving abilities. This system has the ability for you to set speed and geographic limits for your teen driver, but it can also take a report card of their driving ability so that you can help them improve.
Forward Collision Warning – This safety feature is always on the lookout for a front-end collision. This feature detects a potential front-end collision using cameras and sensors, and it can alert you if there is a potential collision so that you can work to avoid it.
Lane Departure Warning – The lane departure warning will alert you if you are drifting out of your lane unintentionally so that you can make corrections and stay in your lane.
All of these features can help you stay safer when you are on the road. The Chevy Colorado is a great truck option to keep you safer on the road.
As you can see, the 2022 Colorado has a lot of different features, technologies, and performance capabilities. It is a great option for a compact truck. You get the capability of a truck in a slightly smaller package.
If you have any questions about the Chevy Colorado or any Chevy vehicles, you can reach out to us at Betley Chevrolet. Our expert staff will be happy to help you with any questions you may have.
Apply for Financing