2022 Chevy Silverado 1500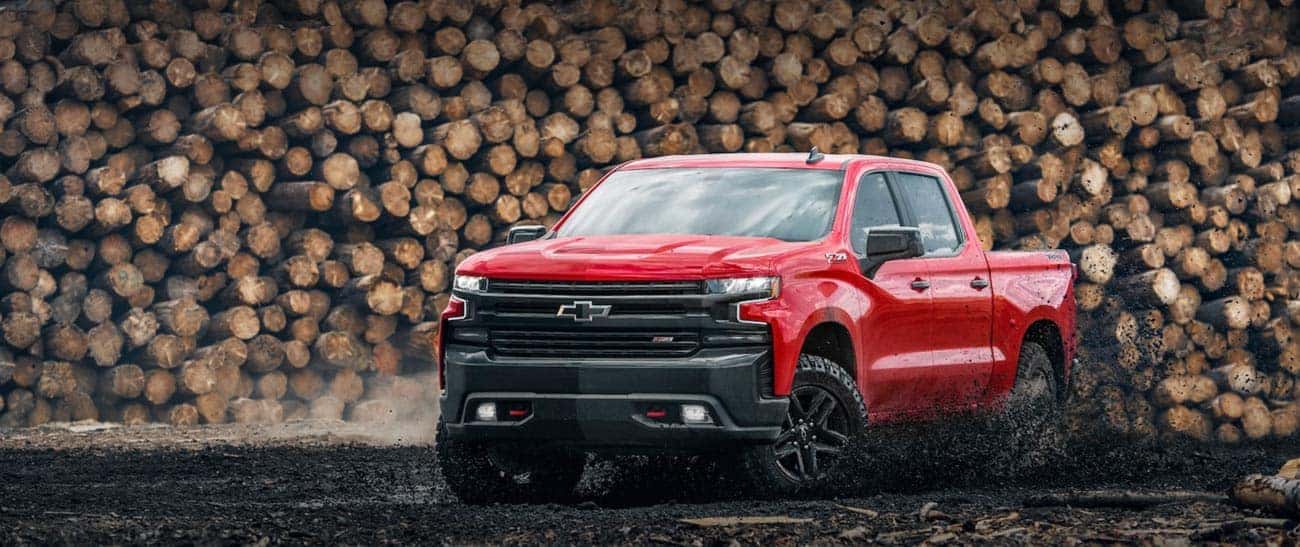 This full-size pickup truck has a lot to offer you in terms of performance, features, and overall capability. We will take a closer look at all the features and performance this truck offers you below.
What's new for the 2022 model?
There are several changes for the 2022 model year that make this truck well worth looking into. There are interior upgrades with a larger infotainment screen and new interior materials available like real wood trim. There are also performance upgrades like a new high-output engine and some new off-road capability. You also have a new Super Cruise safety feature available on this truck. Learn more about all that the 2022 Chevy Silverado 1500 has to offer you below.
Performance and Engine Options
The Chevy Silverado 1500 has always been a capable truck for you, but it gets even better for the 2022 model year with an upgraded engine and some off-road performance features. Learn more about this below.
Turbocharged 2.7-liter High-Output engine – This engine is new for the 2022 model year. There was previously a turbocharged 2.7-liter, but this one is a high-output engine that gives you 310-horsepower and 420 pound-feet of torque.
5.3-liter V8 engine – This engine option is a step up in terms of power and performance. It will give you around 355-horsepower and 383 pound-feet of torque.
6.2-liter V8 engine – Your other V8 engine option is a 6.2-liter V8 engine. This engine produces 420-horsepower and 460 pound-feet of torque.
3.0-liter Turbodiesel engine – Your final engine option is a diesel engine. This 3.0-liter turbodiesel engine gives you 277-horsepower and 460 pound-feet of torque. When your truck is properly equipped, this engine can tow up to 13,300 pounds.
Those are your engine options in the 2022 Silverado 1500. The engine you choose depends specifically on your needs in terms of performance, towing, and fuel economy. If you have questions about which one might be right for you, you can reach out to us at Betley Chevrolet.
Also, in terms of performance, it's important to talk about the towing and payload capacity for the Silverado 1500, as well as this vehicle's new off-road capability.
Towing and Payload Capacity – In terms of towing and payload, you can get up to 13,300 pounds of towing capacity when this truck is properly equipped, and you can get around 2,300 pounds of payload capacity.
Off-Road Capability – New for 2022 is the Silverado gaining some off-road prowess. The 2022 Silverado has a new ZR2 trim level with features to help you get off the pavement. The ZR2 has features like a high-approach front bumper, front and rear electronic locking differentials, and multimatic DSSV dampers. Plus, this trim has exclusive styling features for you.
As you can see, this truck has quite a performance for you. There are a lot of engine options and a lot of performance features. There are even performance technologies like advanced trailering and trailer cameras that can be found with this truck to help you work hard and play hard. However, an impressive performance is not the only thing this truck has to offer; there are a lot of other great features that can be found in the 2022 Chevy Silverado 1500. Learn more about those other features below.
Exterior
The exterior of the 2022 Silverado 1500 has a bold and strong look. It offers you strong grille designs, LED lighting, and a capable cargo bed. You can find this vehicle with three different bed length options: a 5-foot-10-inch bed, a 6-foot-7-inch bed, and an 8-foot-2-inch bed. The option you choose should depend on your cargo needs and it will also depend on the cab option you choose.
Interior
On the inside of the Chevy Silverado 1500, you can find seating for three to six people depending on the configuration. This truck can be found with a Regular Cab, which has just one row of bench seating for up to three people. You also have the Double Cab and Crew Cab options that both have seating for up to six. Double Cab models do not have as much rear passenger space as the Crew Cab models. If you will frequently have passengers in your rear seats, you will likely want to go with the Crew Cab model.
In terms of interior features, you have standard cloth upholstery, but there are optional seating upgrades like leather upholstery, heated seats, ventilated seats, and more. There is also a heated steering wheel available. Also, new for 2022 is the option of Real Wood Trim and Ares Leather seating surfaces in the High Country model.
Technology
What technology can be found in your Chevy Silverado? This is a high-tech truck for you. It has plenty of great entertainment features, as well as technology features for added convenience. There are even some new features for the 2022 model.
13.4-inch Touchscreen – New for 2022, is a larger, upgraded touchscreen for your Chevy infotainment system. This 13.4-inch touchscreen displays all your important information in a large screen to give you a great view of everything you need.
12.3-inch Diagonal Driver Information Center – Also new for the 2022 model is a 12.3-inch diagonal driver information center. This screen features all your important vehicle information like speed, fuel, trailering information, and more.
Bluetooth – Bluetooth capability in your Silverado 1500 allows you to talk on the phone hands-free. This means you can talk to friends and family and keep your hands on the wheel and eyes on the road.
Apple CarPlay and Android Auto – You can connect your smartphone to your Chevy infotainment system with the use of Apple CarPlay and Android Auto. This means that you will be able to have smartphone apps, contacts, and music from your phone on your infotainment screen. It makes it really easy to stay connected to the things you want.
USB Ports – Multiple USB ports in the 2022 Silverado help you and your passengers keep connected to their technology.
Wireless Device Charging – You can make sure your phone is charged on the go with the wireless device charging system in this vehicle. This is easy to use and convenient, and it means you do not have to remember to have a car charger along for the ride.
Wi-Fi Hotspot – You also can get a Wi-Fi hotspot in your truck, which can allow for work and play on the go. You can stay connected no matter where you travel.
Bose Audio System – The premium seven-speaker Bose audio system can give your truck a more enjoyable overall listening experience, which can be great for those that love to listen to music and podcasts on the go.
Navigation System – Never get lost again with the available built-in navigation on your 2022 Silverado 1500. This can help you get to where you need to, whether or not you've been there before.
These are just a few of the main technology features that can be found in the 2022 Chevy Silverado 1500. This truck also has features like remote start, push button start, and more. There are also a lot of safety technology features that you can learn about below.
Safety
This truck was built to be safe for you in terms of construction and safety features like airbags, but there are also safety technologies in this vehicle. Every 2022 Chevy Silverado gives you some standard safety features. This vehicle comes standard with Chevy Safety Assist, which is a package that includes six advanced safety technology features for you. These six features on the Silverado 1500 include Forward Collision Alert, Front Pedestrian Braking, Automatic Emergency Braking, Lane Keep Assist with Lane Departure Warning, a Following Distance Indicator, and High Beam Assist.
There are also several other safety technology features that can be found on this vehicle when you upgrade to a different trim level. Some of these features include parking sensors, blind spot monitoring, rear cross traffic alert, and more There is even an all-new safety feature on the High Country trim called Super Cruise. Learn more about some of these active safety technologies in greater detail below.
Teen Driver – This vehicle comes standard with Teen Driver technology. This is a technology/safety feature that can monitor the driving of your teen and set certain restrictions to help them drive safer. For example, you can set speed or audio volume limits so that your teen can be safer on the road.
Forward Collision Alert – Another safety feature that can be found in the 2022 Silverado is forward collision alert. This feature uses sensors and cameras to detect potential front-end collisions, and if it detects something in your path, it will give you an audible and visual alert.
Lane Keep Assist – The lane keep assist feature can help keep you in your lane when you are driving on the highway. This feature detects where your lane is and it can make minor steering corrections if it detects you drifting out of your lane unintentionally.
Super Cruise – This is a hands-free driver assist technology that helps to manage speed and steering on certain roads in the US. It allows you to drive with your hands off the wheel after you set the cruise feature. You still have to pay attention to what is going on, but when the Super Cruise light bar is green, you don't even need your hands on the wheel.
The 2022 Chevy Silverado 1500 has a lot to offer you in terms of safety features, including the all-new Super Cruise feature. These safety technologies can look out for you and make your life easier.
As you can see, there is a lot to love about the 2022 Silverado 1500. This vehicle has a lot of great updates for the 2022 model year, and it could be a great option for your next upgrade. If you have any questions about this truck or any other Chevy vehicles, you can reach out to us at Betley Chevrolet. Our expert staff will be happy to help you in any way we can.
Apply for Financing