2022 Chevy Silverado 2500HD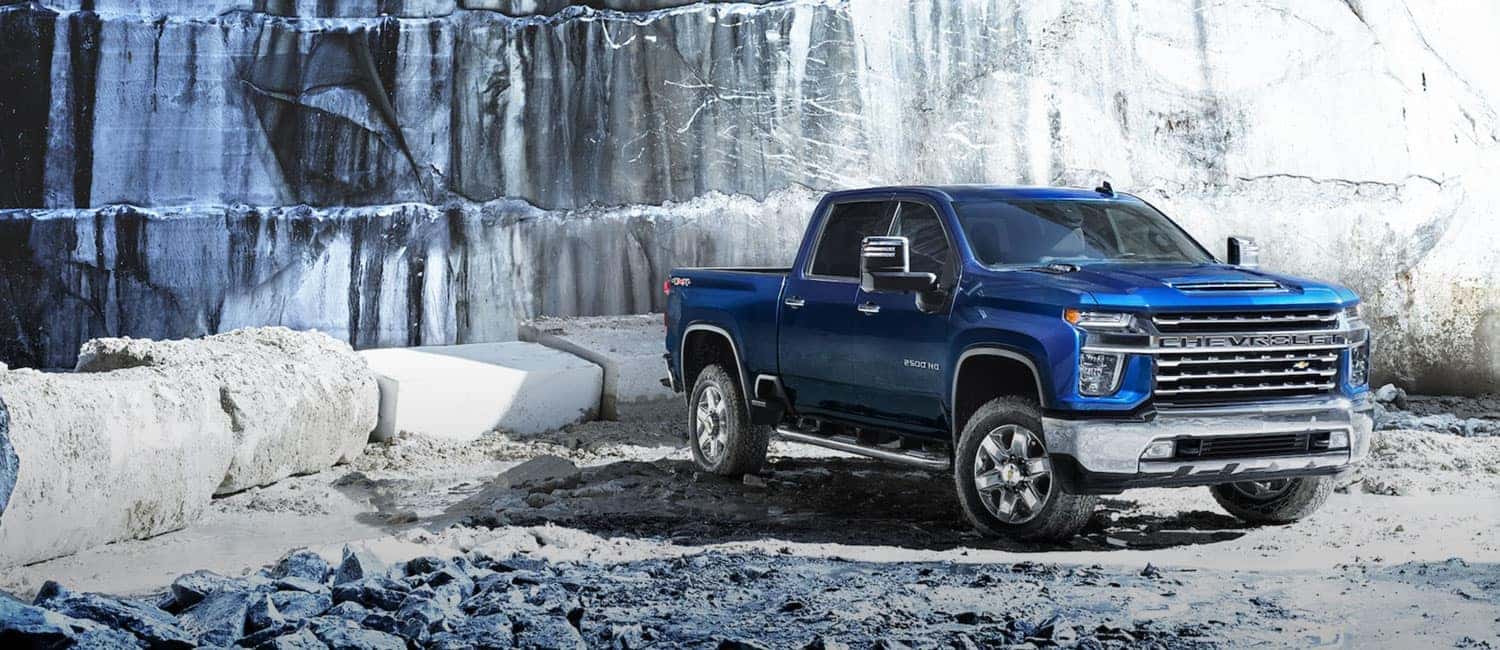 If you want above-average towing capacity in a truck, you will need to start looking at heavy-duty truck options. With Chevy, you have the compact Colorado and you have the half-ton Silverado 1500. When it comes to heavy-duty, you have the 2500HD and 3500HD. Below, we are going to take a closer look at the 2022 Chevy Silverado 2500HD and what exactly this truck offers you for performance and features.
Performance and Engine Options
The Chevy Silverado 2500 is a heavy-duty truck. This truck is built to be able to tow and haul more than the Silverado 1500. The Silverado 2500HD is often used as a work truck, or it is used by people that need extra towing capability for equipment, machinery, or even leisure. This vehicle has a base V8 engine, which is much different than the 1500. Check out the two engines below, as well as the towing capability and other performance of the Silverado 2500HD.
6.6-liter V8 engine – The base engine for this vehicle is a 6.6-liter V8 engine that gives you 401-horsepower and 464 pound-feet of torque. This engine is paired with a six-speed automatic transmission. For conventional towing in the gasoline engine, you can expect to get around 14,500 pounds of towing capacity, but you can get up to 17,370 with a gooseneck trailer. When it comes to payload capacity, this V8 engine can give you up to 3,979 pounds when properly equipped.
6.6-liter turbodiesel engine – Your next engine option is a 6.6-liter turbodiesel engine. This turbodiesel offers you 445-horsepower and 910 pound-feet of torque. You get a 10-speed automatic transmission with this second engine. The turbodiesel offers you more towing capacity with up to 18,500 pounds with a conventional or gooseneck trailer. As far as the payload capacity with the diesel engine, you have a capacity of 3,715 pounds.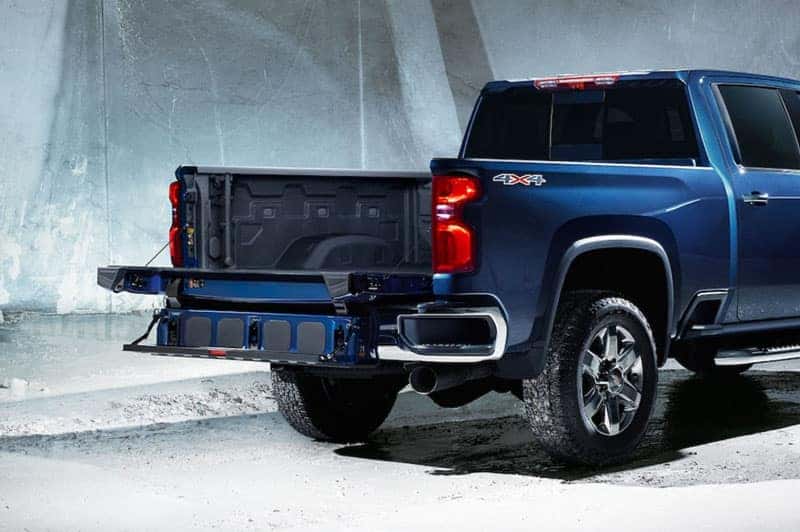 As you can see, this truck is a very capable one. When it comes to performance, this vehicle also offers you features like an advanced trailer system and multiple camera views for your trailer and beyond. There is a lot of capability in the Silverado 2500HD. Learn more about the exterior of this truck, as well as all the other features it offers you below.
Exterior
The Silverado 2500HD is a big truck. This truck looks strong and it is built big to take on tough jobs. This truck can have an exterior length ranging from 236-266 inches, depending on the cab and bed you choose. This truck has a height of 80 inches and a width of 82 inches.
In terms of bed options, the 2500HD offers you a 6-foot-7-inch bed or an 8-foot-2-inch bed. The standard bed offers you a total cargo volume of 69.5 cubic feet, and the long bed gives you 83.5 cubic feet of cargo capacity. In this cargo bed, you have features like 12 standard tie-downs, an available 120-volt outlet, and available LED cargo area lighting to make even the toughest jobs even easier.
Also, new for 2022, this heavy-duty Silverado offers you the ability to add the Multi-Flex tailgate. This special tailgate has 6 different functions. It can open like a normal tailgate, provide a load stop, provide a full-width step, provide a work surface, and more.
Interior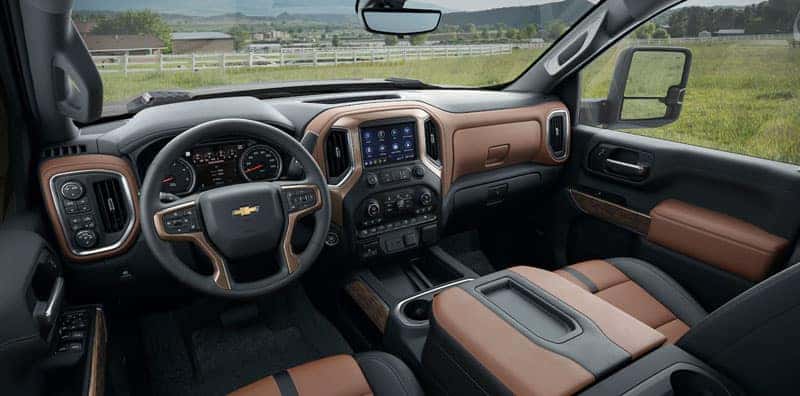 For the interior of this truck, you have three different cab options. The base cab is the Regular Cab that has one row of seating for up to three people. Your next cab option is the Double Cab. The Double Cab has two rows of seating, but the second row is not as large. Your third and final cab option is the Crew Cab. If you will often have passengers sitting in the back row of your truck, the Crew Cab is a great option. It has a very spacious back row, with plenty of room for adults as well as kids.
When it comes to seating options, you have the availability to upgrade your vinyl seats to cloth or leather. You also have the option of heated seats and ventilated seats. In the 2022 Silverado 2500HD, you have five different trim levels: WT, Custom, LT, LTZ, High Country. These trim levels help determine which features you get. The base Work Truck trim offers you a few technology features and plenty of capability, but if you want more advanced features and a more luxurious interior, you will want to upgrade to a higher trim. The High Country trim is going to be the fanciest trim option with the most features, so it is a great option if you are spending a lot of time in your truck and you want the best!
Technology
What technology does the 2022 Silverado HD offer you? This truck may be a hard-working one, but it still offers you plenty of technology. This vehicle has advanced technology to keep you entertained, connected, and safe while you are on the road. Check out some of the technology that can be found in this vehicle below.
Touchscreen Infotainment System – Every 2022 Silverado 2500HD has a touchscreen infotainment system. The two lowest trim levels offer you a 7-inch touchscreen display, but all the other trim levels give you the larger 8-inch touchscreen.
Apple CarPlay and Android Auto – You can also stay connected to your smartphone with the Chevy Silverado 2500HD. This truck gives you Apple CarPlay and Android Auto connectivity so that you can connect your smartphone to your infotainment system. This can give you access to music, apps, phone contacts, podcasts, and more through your infotainment system.
Head-Up Display – You can also get a head-up display with your Silverado 2500HD. This tech system projects important information on the windshield in your line of sight so that you can keep your eyes on the road.
Wi-Fi Hotspot – If you are using your Silverado 2500HD for work, it could be advantageous to have a Wi-Fi hotspot in your truck. This will allow you to always stay connected on the road, whether it is for work or play.
Wireless Device Charging – You don't want to have a dead phone when you are on your way to a job. You need to be able to use your phone to get ahold of work, friends, and family. The wireless device charging feature will help you keep your phone charged and you don't even have to remember to bring your charger along.
Advanced Trailering System – The Silverado 2500HD comes with an advanced trailering system that helps you keep track of your towing and hauling. Through your infotainment system or through the myChevrolet mobile app, you can monitor your customized trailer profile to keep track of all your important information.
Multi-View Trailer Camera – This truck also offers you the ability to tow and haul better with multiple camera views surrounding your truck. You have the ability to get up to four hitch views, six different driving views, and five parking views so that you can monitor everything you need when you are towing those heavy loads.
These technology features help keep you connected and offer you even more capability when it comes to your truck. There are also other available technology features like remote start, keyless entry, and more. This is a very tech-savvy truck for you.
Safety
As mentioned above, the Chevy 2500HD has plenty of great technology and features that make it safer. This vehicle is built to perform for you with its advanced trailering system and multiple camera views. There are also safety technologies that are found on this vehicle to look out for you. Some of these available safety features include rear park assist, rear cross traffic alert, lane change alert with side blind zone alert, lane departure warning, automatic emergency braking, forward collision alert, and a safety seat alert. Learn more about some of this technology right here.
Lane Departure Warning – If your truck starts to drift out of its lane unintentionally, this safety feature will alert you so that you can correct yourself and stay in your lane.
Rear Cross Traffic Alert – This feature will alert you if there is a vehicle crossing behind you when you are going in reverse. This can help you be aware of vehicles you might not notice from blind spots.
Forward Collision Alert – This safety feature monitors vehicles and pedestrians in front of you. If it detects that there may be potential for a front-end collision, it will give you an audible and visual warning.
The Chevy Silverado 2500HD has a lot to offer you. Not only do you get powerful performance and capability, but you have a nice comfortable interior with plenty of technology. This truck can help you get the job done and enjoy the ride.
There is a lot to love about the Silverado 2500HD, but when you choose this truck, you still have to consider which engine option, bed option, and cab option are best for you. If you have any questions about this or would like to get some expert advice, reach out to us at Betley Chevrolet. We can help answer your questions and get you matched up with the Silverado 2500HD model that is perfect for your needs and lifestyle.
Apply for Financing