2022 Chevy Traverse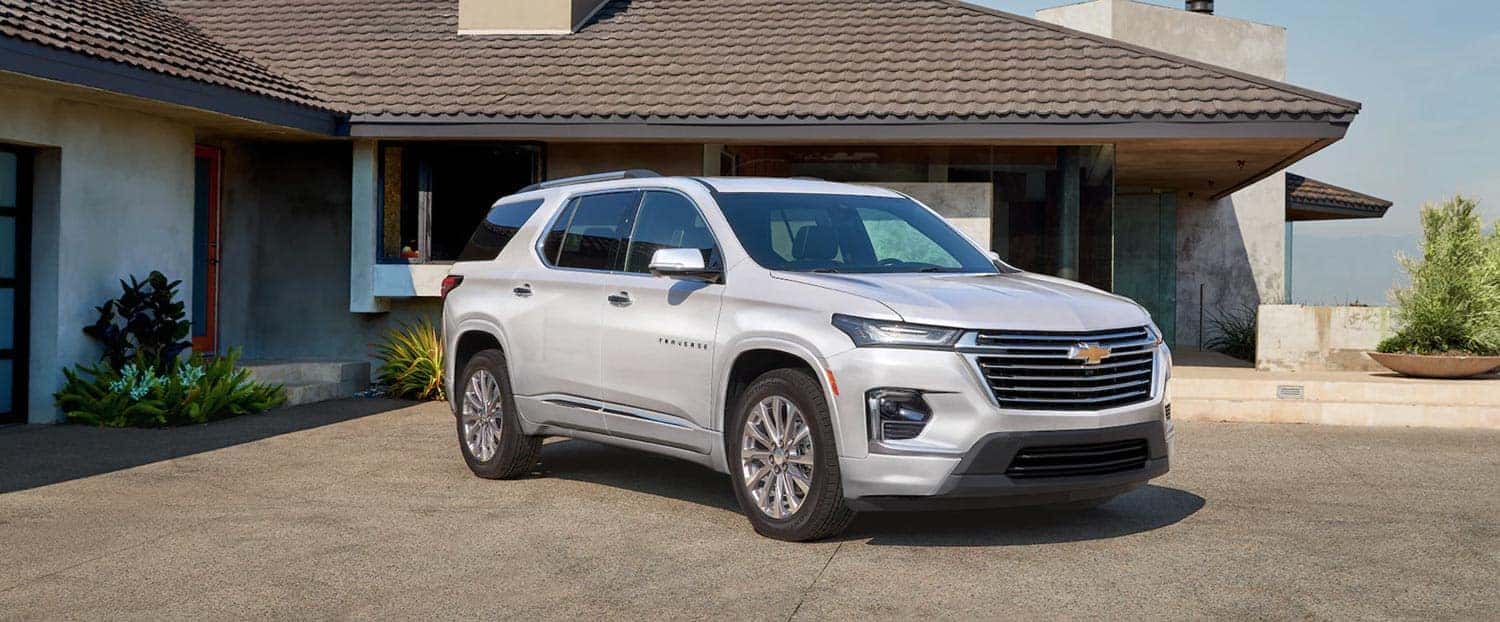 The Chevy Traverse is a popular SUV option because it has a lot to offer you. This SUV is a great combination of passenger capacity, cargo capacity, and technology features. It makes it easy to take on daily driving with family, friends, and plenty of gear.
If you are looking to upgrade your SUV, the Chevy Traverse is a great option. Below, you can check out an in-depth look at the 2022 Chevy Traverse and all that it has to offer you in terms of performance, interior features, exterior features, and even safety features. If you have any questions about this vehicle, reach out to us at Betley Chevrolet.
What's New for 2022?
The Traverse did have several changes and upgrades for the 2022 model year. This vehicle had some exterior styling changes like new headlights, new bumpers, and a new grille. There have also been some changes to the interior; one of these interior changes is the addition of wireless Apple CarPlay and Android Auto because previous models had a wired connection. You also have more standard safety features on the 2022 Traverse that were previously only available with an upgrade.
As you can see, there are several changes to the 2022 model, but you can learn more about all the features and technologies that can be found in this vehicle
Performance and Engine Options
First, let's look at the performance and engine options of this vehicle. The Chevy Traverse is a midsize SUV that provides you with plenty of capability.
3.6-liter V6 engine – The standard engine in the 2022 Traverse is a V6 engine. This 3.6-liter V6 engine produces 310-horsepower and 266 pound-feet of torque. It is paired with a nine-speed automatic transmission.
The Chevy Traverse comes with standard front-wheel drive, but this vehicle does give you the option of all-wheel drive. The overall riding and driving experience are smooth with good acceleration and a smooth transmission. It is a vehicle that is easy to drive and maneuver, and the steering on this vehicle is responsive. This vehicle can also tow up to 5,000 pounds when it is properly equipped.
When it comes to fuel efficiency, you have some good capability in this midsize SUV. You can expect to get around 18 city and 27 highway miles per gallon, which is good for a vehicle of this size. The performance of the Chevy Traverse is a good one, but this vehicle also has other things to offer you. Learn more about them below.
Exterior
The Chevy Traverse is classified as a midsize SUV. This vehicle is a larger midsize SUV option. It measures 17.2 feet in length, and its base weight is 4,310 pounds.
This vehicle offers you a great blend of style and function. You can get the style you want with exterior color options like Summit White, Cherry Red Tintcoat, Black Cherry Metallic, Mosaic Black Metallic, Silver Ice Metallic, and more. You can also get features like a black grille, black Chevrolet bowtie emblems, roof rails, 18-inch aluminum wheels, and more. The exterior of this vehicle has also an available hands-free power liftgate to make loading and unloading your cargo easier.
Interior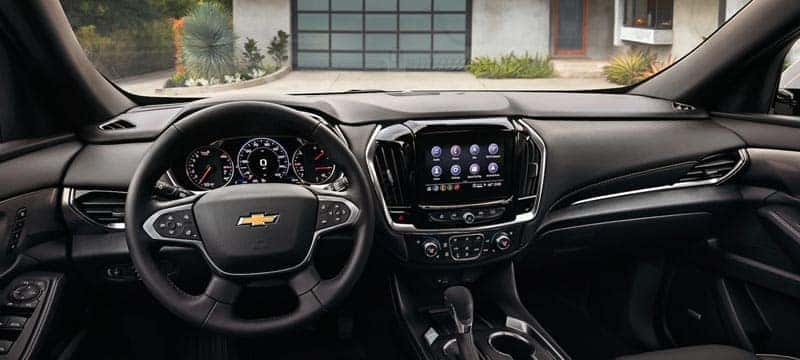 On the inside of the 2022 Chevy Traverse, you have comfortable seating for seven or eight people, depending on your trim level. The base model offers you seating for eight standard, but you have the ability to replace the second row bench seat with captain's chairs to give you seating for seven people.
This vehicle offers you standard cloth upholstery, but there is leather upholstery available. You can also have interior upgrades like a heated steering wheel, heated front row seats, heated second row seats, ventilated front seats, and a power-folding third row of seats.
When it comes to cargo space, this vehicle has about 23 cubic feet of cargo space behind the third row of seating. The third row of seating folds down and you get 57.8 cubic feet of cargo space behind the second row of seating. When you fold down the second and third rows, you can get up to 98.2 cubic feet of cargo space total.
Technology Features
Next, let's look at what technology features can be found inside the 2022 Traverse. This vehicle is a tech-savvy option for you with plenty of great features to keep you connected and your passengers entertained. Check out some of the main features below.
7-inch touchscreen infotainment – This vehicle comes standard with a 7-inch touchscreen Chevy infotainment system that is intuitive and easy to use. Other models do have a bigger 8-inch touchscreen.
Apple CarPlay and Android Auto – New for 2022, the Chevy Traverse has wireless Apple CarPlay and Android Auto. Previously models have these features, but it requires a wired connection. This wireless smartphone connectivity allows you to have easy access to your music, apps, phone contacts, and more through your infotainment system.
Bluetooth – You can talk on the phone hands-free with Bluetooth capability in the Traverse. This allows you to connect your vehicle to your car so that you can make hands-free phone calls and stay connected while also staying safe.
Wi-Fi hotspot – The 2022 Traverse also comes standard with a Wi-Fi hotspot so that you can have internet access on the go. This could be entertainment for your passengers, or you could even use your SUV as a mobile office.
Navigation system – You can always know where you're going with the navigation system in this vehicle. It can help you get safely to your destination without getting lost.
Wireless device charging – Don't worry about forgetting to charge your smartphone with the available wireless device charging in this vehicle. This capability ensures your phone is always charged and ready, and you don't need to remember to bring a phone charger along.
Keyless entry and push-button start – You also get added convenience with the keyless entry and push button start features. These features make it easier for you, and you do not need to have your keys in your hand to unlock the vehicle or start your car.
Remote start – This is a feature that you can choose to add on to your Chevy Traverse. Remote start is a convenient feature that can help you warm up your car when the temperatures are old outside, it offers you convenience and additional comfort.
USB ports – This vehicle also has six USB ports standard to keep you and your passengers connected to your technology.
Those are the main technology features that can be found in the 2022 Chevy Traverse. However, this vehicle also has some safety technology features that you can learn more about in the next section.
Safety
When it comes to safety, the 2022 Traverse is looking out for you. This vehicle was tested by the Insurance Institute for Highway Safety, and it received the highest rating of Good in all crash tests that were performed. This vehicle was built to be strong and withstand collisions, but it also has active safety technologies to help prevent these collisions from occurring in the first place.
Standard safety technologies in the 2022 Traverse include Teen Driver, a rearview camera, forward collision warning, forward automatic emergency braking, a rear seat alert, lane departure warning, lane keep assist, and automatic high beams. There are also available safety technologies like rear parking sensors, adaptive cruise control, blind spot monitoring, a surround-view camera system, and rear cross traffic alert.
Technology features like rear cross traffic alert and blind spot monitoring use sensors and cameras to detect vehicles in your space and alert you so that you can avoid a potential collision. Features like forward automatic emergency braking will actually apply the brakes to avoid or lessen the impact of a collision if one is imminent. You also have lane keep assist which can make minor steering corrections to keep you in your lane if you appear to be drifting out of it. All of these safety technologies help to look out for you and your loved ones. You even have Teen Driver technology that allows you to help monitor your young driver to help them stay safer out on the road.
As you can see, there are a lot of things to love about the 2022 Traverse. This vehicle has a lot of capability and a lot of great features for you. If you have any questions about the Traverse or any other Chevy vehicles, you can reach out to us at Betley Chevrolet. Our expert staff would be happy to help you learn more about any of these vehicles.
Apply for Financing