2023 Chevy Colorado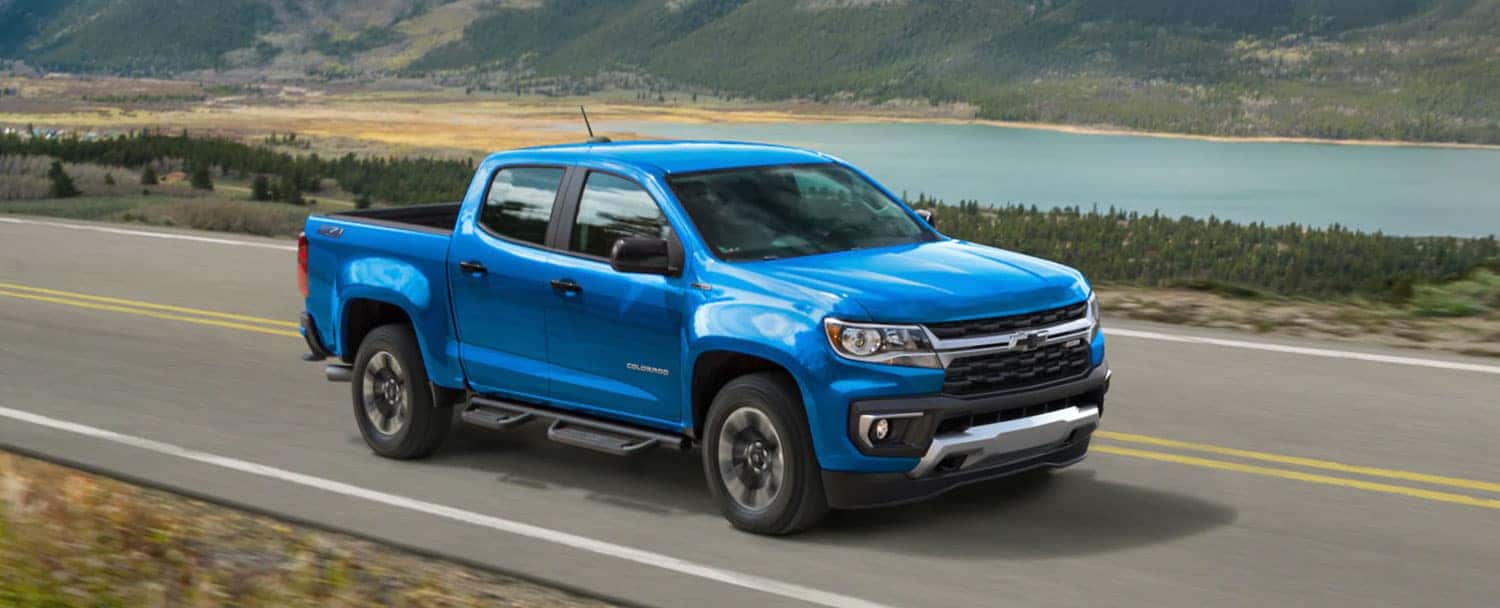 The Chevy Colorado is a compact truck. This is a versatile vehicle for everyday driving, as well as some towing and hauling. If you are looking for a heavy-duty hauler, this isn't the truck for you, but this does offer you some towing and hauling capability, as well as some great off-road features. There is a lot to love about this truck, and it is a great choice for many people.
What's New for the 2023 Chevy Colorado?
What's not new for the 2023 Colorado would be a better question. This vehicle has been completely redesigned for the 2023 model year. You have a different engine with more performance features and capabilities, new technology, a refined interior, and an updated exterior style. Check out all that this redesigned vehicle has to offer you below, and reach out to us at Betley Chevrolet if you have any questions.
Performance and Engine Options
First, let's look at the performance of this truck. The 2023 Chevy Colorado has just one engine, but there are different versions of this engine on different trim options that provide you with a slightly different performance. This is a major change from the previous model year, but it comes together to offer you a more capable performance than in previous models. Check out the details of this below.
2.7-liter Turbo – The engine in the 2023 Colorado is a turbocharged 2.7-liter four-cylinder engine. In the base model of this truck, you have an engine that produces 237-horsepower and 259 pound-feet of torque. With this engine, your max towing capacity is 3,500 pounds.
2.7-liter Turbo Plus – When you step up your truck to the Z71 or Trail Boss model, you get a more powerful version of this engine. This turbocharged 2.7-liter plus engine gives you 310-horsepower and 390 pound-feet of torque. With this engine, you also step up your towing capacity to 7,700 pounds.
2.7-liter Turbo High-Output – Finally, you have a high-output version of the turbocharged 2.7-liter engine. This high-output version gives you 310-horsepower and 430 pound-feet of torque. It can offer you a towing capacity of up to 7,700 pounds, and this engine is found standard on the ZR2 model.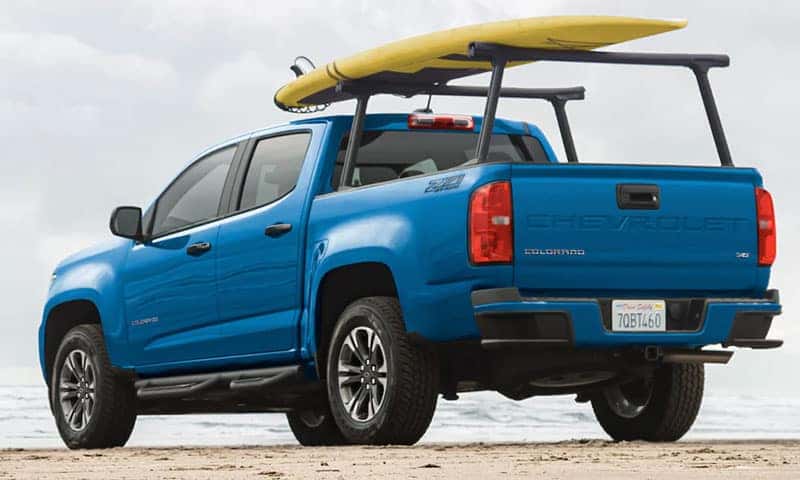 All of these engine options are paired with an eight-speed automatic transmission. However, that is not all this vehicle has to offer you in terms of performance. The Chevy Colorado also offers you a capable off-road performance with some great capabilities. For example, the 2023 Colorado offers you up to five different drive modes for different driving conditions. These five modes include Normal, Tow/Haul, Off-Road, Terrain, and Baja. The Terrain mode is for low-speed rock crawling, and the Baja mode is for high-speed desert running.
Also, you have three different chassis setups in the 2023 Colorado to help you get the performance you are looking for. There is a standard setup, but there are two other setups focused more on off-roading. On the Trail Boss trim, you can find a 2-inch factory lifted chassis with an ultra wide stance to give you more ground clearance. The ZR2 model offers you even more capability with a high-performance 3-inch factory installed lift and wide stance. You can get up to 10.7 inches of ground clearance in the ZR2 model.
As you can see, there's a lot to love about the performance of the redesigned 2023 Chevy Colorado, but there are a lot of other great features to check out below.
Exterior
As mentioned above, there are different setups for the 2023 Chevy Colorado to offer you different ground clearance. However, all of these vehicles have a length of about 213 inches and a height that ranges from 78.8 to 81.9 inches.
You have a redesigned look for the exterior that gives you a rugged, off-road look. This truck is available with exterior colors like Radiant Red Metallic, Black, Sand Dune Metallic, Nitro Yellow Metallic, Harvest Bronze Metallic, Glacier Blue Metallic, Summit White, and Sterling Gray Metallic. You also have features like LED headlights, taillights, and LED fog lamps. You can get features like 18-inch wheels with all-terrain tires, a cornerstep rear bumper, and more. This vehicle will likely only be offered with the short bed, but it offers you great features like 17 tiedown points, a StowFlex tailgate, and more.
Interior
On the inside of every Chevy Colorado, you can find two rows of seating for up to five people. New for this model year, every interior version of the Colorado is a four-door crew cab version. This gives you plenty of interior space and passenger capacity. You will also have great interior feature options like heated seats, leatherette seats, leather seats, and more.
Technology Features
Next, let's look at what technology features can be found in the redesigned 2023 Chevy Colorado. Check them out below.
11.3-inch touchscreen infotainment system – You get an upgraded infotainment system for your 2023 Colorado with an 11.3-inch touchscreen infotainment system. This is much bigger than previous model years, and it offers you a great user experience.
Wireless device charging – You also don't have to worry about remembering your phone charger with built-in wireless device charging on your Chevy Colorado. This ensures your smartphone is always charged and ready to go for you when you're on the go.
Apple CarPlay and Android Auto – Connect your smartphone to your infotainment system with Apple CarPlay or Android Auto. These systems give you access to information, music, and more from your phone through your infotainment system. This makes it easier to stay connected and entertained on your drive.
Digital instrument display – In addition to the touchscreen infotainment system, you also have an 8-inch digital instrument display. This display is fully customizable, allowing you to display the different vehicle information that you want to have easy access to.
Google Built-In – Also new for 2023, your truck can be equipped with Google Built-In to give you access to navigation, music, and more that is directly through your Google account.
Wi-Fi hotspot – Work and play on the go with the Wi-Fi hotspot that can be found on the Chevy Colorado. This can keep you entertained or help you get things done while you're on the go.
Premium audio system – You can also get a premium Bose audio system in your Chevy Colorado to improve your listening experience.
This truck is a tech-savvy one. You can stay connected and entertained and still get the job done. There are also some great safety technology features for you to check out below.
Safety
Finally, let's talk about safety with this truck. For the 2023 Colorado, you will get a Chevy Safety Assist package standard to offer you some safety technology on every model. This standard safety technology will include features like forward collision warning, lane keep assist, lane departure warning, front pedestrian braking, automatic high beam assist, and automatic emergency braking. You will also have available options like adaptive cruise control, blind zone steering assist, rear cross traffic braking, rear pedestrian alert, and HD surround vision. Check out some of these features in greater detail below.
Automatic emergency braking – This safety feature can help to prevent or lessen the impact of a collision. It will monitor in front of your vehicle, and it will automatically apply the brakes if it detects an imminent front-end collision.
Adaptive cruise control – You can maintain a safe distance from the vehicle in front of you on the highway with adaptive cruise control. This feature will automatically slow down your vehicle to maintain a preset distance so you do not get close enough to cause a collision.
Lane keep assist – With this feature, you can stay safely in your lane. If it detects you drifting out of your lane unintentionally, it will make minor steering corrections to keep you in your lane.
Rear pedestrian alert – This safety feature watches out for pedestrians that are crossing behind you as you move in reverse. It will alert you if it detects someone so that you can apply the brakes and keep everyone safe.
There are a lot of great safety features found on this truck, and the Chevy Safety Assist suite of features is standard on every model.
The Chevy Colorado was completely redesigned and updated for the 2023 model year, and there are a lot of amazing changes. This vehicle is an exciting one that offers a lot of capability and fun. If you have any questions about this vehicle, you can reach out to us at Betley Chevrolet.
Apply for Financing