2023 Chevy TrailBlazer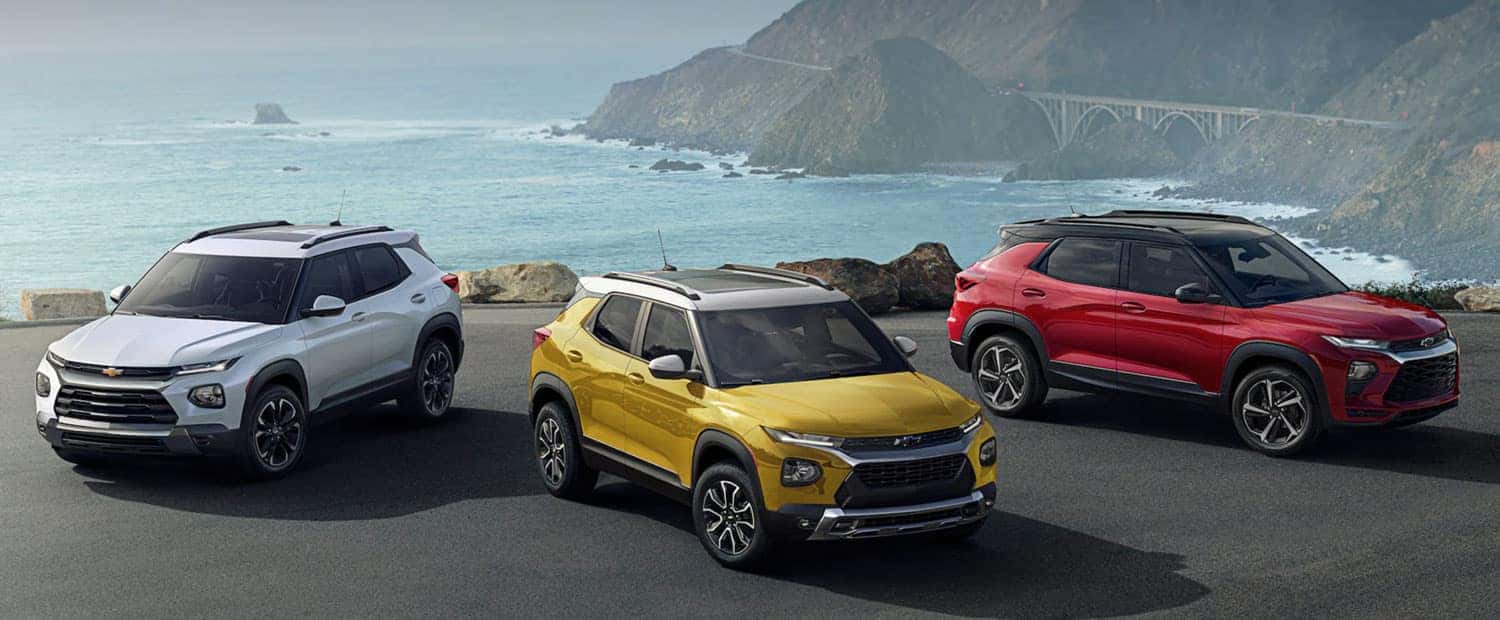 The Chevy TrailBlazer is a newer vehicle for Chevy. You may recognize the name from many years ago, but this vehicle was reintroduced as an all-new model in the 2021 model year. This vehicle is considered to be a subcompact SUV. It offers you a fun performance, a tech-savvy interior, plenty of great safety features, and decent cargo space.
Want to learn more about the 2023 Chevy TrailBlazer? Check out the in-depth model review below, and then reach out to us at Betley Chevrolet. We can help answer any questions you have and get you ready for your next vehicle upgrade.
Performance and Engine Options
First, let's talk about how the Chevy TrailBlazer performs for you. This vehicle is plenty capable and fun to drive. It offers a couple of different engine options and some other exciting features. Check it out below.
Turbocharged 1.2-liter three-cylinder – Your base engine in the 2023 Chevy TrailBlazer is a turbocharged 1.2-liter three-cylinder engine that produces 137-horsepower and 162 pound-feet of torque.
Turbocharged 1.3-liter three-cylinder – The next available engine option is a turbocharged 1.3-liter three-cylinder. This engine gives you slightly more horsepower and torque at 155-horsepower and 174 pound-feet of torque.
There are two different transmission options in the Chevy TrailBlazer. The first is a continuously variable automatic transmission and the second is a nine-speed automatic transmission. In terms of fuel efficiency, you can expect to get around 29 city and 33 highway miles per gallon.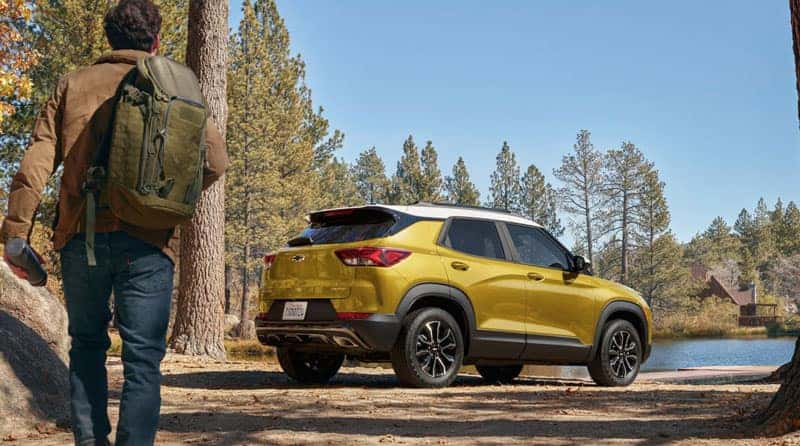 This SUV also has a few off-road features. It has a selectable all-wheel-drive system that can give you more traction and capability. You also have up to 8-inches of ground clearance in this vehicle.
Finally, in terms of performance, this vehicle gives you the ability to tow 1,000 pounds when it is properly equipped. This isn't a huge number, but for this size of a vehicle, this is a good amount. Overall, the 2023 TrailBlazer offers you a solid performance, but that is not the only thing this vehicle has going for it. Learn more about all the other features below.
Exterior
The 2023 TrailBlazer is a sporty vehicle. It has a very athletic look with an aggressive grille and powerful headlights. Also, when you choose the Activ trim, you have a two-toned paint option with the roof being a different color than the body. There are a few new exterior paint colors for the 2023 TrailBlazer. This vehicle now has Nitro Yellow Metallic, Sterling Gray Metallic, and Fountain Blue offered as new exterior paint colors.
This vehicle has exterior features that add an eye-catching design and a capable function. These features include options like 17-inch sport terrain tires, deep tinted glass, halogen headlights, auto high-beam headlights, LED fog lamps, roof-mounted side rails, a panoramic power sunroof, LED daytime running lamps, and more.
Interior
On the inside of the Chevy TrailBlazer, you can find seating for five people in two rows. You have standard cloth upholstery, but there are other interior upgrades like synthetic leather upholstery, heated seats, a heated steering wheel, and a power-adjustable driver's seat.
When it comes to cargo space, this SUV offers you 25.3 cubic feet of cargo space behind the rear row of seats, but you can get up to 54.4 cubic feet of cargo space with those rear seats folded down. You can also fold flat the front passenger seat to hold longer cargo; this can allow for 8-foot-long cargo. There is a manual liftgate standard with this vehicle, but there is a hands-free power liftgate available.
Also, there are four different trim levels for the 2023 TrailBlazer. These trims include the LS, LT, Activ, and RS. Each trim level offers you different interior and exterior features, so you will want to pick the one that best fits your needs.
Technology Features
You also have some great technology on the inside of your 2022 Chevy TrailBlazer, starting with a great infotainment system and smartphone connectivity. Learn more about this below.
Touchscreen infotainment system – This vehicle comes standard with a 7-inch touchscreen infotainment system, but there is an 8-inch touchscreen available to give you a larger option.
Apple CarPlay and Android Auto – Your infotainment system also has Apple CarPlay and Android Auto connectivity so that you are able to connect your smartphone to your car. This means you can have access to smartphone apps, music, phone contacts, and more through your vehicle.
Amazon Alexa – The Chevy TrailBlazer also has a built-in Amazon Alexa to give you plenty of extra capability. This system allows you to remotely lock or unlock your vehicle. You also have the ability to remotely start your vehicle by simply asking Alexa to do so.
Bluetooth – Bluetooth capability in this vehicle means that you can talk on the phone hands-free, allowing you to keep your hands on the wheel.
Wi-Fi hotspot – Make your vehicle an entertainment hub or a mobile office with the standard Wi-Fi hotspot.
Wireless device charging – This vehicle also has available built-in wireless device charging. This makes your life easier and more convenient because you don't have to buy or remember to bring a car charger for your phone. Your phone won't lose battery when you need it most.
USB ports – You can get up to four USB ports in this vehicle to keep your devices charged and connected.
Remote start – Experiencing a cold winter day or a hot summer day, you can get remote start for your vehicle. This means you can get your car warmed up or cooled down before you get inside.
Keyless entry and push-button start – Your 2022 TrailBlazer also gives you keyless entry with a key fob that unlocks your vehicle when you are in close enough proximity to it. You also have a push-button start, which means you never have to take your keys out of your pocket.
Those are most of the technology features that can be found in the 2023 TrailBlazer. This SUV is a tech-savvy option with the latest and greatest features for you. There is also a lot of safety technology, which you can learn more about below.
Safety
The Chevy TrailBlazer has plenty of great safety features to look out for you and your passengers. Standard safety features on the 2023 TrailBlazer include a rearview camera, lane departure warning, lane keep assist, forward automatic emergency braking, teen driver, forward collision warning, pedestrian detection, automatic high beams, and a rear-seat alert. You also have a few available driver assistance features like adaptive cruise control, rear parking sensors, blind spot monitoring, and rear cross traffic alert.
Learn more about some of these safety features in greater detail here:
Forward automatic emergency braking – If another vehicle or pedestrian is in front of you and a collision is imminent, this safety feature will automatically apply the brakes to avoid or lessen the impact of the collision.
Teen driver – Teen driver is a great feature exclusive to Chevy that allows you to help monitor your young driver by setting geographic or speed restrictions. You can also use the buckle to drive feature that won't allow your vehicle to go out of park until the driver's seatbelt is buckled.
Lane keep assist – This safety feature will help you stay in your lane. If the lane departure warning feature detects you drifting out of your lane unintentionally, the lane keep assist feature can make minor steering corrections to keep you in your lane.
Adaptive cruise control – You will stay a safe distance from other vehicles with the adaptive cruise control feature. This monitors how far you are from the vehicle in front of you, and if you get too close, it will slow your vehicle down to maintain a preset distance.
All of these safety features help to look out for you and your passengers when you are on the road.
Overall, the 2023 Chevy TrailBlazer is a great vehicle. This compact SUV can be a great option for your next vehicle upgrade. If you have any questions about this vehicle, you can reach out to us at Betley Chevrolet.
Apply for Financing