CHEVY SILVERADO SPECIAL EDITIONS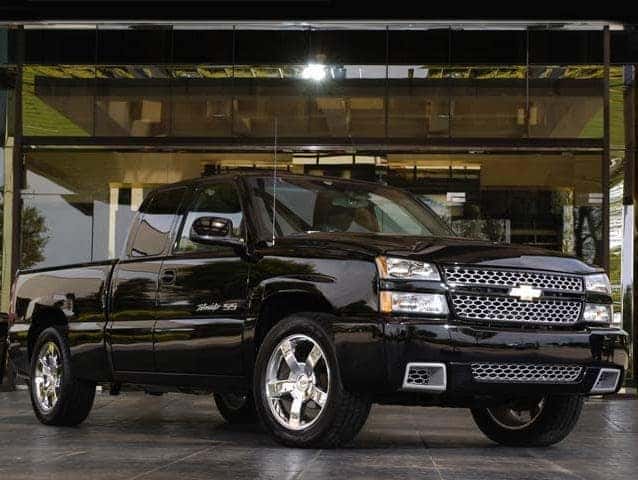 Special edition trucks add a little more excitement to the everyday truck experience. It is fun to see what features designers will come up with. The Chevrolet Silverado has had many special editions over the years. We are going to take a closer look at some of the best Silverado special editions of all time.
Silverado Intimidator SS
This truck was made in part to honor Dale Earnhardt. There were only 1,333 Silverado Intimidator trucks made. The 3's were to honor Dale Earnhardt's car number as he was number 3. This truck came out in 2006, and it came with a Vortec 6000 V-8 engine that gives you 345-horsepower and 380 pound-feet of torque.
This truck had a classic black color scheme with Intimidator badging on the tailgate and doors. This truck also had a race-inspired tailgate spoiler. On the inside, this truck had a Dale Earnhardt Legacy Logo on the front of the headrests as well as a black leather steering wheel and optional dark charcoal seats.
This vehicle was known to be a NASCAR-themed collectible because of all the homage to Dale Earnhardt. However, Chevrolet didn't just make a truck honoring him, they also donated some money from the sales of these vehicles to the Dale Earnhardt Foundation. This special edition is legendary.
Silverado Reaper
The Silverado Reaper was a special edition truck that came out in 2014. This truck is well-known for its off-road performance capabilities. This truck has Fox racing shocks to absorb that off-road impact. It also gives you 9.2 inches of front and 11.2 inches of rear suspension travel. Also, this truck was available with two supercharged engine options the 5.3-liter or the 6.2-liter.
As far as the styling goes, the Silverado Reaper gives you an aggressive and intimidating exterior. This vehicle has a restyled grille to make the hood look longer, it has intimidating LED lighting and it has Reaper custom graphics and serialized Reaper badging.
This Silverado special edition came on the scene when the world wanted another off-roading vehicle and it has been a great option ever since.
Silverado Realtree Edition
The Silverado Realtree Edition brings us up to 2016. This vehicle was inspired by the outdoors. It features camo graphics from Realtree and a lot of other features to love. Chevrolet and Realtree have had a partnership for many years and this special edition is a testament to that relationship.
Features of the Silverado Realtree include exterior camo graphics, the Realtree logo embroidered on the front-seat headrests, and additional Realtree camo graphics on the interior. This truck was inspired by people who spend much of their time outdoors.
The Silverado Realtree Edition is offered on the Silverado 1500 LTZ Z71. This truck has features like a 6.2-liter engine with 11,700 pounds of max trailering. This edition also features high levels of technology with Chevrolet MyLink connectivity as well as Apple CarPlay and Android Auto. That makes this truck capable as well as stylish.
Chevrolet has a history of giving you great special edition trucks. From the Silverado Intimidator SS to the recent Silverado Realtree Edition, there is a lot to love about Silverado special edition trucks.