Driving a 2019 Silverado in New Hampshire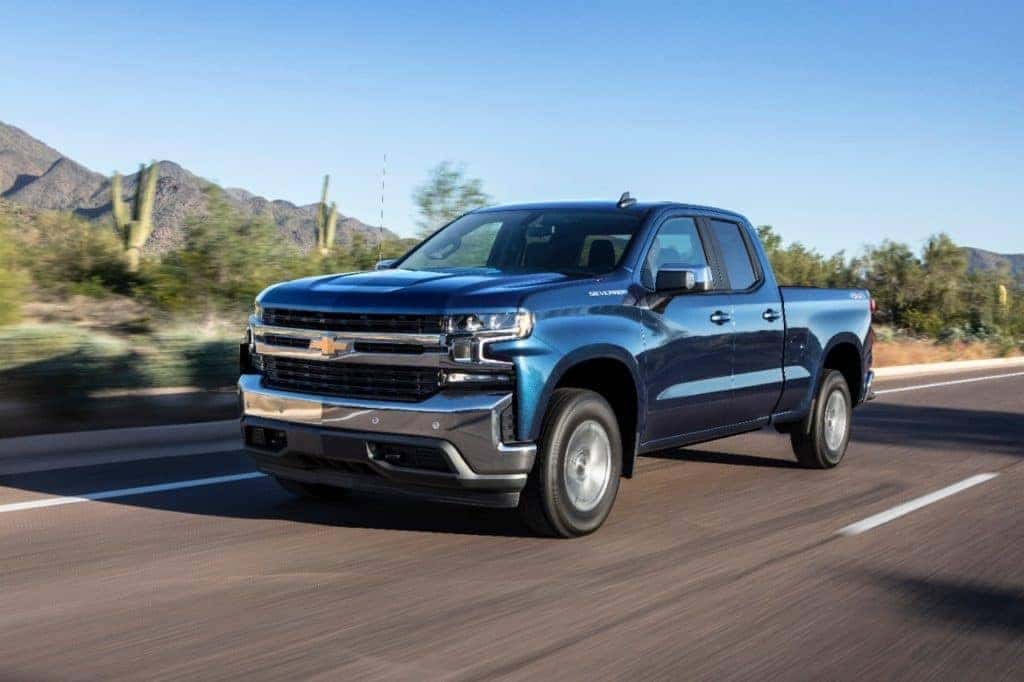 New Hampshire was made for outdoor enthusiasts from its coastline with beaches and boardwalks to the majestic White Mountains with hiking, skiing, and outdoor adventuring. The Chevy Silverado was also made to take on the outdoor lifestyle with a powerful performance, unstoppable capability, and a thirst for adventure.
Whether you want to explore the Great North Woods or the New Hampshire Lakes Region, you can do so in the capable 2019 Chevy Silverado. This truck has the power and possibility to take on your New Hampshire lifestyle. Learn more about its specific features and capabilities below, and how they are perfect for those living in the New England region.
Exterior
The exterior of the Chevy Silverado has a rugged look and a powerful stance that shows this truck is ready to work for you. There are eight different trim options for the Silverado which offer you different capabilities and different design features.
When it comes to the truck bed, the 2019 Silverado has a high-strength roll-formed steel bed. You also get the option of three different bed lengths based on what you will need for hauling. You can choose from an 8 foot, 6 foot-6 inch, or a 5 foot-8 inch bed. For 2019, this truck has a bed that is deeper and wider than ever to give you more hauling capability. In the truck bed, you can also find fixed tie downs, a 120-volt power outlet, and the optional power-operated tailgate.
The exterior of this vehicle gives you the capability to take on your life. From weekend mountain adventures and family road trips to towing and hauling equipment and gear for your next project, this vehicle has what it takes to take on your everyday New Hampshire lifestyle.
Towing, Driving, and Overall Performance
There are a number of engines available in the 2019 Chevy Silverado, which means you can customize the performance of your vehicle to your specific needs. The base 4.3-liter V6 engine produces 285-horsepower and 305 pound-feet of torque, which can be great for daily driving and capable enough for light towing and hauling.
Then, you have the option of two different V8 engines. The first V8 in a 355-horsepower, 5.3-liter V8 engine. The second is a 6.2-liter V8 engine that gives you 420-horsepower and 460 pound-feet of torque.
Your final two engine options include a turbocharged 2.7-liter four-cylinder engine that produces 310-horsepower and 348 pound-feet of torque and a diesel engine option. Your diesel engine is a 3.0-liter turbodiesel that is paired with a 10-speed automatic transmission.
What do all these engines mean for towing and hauling capacity? You can customize your Silverado's performance to your needs. If you need a work truck to haul crew members and cargo, you can find that in the Chevy Silverado. If you want a truck to help you haul jetskis, boats, snowmobiles, and more for taking on the New Hampshire wilderness, this truck can do that as well.
In the 2019 Chevy Silverado, you have a maximum towing capacity of 12,500 pounds and a maximum payload of 2,590 pounds. Now, those are big numbers, but what do those numbers mean? To give you a better idea of what the Chevy Silverado is capable of, here is a list of things this truck can tow for you: a monster truck, a helicopter, an elephant, a baby whale, and so much more. A monster truck weighs in at around 9,000 pounds, and an elephant can weight in at around 12,000 pounds—the 2019 Silverado has the capability to tow both of those items.
You probably won't be towing a baby whale in your Silverado, but you can tow a fifth wheel camper, the largest UHAUL trailer, a boat, snowmobiles, and construction equipment. This vehicle gives you the rugged capability to take on even the toughest of towing and hauling jobs. You even get some great features to help you with towing like side and hitch view cameras, a trailer brake controller, and a trailering app.
Whether you are towing and hauling equipment to your worksite, camping in the White Mountains, or battling your way through a New England snowstorm, you want the capability and performance of the Chevy Silverado on your side.
Interior and Technology
A rugged and powerful truck can still offer you comfort and advanced technology on the inside, so the Chevy Silverado does. This vehicle has seating for up to six people, so you can fit the crew inside on the way to your next job.
When you work hard, you want to relax and enjoy your truck's cabin. The Silverado lets you do this with available leather upholstery heated front and rear seats, and a heated steering wheel. The cabin of the Silverado also blocks out excessive sound from the outside world.
When it comes to technology, the 2019 Silverado is advanced. This vehicle has features like a rearview camera, an infotainment system with a 7-inch touchscreen, Bluetooth, Apple CarPlay, Android Auto, and more. You also get available features like three USB ports, wireless device charging, a Wi-Fi hotspot, a navigation system, and a seven-speaker Bose audio system. All of this technology can allow you to get work done on the road with features that allow you to have a mobile office. You can even keep your family entertained with features like Wi-Fi hotspots, infotainment systems, and more.
Your 2019 Silverado has the comfort and technology to help everyone enjoy the driving experience. Check out the interior of this vehicle for yourself at Betley Chevrolet.
Safety
When you are driving in New Hampshire, you want to be sure you have the capability to take on the mountains, wildlife, and snowy roads. The Chevrolet Silverado helps to give you this capability with plenty of safety and driver assistance features as well as excellent performance and capability.
The 2019 Silverado also offers you a long list of safety features like a rearview camera, blind spot monitoring, lane change alert, front pedestrian braking, forward collision alert, parking sensors, rear cross traffic alert, and more.
You even get some great technology to keep you and your cargo safer when you are towing heavy loads. Some of this trailering technology includes a in-vehicle trailering system that allows you to keep tabs on your cargo and capabilities. You also have features like a rear trailer camera that lets you monitor your trailer, and the myChevrolet mobile app that gives you checklists and more.
Whether you find yourself near the coast or the mountains, there are a lot of amazing outdoor adventures to enjoy in New Hampshire. The Chevy Silverado can help you on your everyday adventures all the way from the mountains to the coast. If you have questions about the capability of the 2019 Silverado, come down to Betley Chevrolet to learn more and to test drive this vehicle yourself.
Apply for Financing