USED CHEVY CRUZE NH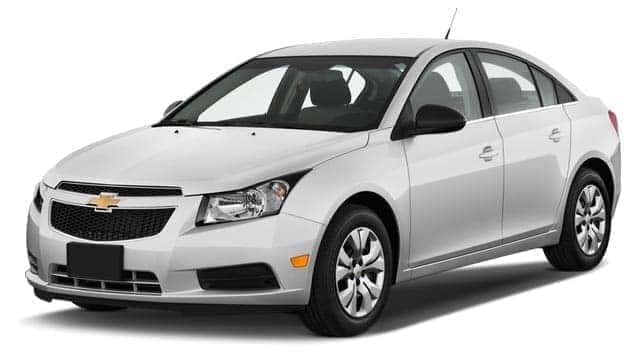 The Cruze is one of the newer additions to the Chevrolet lineup, but in its short lifespan, it has managed to become one of the most important nameplates for the bowtie brand.
Introduced as an all-new model for the 2011 model year, the Chevy Cruze currently has two solid generations of design and innovation under its belt. Because the compact sedan is still relatively new to the Chevrolet lineup, used car shoppers are purchasing like-new versions of the used Chevy Cruze at a rapid rate.
The oldest version of the Cruze is only six years young, making it an enticing option for buyers who are looking for a quality compact sedan, without breaking the bank.
GET A LOT MORE FOR A LOT LESS
The current 2017 Chevrolet Cruze features a low starting MSRP of just $16,975. If brand new versions of this dependable sedan are this affordable, imagine how much you could save by purchasing a like-new used Cruze. Used Chevy Cruze models can be found on dealer lots ranging in age from the original 2011 model year, all the way up to 2017.
If you prefer your next pre-owned car to be more "new" than "used," there is a lot to be said about swooping up a great deal on a 2016 or 2017 used Chevy Cruze.
Redesigned for the 2016 model year, the Chevy Cruze came standard with a slew of innovative features were we previously only offered as an upgrade. In 2016, Chevy outfitted all Cruze models with a standard MyLink touchscreen infotainment system, which was upgraded for faster response times and a more user-friendly interface. The 2016 Chevy Cruze also came standard with the highly coveted Apple CarPlay and Android Auto smartphone integrations, and a rearview camera, making this redesigned version of the compact car even more desirable to buyers.
Chevrolet also added a long list of optional features to the Cruze for the first time in 2016, including a Bose premium audio system, heated rear seating, a heated steering wheel, a wireless charging station, and advanced safety features like lane-departure intervention, and forward collision alert.
Returning an EPA estimated fuel economy of 41 mpg on the highway, the 2016 Cruze is set to save pre-owned car buyers a lot of money at the pump, as well as at the dealership.
CONSIDER AN AWARD WINNING USED CHEVY CRUZE
As the most awarded car brand in America, Chevrolet knows a thing or two about vehicle accolades and awards – and the Cruze is no stranger to praise, either.
Earning the title of 2014 Diesel Car of the Year at the New York International Auto Show that same year, the 2014 Cruze Diesel also snagged a spot on Ward's 10 Best Engine list thanks to its intuitive 2.0L turbodiesel I4 engine – making it the most viable used car option for buyers seeking a diesel powered sedan.
Regardless of who you are, or who you plan to have as passengers in your car, chances are you consider vehicle safety a top priority on your list of used car features. Chevrolet has done an exceptional job in this area when it comes to the Cruze, but the 2015 version of the compact sedan stands out from other used Cruze model years. The 2015 Chevy Cruze earned a 5-star overall safety rating from the National Highway Traffic Safety Administration, which just so happens to be the highest possible honor in terms of automotive safety.
If you are looking for a dependable and capable family sedan, the 2015 model year of the Cruze also shines bright. U.S. News and World Report named the 2015 Chevy Cruze the Best Family Car in its class, making it an exceptional option for buyers looking to save with a used car, but not compromise on the safety of their family.
PURCHASE A NEW-TO-YOU 2016 CHEVY CRUZE
Buying used doesn't mean buying old. The 2016 Cruze was completely redesigned and updated for the launch of its second generation – and you really can't go wrong with all that this efficient compact sedan has to offer.
Fuel Efficient: With an EPA rating of 41 mpg on the highway and 30 mpg in the city, the 2016 Cruze is one of the most efficient pre-owned compact sedans. Those ratings come attached to Cruze models equipped with an automatic transmission, as their manual counterparts achieve a bit less with 39 mpg on the highway, and 28 in the city.
Peppy Engine: The standard 2016 Cruze came with a direct-injected 1.4L turbocharged engine that is rated at 153 horsepower and 177 lb.-ft. of torque. A manual six-speed transmission came standard on the L, LS, and LT models, while the high-end Premier Cruze came standard with the automatic transmission and stop-start technology.
Plenty of Premium Features: As mentioned earlier, the 2016 Cruze was treated to quite a jump in standard features and amenities. On top of the newly standard features mentioned above, the 2016 Cruze offered new buyers an eight-way power driver's seat, leather upholstery, ambient lighting, keyless entry with remote start capabilities, an auto-dimming rearview mirror, a navigation system, and 18-inch alloy wheels with a rear spoiler. Simply put, when it comes to finding a capable ride that is packed with amazing amenities for a low price, there is nothing more perfect than a used 2016 Chevy Cruze.
Safety: The 2016 Cruze grabbed a four-star overall rating from the National Highway Traffic Safety Administration, while it received the highest possible safety score from the Insurance Institute for Highway Safety. Standard safety fare included four-wheel anti lock brakes, full-length side curtain airbags, front knee airbags, stability control, and OnStar assistance. Newly added safety features included a forward collision alert, a following distance indicator, lane keep assist, lane departure warning, rear park assist, and a blind-spot warning system.
Plenty of Package Options: Buyers who were interested in purchasing a more refined compact sedan, had the option to add the RS Appearance package to LT and Premier trim level options of the 2016 Cruze. This head-turning package added 18-inch wheels, a rear spoiler, foglights, and a sport body kit for enhanced aesthetic appeal. Also available on new 2016 Cruze models was a Sun and Sound Package which included a driver information center, an 8-inch touchscreen display, a nine-speaker Bose audio system, and a sunroof. LT and Premier models were also offered with the safety-enhanced Driver Confidence Package which added rear parking sensors, a blind spot monitoring system with rear cross-traffic alert, automatic high beams, and lane-departure warning.

FIND THE PERFECT USED CHEVY CRUZE IN NH AT BETLEY CHEVROLET
With so many incredible options available to new buyers of the 2016 Cruze, imagine all that you can find in a used version of this same compact sedan. As 2018 models of the Cruze arrive at dealerships, more of these newer used Cruze models are making their way onto dealer lots across the United States. If you are considering a used car purchase for yourself, or for your family, look no further than an award-winning, capable, and fully loaded used Chevy Cruze.
As perfect for the single commuter, as it is for the family of four, there is something for every type of buyer to explore and appreciate in a used Cruze compact sedan.