USED CHEVY IMPALA NH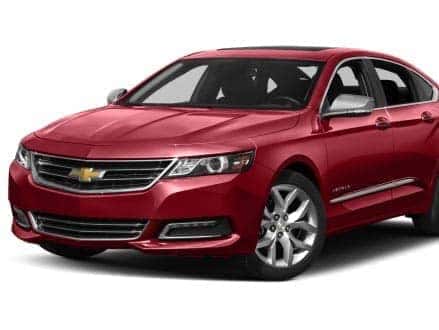 Whether a vehicle is new to the world or simply new to you, a vehicle change is exciting. A simple VIN number can enable you to read up on the history of a specific vehicle. Therefore, purchasing a used vehicle is associated with a peace of mind that drivers never had before.
For example, 2015 Impala owners often referred to their vehicle as "the best car they ever owned." Why not join the ranks of others? This large four-door sedan is sleek as it is comfortable and as reliable as it is affordable. If you like to support American-made vehicles, you truly can't go wrong with a used Chevy Impala.
Chevrolet conducted a radical reinvention of the 2014 Impala. Therefore, subsequent models included only minor technological and stylistic upgrades. The age-old phrase…if it's not broke, don't fix it rang true when it came time for the 2015 model. But the added good news for used car drivers is this: any Impala model from 2014 onward is a top-notch model since the 2014 version included such a comprehensive overhaul.
Not surprisingly, the biggest setback in purchasing a used vehicle is that newer vehicles typically include cutting-edge technology that simply wasn't available for older models. This rings true to an extent for the Impala. However the 2015 technological features are extensive. In short, if you are a used car shopper interested in a reliable large-sedan with a smooth ride, sleek interior and eye-catching exterior, the 2015 Chevrolet Impala won't disappoint!
PERFORMANCE AND SAFETY
Drivers most interest in fuel economy and affordability will likely prefer the four-cylinder engine. But if you are the type of sedan driver who prefers some oomph, the V6 would be a better fit for you. The four-cylinder achieved and EPA rating of 22 city miles and 31 highway miles for a combined 22 mpg.
In contrast, the six-cylinder achieves a modest 18 city miles and 28 highway miles for a combined rating of 21 mpg, which is certainly comparable to the four-cylinder. An additional perk of the V-4 engine is an automatic stop-start system. In an effort to save fuel, this technology was designed to shuts off the engine when the vehicle is halted.
This large sedan absorbs the typical bumps and ruts just as you would expect it to do. What's better is that the ride is as quiet as it is smooth, although the 20-inch wheels are a little rough over sharp bumps. In general, the handling of the Impala is modest and is in contrast to the exterior's sleek styling. So if you are the kind of driver who likes the look of a sports car but the handling of a sedan, climb into the nearest 2014 or 2015 Impalas you can find.
Based on the many features that come standard with this vehicle, it is clear that safety was a top priority when this model was designed. Antilock brakes, traction and stability control systems, front seat side airbags, full-length side curtain airbags and front knee airbags truly ensure that drivers and passengers are as protected as possible should a collision occur.
Standard technology features that focus on safety includes OnStar roadside service with automatic crash notification, and an emergency assistance button. Additional safety options are available at the various trim levels and include rear parking sensors, a rearview camera and the Advanced Safety Package.
INTERIOR
While the handling of the Impala may not be sleek, the appearance of the interior certainly is. A dual-cowl dashboard flows blends naturally into the door panels. A generous wheelbase allows for significant passenger comfort in both the front and back seats.
The wide and couch-like seats come in a variety of upholstery options such as cloth, leather and combinations of cloth with suede or vinyl with suede. Used car buyers may prefer the durability of the leather seats. However, even the cloth seats are designed to hold up in a well-cared for vehicle.
Finally the folding rear seats add a handy cargo space, although drivers may find that the 18.8-cubic-front trunk provides them with all the storage they need.
Remember how we mentioned a downfall of a used vehicle is possible absence in technology in the beginning? Well, sedan drivers will be pleased to know that that negative aspect doesn't necessarily apply to the Impala. The 8-inch MyLink touchscreen can be used for audio, navigation and phone functions.
While some of the backup images are grainy, the system provides crisp, high-resolution graphics and an intuitive smartphone-like interface. Another perk of buying a used vehicle is that the previous owner may have installed Bluetooth and satellite radio to models in which these features aren't standard.
TRIM LEVELS
In an effort to accommodate a variety of driver interests, the 2015 Impala is offered in three trim levels: the LS, LT and LTZ. The LT and LTZ models are further broken down into two sub-trims to signify whether the vehicle is equipped with the four-cylinder or V6 engine.
LS Trim Level
This trim level is considered "bare bones" but is still equipped with a variety of features. 18-inch steel wheels, automatic headlights, cruise control, keyless entry, air-conditioning, power adjustable driver seat and a telescoping steering wheel. Technological features include a trip computer, OnStar emergency communication system, WiFi capability and Bluetooth phone connectivity. The vehicle also comes equipped with a six-speaker sound system with a CD player, satellite radio, and USB ports. This trim level also provides the option of a Convenience package, which includes the addition of rear parking sensors, a cargo net and foldable rear headrests.
LT Trim Level
This trim level is available with either a four-cylinder or a V6 engine. Additional aspects includes 18-inch alloy wheels, heated side mirrors, dual-zone automatic climate control, a leather-wrapped steering wheel and shift knob. The MyLink infotainment system that includes an 8-inch touchscreen, voice controls, Bluetooth audio connectivity, two additional USB ports, an SD card slot, HD radio, Internet radio smartphone app compatibility.
A sunroof is also an option on many of the 2015 Impalas. Additional options are available at the LT Trim level and are primarily grouped into packages:
Convenience Package: includes rear parking sensors, a rearview camera, remote start-up, an auto dimming rearview mirror and a universal garage door opener.
Advanced Safety Package: includes a forward collision warning system, a lane-departure warning system, and rear cross-traffic alert and blind spot monitoring technologies.
Premium Seating Package: includes synthetic suede upholstery, heated front seats and an eight-way power front passenger seat.
Premium Audio and Sport Wheels Package: includes 19-inch wheel, a rear spoiler, ambient interior lighting, a 120-volt power outlet, and an 11-speaker Bose sound system.
Navigation Package: includes keyless ignition as well as entry and adds navigation to the existing MyLink infotainment system.
LTZ Trim Level
This trim level is available with either a four-cylinder or a V6 engine. This trim level includes all of the standard features of the LT Trim level plus the majority of the package features. Like the LT Trim Level, additional packages are available to make you really feel like you are driving in style.
Comfort and Convenience Package: includes exterior ambient lighting, an auto-dimming rearview mirror, ventilated front seats, a heated power tilt-and telescoping steering wheel and driver memory settings.
Premium Auto Package: includes the Bose sound system and a 120-volt power outlet.