USED CHEVY MALIBU NH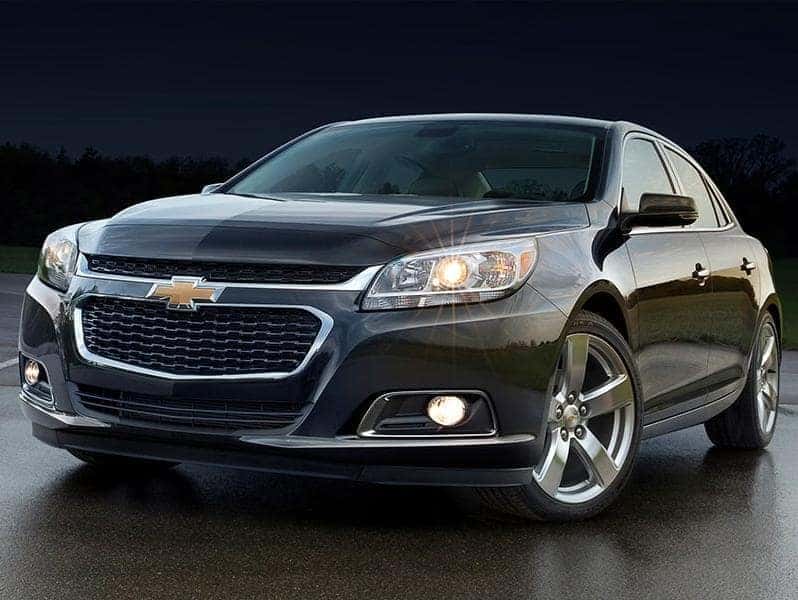 The mid-size Malibu is one of the longest running nameplates for the Chevrolet brand. The first generation of the popular four-door sedan was introduced for the 1964 model year, and has a full nine generations under its belt. With such a storied history behind it, it's no wonder why the Malibu remains of of the most popular sedans in the bowtie brand's lineup.
As newer 2017 Malibu models begin to sneak onto dealership lots, used car buyers will get to take advantage of even more advanced in-vehicle safety features and technology. Some of these advanced features include front pedestrian alert, automatic adaptive braking technology, adaptive cruise control, and a blind-spot monitoring system. If you are like most American car buyers, safety is your biggest concern, and a used Chevy Malibu has you more than covered.
As exciting as the newer versions of this model are, there are plenty of reasons why buyers are scooping up used Chevy Malibu options over buying brand new. 
LIKE-NEW FOR A WHOLE LOT LESS
It may be 2017, but you can already find used 2017 Malibu models on dealer lots. The old saying that a car loses it's value the moment it drives off the lot, isn't a rumor. There is truth to this supposed myth, and is one of the most compelling reasons to reach for a used Chevy Malibu, over a brand new one.
The 2016 Malibu was treated to a complete redesign, and with a release date of just two years ago – this version of Chevy's sedan can be easily found in near-new condition. When it first hit showroom floors, the 2016 Chevy Malibu featured a base MSRP of $21,625. Today, buyers are finding it easy to snag up fully loaded versions of this sedan for the same price, and oftentimes less.
For more conservative buyers, a used version of the 2016 Malibu will save them more than off the sticker price alone. When new, these popular mid-size cars came with a 3-year or 36,000 mile basic warranty, and a 5-year or 60,000 mile powertrain warranty. With the bulk of these used sedans still under the three and five year mark, used car shoppers still have time to benefit from the manufacturer warranty, and protect their investment. For buyers who are a bit more ambitious, used versions of the 2017 Malibu are starting to make their way back to dealerships – making that manufacturer warranty coverage more lucrative and enticing.
Car shoppers who are even more inclined to play it safe, will find comfort in the purchase of a Chevrolet Certified Pre-Owned Malibu. Sedans who earn this badge of honor have passed a rigorous multi-point inspection, have been reconditioned if any issues were discovered, and come with an extended warranty straight from Chevrolet.
Above and beyond the standard new-vehicle warranty, CPO Chevrolet Malibu models come with complimentary roadside assistance for six years, or 100,000 miles. In short, purchasing a CPO Malibu means the same level of peace of mind you would get with a brand new purchase – without the high end price tag.
RELIABILITY COMES STANDARD
There is something to be said about a car that has been around the block a few times. The Chevy Malibu has a lot to say when it comes to that, in fact. Earning one of the highest reliability ratings from J.D. Power and Associates multiples years in a row, the Malibu is easily one of the most reliable vehicles in its class. When you are in the market to buy a used vehicle, a few of the most compelling things to consider are reliability and dependability.
When it comes to these all-important factors, used Chevy Malibu models have quite a bit to say.
More specifically, the 2015 Chevy Malibu offers a near perfect reliability score from JD Power, and was ranked high in overall reliability and safety from multiple auto authorities. Earning a 4.5 out of five score from JD Power's reliability score, the 2015 Chevy Malibu makes a great option for buyers who are looking to save money by purchasing a used car, without sacrificing dependability in the process.
For used car shoppers looking to save even more with a used Chevy Malibu, reliability and dependability testing has been favorable for this Chevy sedan since the 2009 model year. Whether you are looking to spend only a few thousand dollars on an earlier model Malibu, or shell out more cash for a newer, higher-end used version of the sedan, you can't go wrong with a 2009-2017 pre-owned Chevy Malibu.
LOW IN PRICE, HIGH IN TECH & SAFETY
As hard as it is to imagine, 2015 and 2016 are barely in our past. As fast paced as technology is in today's world, few things have changed drastically enough to make a difference between the 2016 Chevy Malibu, and the 2017 model, in terms of technology.
As mentioned earlier, the 2016 Chevy Malibu underwent a complete redesign for that particular model year, and has received little to no updates in terms of technology since the ninth generation of the midsize sedan was brought to dealer showrooms.
One of the most drastic technological changes to the 2016 Malibu wasn't to the cabin or to the list of intuitive safety features – but rather to the engine. Chevrolet introduced the first Malibu Hybrid for the 2016 model year, which earned the sedan more recognition than any other engine option had in the past.
Car shoppers who are more interested in advanced in-vehicle tech will be pleasantly surprised by all that they can get in a used Chevy Malibu. Packed with plenty of intuitive technology and safety features, the redesigned 2016 Malibu came to the market with more than enough in terms of technological upgrades.
Features such as remote entry, OnStar with Wi-Fi connectivity, Bluetooth hands-free capability, voice command technology, remote start, premium Pioneer sound system, rear parking camera, and xenon headlights are just a few of the many amenities featured on used 2016 Malibu sedans. Keeping in mind the lower cost of the midsize Chevy sedan, buyers who opt for a used version of the Malibu end up getting a whole lot more technology, for a whole lot less.
Safety
If you are like most Americans, one of the first things you consider when shopping for a car, is safety. Amenities and fun technology mean very little if they are featured in an unsafe car, which is why it is important to point out how advanced used Malibu models have become in recent years.
The 2016 Chevy Malibu earned the highest possible safety ratings from both the Insurance Institute for Highway Safety and from the National Traffic Safety Administration. Standard safety features include a passenger airbag with an on/off switch, an anti-lock braking system, child safety locks, and an electronic stability control system.
Other advanced safety features such as integrated turn signal mirrors, night vision technology, a blind spot monitor, adjustable brake and gas pedals, lane departure warning, and auto-leveling headlights, were all made available on the 2016 Malibu model.
While most of these features were only included on higher end Malibu trim options, used car shoppers will be able to snag up many of these premium safety technology features for a whole lot less than they would by purchasing a brand new model.