USED CHEVY TRAVERSE NH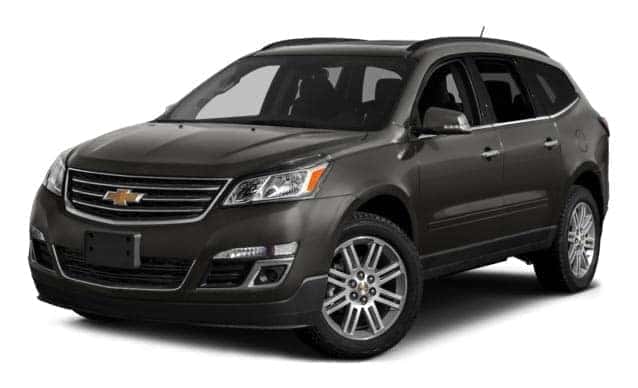 The Chevy Traverse has been on the scene since 2009, and has been a star in the full-sized SUV game. A used Chevy Traverse is definitely a great find, as the 2015 model rounds out the first generation of the SUV.
You have great overall performance, some high end features and excellent fuel efficiency. There are many in the same class that put up similar numbers such as the Ford Flex, Toyota Highlander and the GMC Acadia. All four seat about 7-8 passengers, which might make it hard to choose when looking for a used full-size SUV.
But with a name like Chevy, you know that the car is built to please and last. Saving money is always a plus, and now going into the 2018 season, you will find a 2015 used Traverse for much less and with a lot of the same qualities you would find in the 2018 models.
TRIM LEVELS
In the 2015 Traverse model you'll find 3 trim levels. You have the LS, LT, and LTZ. The LS is your standard base model and probably the most common on the market. The LT gives you front airbags, 8-way power driver seat, a leather steering wheel, synthetic wood trim on the interior, and a remote starter as its standard options.
The remote start is great for the cold mornings if you are in the Northeast or warm, blistering afternoons if you're in a warmer climate. It's an option that is especially helpful with you are trying to get out of the house, but want to warm up or cool down the car for everyone that is getting in it. You can also find options like exterior heated mirrors, integrated turn signals, park assist fog lights, and 18-inch aluminum alloy wheels.
You also might find the 2LT trim that is available. In this trim level, you get everything that is standard in the LT, but you also get triple zone auto climate control, a programmable garage door opener, power tailgate, and second row captain's chairs (instead of the standard bench). Some other nice options that you will find in the 2LT trim model are the MyLink infotainment system which offers a premium audio display and rear seat headphone jacks – which can be real lifesavers for long car trips with a car full of kids.
Now, the LTZ. This is your top of the line, "creme de la creme" model. It has a full leather interior, ventilated front seats, a heated steering wheel, driver memory settings and an 8-way power passenger seat. That's not all! It also has navigation standard to help you get where you need to go, power folding exterior mirrors, chrome exterior detailing, variable effort steering, a dual exhaust and 20-inch aluminum alloy wheels. This model would be a fantastic find and it holds tons of value, if you were able to come across it. It also would be something that you'd have fun driving around.
Now I am sure that you're wondering about the differences between the 2015 model and the 2017 model. Honestly, there isn't much that changed other than the trim names and a few features. The biggest difference found in the 2LT trim style is sound. Your sound system would be upgraded to a Bose system – which is a nice perk.
They also changed the trim name of "LTZ" to "Premiere." The big differences you will see in the Premiere trim are perforated leather interior, front seats that are both heated AND cooled, with some updated safety technology – BlindZone assist and rear-cross traffic alert, just to name a few. Those options definitely come in handy when you look at the sheer size of the vehicle.
PERFORMANCE AND SAFETY
So we already know that the Traverse seats about 7-8 passengers, which means that there needs to be some power to back that up. With the 2015 model, you get a 3.6-liter V6 engine that comes with 6-speed automatic transmission and the option for either FWD or AWD.
In the LS/LT trims, the engine has 281 horsepower, and in the LTZ trim, since there is the dual exhaust, the engine is a 288 horsepower engine. So nothing over the top, but still impressive for a family SUV. It still accelerates with gusto and delivers a smooth, powerful ride and is just about silent when you're on the road. It's extremely stable through corners, and there is minimal body roll with some extensive road grip. But you do have to be mindful of the size on more narrow streets. This could make maneuvering a challenge depending on where you are.
Whether you are facing Old Man Winter or torrential downpours, the Traverse is great in any kind of weather or road condition, even mud. Its handling is very similar to that of a car, and the 2015 model gets an impressive 17 city/24 highway mpg, if you are driving with the FWD option; and 16 city/23 highway, if you are driving the AWD option.
Again, no huge differences between the 2015 model and the 2017 model other than a slightly lower fuel efficiency – both drive trains get 15 city and 22 highway mpg in the 2017 model year.
Safety
One of the things that anyone looking for a car is concerned about, especially in a car built for a family, is safety. The 2015 Traverse stands up to current expectations, even a few years later after its initial run. You get head and curtain airbags, as well as a front-center airbag.
The reason for that is to prevent the driver and passenger from colliding in the event of side impact. Then, of course, because of the size of the car, you also get blind spot monitoring, rear-cross traffic alert systems, and OnStar emergency. By the way, those are standard. Any trim you find will have those features. You also get forward collision warning, lane departure warning, anti-lock brakes, and electronic stability control.
The Traverse received top scores in Insurance Institute for Highway Safety (IIHS) crash tests as well as 5-stars for overall safety by the National Highway Traffic Safety Administration (NHTSA). This is great news because you're going to be driving around some of your most precious things – your family.
Because of its high safety ratings, the Traverse is a car that people with families continually seek out, and the third row seating is extremely helpful if you're looking to spread people out to make your trips less hectic and more fun. These options are pretty similar, so you won't see much of a change between the 2015 Traverse and the 2017.
ENTERTAINMENT FEATURES
Speaking of fun, there are also some great entertainment options in the Traverse. One of the great options that Chevy offers with this car is hands-free texting and Siri eyes free voice-recognition. The car pretty much can do it all for you so that you can keep those eyes on the road and everyone in the car safe.
They're also great features if you have a teenager learning to drive. It will help them stay focused, rather than be distracted by their phone.There is also a Chevy infotainment system that offers a 6.5-inch touchscreen display, Bluetooth music streaming and charge-only USB ports that are located on the back of the center console.
In the 2015 model, these options are included with the higher trims, but in the 2017 Traverse they are standard. In the 2017 model, you can also opt to make the car a WiFi hotspot and you get 10 cup holders. Again, there aren't too many differences between the two models, helping in your choice to search for a used one.