First Look at 2023 Chevy Colorado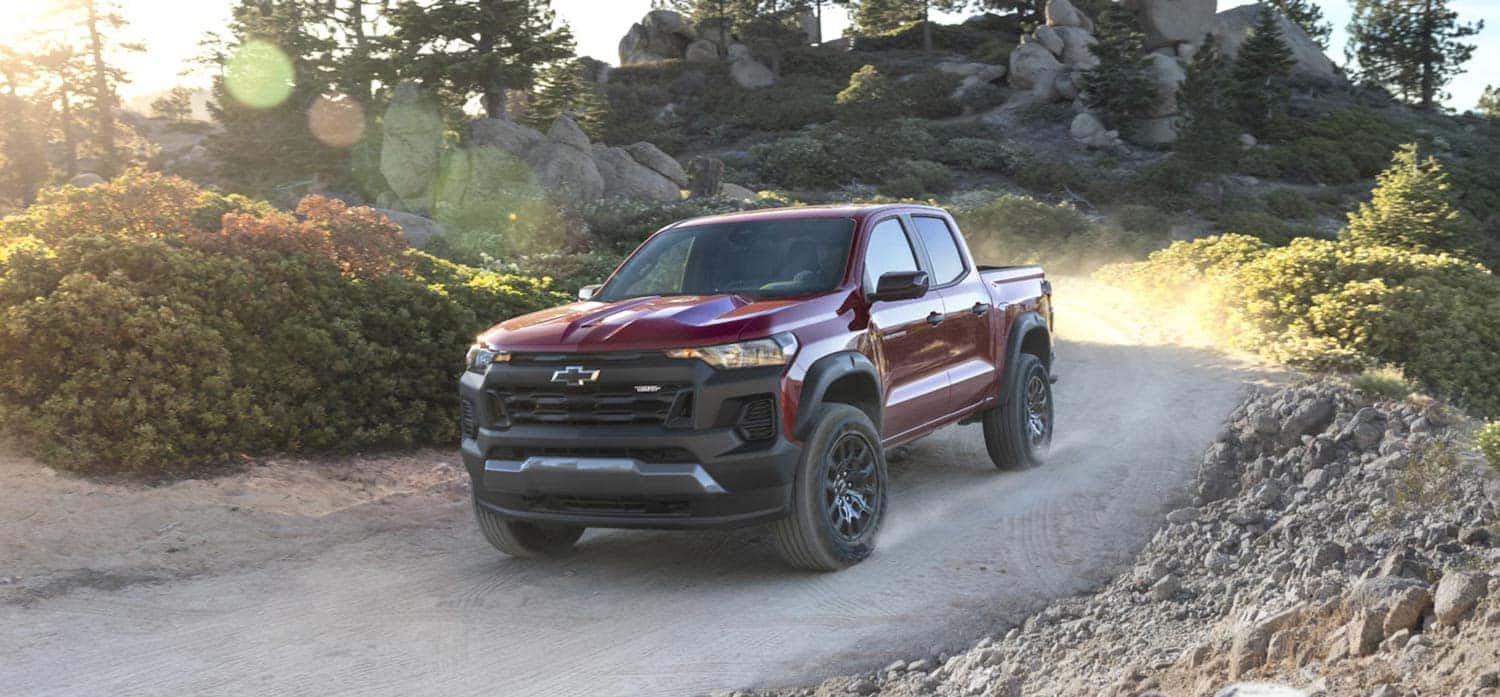 The Chevy Colorado has always offered a lot to get excited about, but our first look at the 2023 model defies our expectations for just how great this mid-size truck can be. Early sketches and details about the 2023 model let us know that the Chevy Colorado is poised to be better than ever, delivering cutting-edge style, enhanced performance, and advanced technology. The 2023 Chevy Colorado will effortlessly rise above its competitors.
Here's what we know so far:
Style Makeover
The 2023 Chevy Colorado will have a fully redesigned exterior and interior, giving it a fresh and sophisticated look. The Colorado keeps its brawny profile, but it gets some smoother edges and some sleeker detailing for a more polished exterior. The front and rear fascias have been given a makeover, including an all-new tailgate at the rear. The new tailgate features a large, water-tight storage container (45 inches wide by four inches deep), and the bed has 17 tie downs and storage pockets. There are even grooves for transporting bicycles and motorcycles.
Inside, you'll see a lot of upgrades that enhance the look and the functionality. There are high-quality materials, and plenty of updated tech. The dash features circular air vents, the center console has a new door for the storage compartment that stays open, and the shifter is angled away from the driver to give more space for maneuvering it, among other features.
Power and Performance
The base model on the new Chevy Colorado is a 2.7-liter turbocharged engine that puts out 237 horsepower and 259 lb-ft of torque. Two additional versions of the same engine are available for more power. The Turbo Plus version puts out 310 horsepower and 390 lb-ft of torque, and the High Output version puts out 310 horsepower and 430 lb-ft of torque.
All three engine options are paired with an eight-speed automatic transmission that has been fine tuned to enhance performance. Expect smooth shifting, increased power, and better performance off road.
Upgraded Technology
The 2023 Colorado will also come with a host of technological upgrades. Some examples include a large 11.3-inch display screen for the infotainment system (the largest display screen in the segment), wireless phone-charging capability, a digital gauge cluster behind the steering wheel, dual-zone climate control, and more. Apple CarPlay and Android Auto continue to be standard.
Expect the 2023 Chevy Colorado to have everything you need to enjoy a comfortable ride, from the latest in infotainment, to enhanced driver aids, to the top safety gear.
Visit Betley Chevrolet to Test Drive the All-New Chevy Colorado
The 2023 Chevy Colorado will be arriving in dealerships soon, and the associates at Betley Chevrolet will be ready to help you discover all the exciting new things this popular truck has to offer. Visit us to take a test drive of the new Colorado and get a feel for its enhanced and powerful performance for yourself. You can explore all the new features and begin putting together the configuration that best meets your needs.