Driving a Chevy Blazer in NH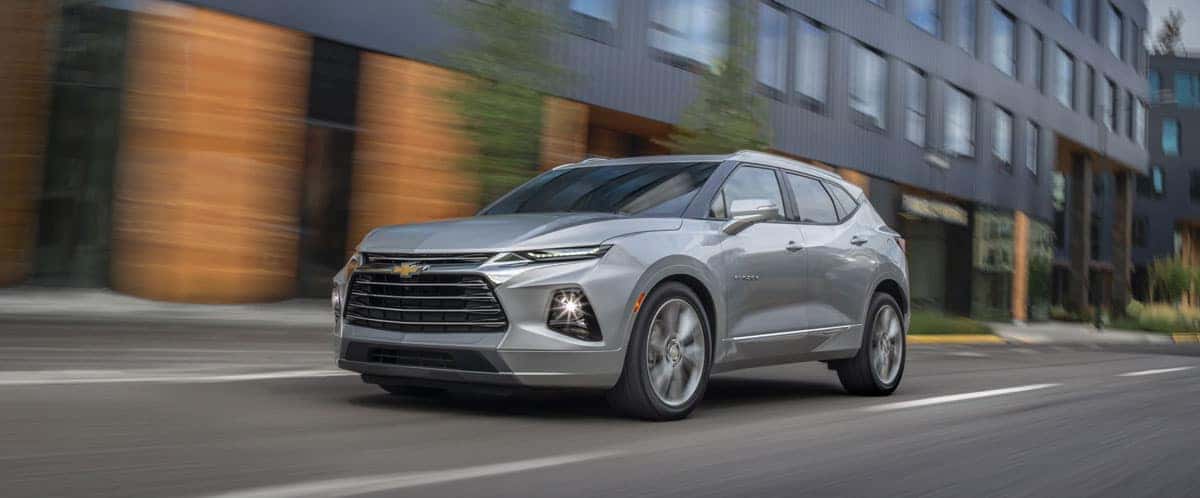 Why the Chevy Blazer is Good for Driving in New Hampshire
The Chevy Blazer is one of the most popular Chevy SUVs of all time. This vehicle first came around in 1969 as the K5 Blazer that was an SUV on the frame of a pickup truck to give it plenty of room for passengers and cargo. In 1983, the S-10 Blazer was introduced as a smaller version of the K5. This SUV remained popular, but it was discontinued in 2005. However, for the 2019 model year, the Chevy Blazer is being brought back. This vehicle will have an all-new style and features, but it will keep the iconic name of the popular Chevy SUV. Learn more about the Blazer below.
The Performance You Need for New Hampshire
Whether you are going out on the town, or driving up to the lakes on vacation, you need a vehicle that can help you take on your New Hampshire lifestyle. The 2019 Chevy Blazer can do just that with two engine options that help you get what you need.
The first engine option is a 2.5-liter four-cylinder engine. This option produces 193-horsepower, and it gives you great fuel efficiency with 22 city and 27 highway miles per gallon. Your base engine only has a 1,500-pound towing capacity, so it will probably be better for city driving.
Your second engine option in the 2019 Blazer is the 3.6-liter V6 engine that produces 308-horsepower. This option still gives you good efficiency with 20 city and 26 highway miles per gallon. You also get a 4,500-pound towing capacity with the V6 engine. That makes this vehicle perfect for towing canoes, kayaks, adventure gear, and camping equipment to the New Hampshire Lakes Region or the White Mountains in New Hampshire.
In addition to the different engine options, you can also customize the performance of your 2019 Blazer with the all-wheel drive with select modes. There are five different driving modes that include Tour, Sport, and Snow/Ice, Tow/Haul, and Off-Road modes. The Snow/Ice mode can be perfect for taking on cold and harsh New Hampshire winters, and Off-Road mode can help you explore the mountains or the seacoast of NH.
Technology, Features, and More
On the inside of the Chevy Blazer, you also have some great technology and features to keep you connected and entertained. Every 2019 Blazer has features like the Chevy Infotainment 3 interface, Bluetooth, Android Auto, Apple CarPlay, an 8-inch touchscreen, four USB ports, a rearview camera, keyless entry, and a push-button start.
You can also choose to upgrade your Blazer to get a Wi-Fi hotspot, an 8-inch driver information display, a navigation system, and safety technology. Safety technology features include automatic emergency braking, rear cross traffic alert, adaptive cruise control, lane keep assist, blind spot monitoring, pedestrian detection, and forward collision warning.
This technology can help keep you connected on your next New Hampshire road trip, and it can help keep you and your loved ones safer.
As you can see, the Chevy Blazer has a long history, but this vehicle is also new and improved for 2019. There are a lot of great features and performance options that make this vehicle a perfect fit for your New Hampshire lifestyle.